Busch & Muller Toplight Flat S LineTec Plus Rear Dynamo Light
Manufacturer :
SJS Cycles part number :
Manufacturer part number :
Details
Incorporating all of the design features of the Toplight Flat plus the new LineTec technology this new light is easy to fit and compact in styling whilst providing excellent light output and visibility for road users behind the rider. These lights are approved by German road traffic regulations

Designed with a single high power LED housed inside the 90mm LineTec light strip. The strip is made from transparent glass which shines red when operating. The light is super bright with 320° visibility. Complete with standlight.

Designed and built in Germany the Toplight Flat Plus is very flat - 20mm width. It fits into many spaces that previous lights would not! It has good all round visibility and is very light weight. Vario fitting to suit either 50 or 80mm racks

- Patented lighting technology - Made in Germany!
- Extremely flat casing (approx. 94 x 45 x 16.5 mm)
- Extremely bright light exits at 320°
- Clear glass shines red when in use
- With plug contacts (central) for power and mass connection
- Very light weight approximately 53g
- 50 or 80 mm vario mounting onto pannier racks
- No Cable Included
Related products
Wurth Cable Connector Red Insulated 2.8mm x 0.5mm Female x 1 - Fits B+M Dynamos & Lights
£0.25 Inc VAT
Quick view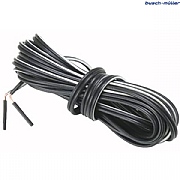 Busch & Muller Dynamo Wire Twin Core - No Connectors - Per Metre
£1.49 Inc VAT
Quick view
Product Reviews (4)
Overall Product Rating 5 / 5
24 Nov 2017
I recommend this product
Easy to fit and connect straight to existing set-up on my Kettler City Cruiser. Continues to work and is very bright.
11 Jul 2017
I recommend this product
Very happy with product. I slaved the cabling off the headlight as necessary and it works fine. I used speaker cable leads to wire it up and it seems fine.
11 Jul 2017
I recommend this product
Very happy with product. I slaved the cabling off the headlight as necessary and it works fine. I used speaker cable leads to wire it up and it seems fine.
02 Sep 2016
I recommend this product
Thanks for fast delivery!
On of for Standlight? for train platforms and not drawing attention when I lock up in Town Centre
02 Nov 2021
A lot of B&M have on off, does this? I was going to get for my foldaway.
Pretty much every dynamo light standlight stays on when the headlight is turned off.

Thanks
Hi, how does this light attach to the bike. Can it be fitted to seat post or frame?, thanks.
01 May 2019
Hi, this light is designed to fit to a rack or rear carrier and comes with the screws to do this. You would need to make a bespoke bracket to fit it to a seat post or frame. The fittings for this are not included. Thanks. 02/05/2019
Is It Compatible With Brompton'S Rack ?
16 Sep 2016
I would like to replace the Brompton rear dynamo light on my rack with this light. Will it fit ?
Hi,

As this light can be used with a 50mm bolt spacing and your Brompton rear rack/light also uses a 50mm spacing you should be fine to fit this light in replacement of your current one.

Thanks.
How Would I Wire
09 Nov 2015
Following on from the dyno hub compatibility question, how would I attach it t a Schmidt Edelux I LED Headlight? At the point where the headlight attaches to the hub or is there another connection on the headlight?
Hi,

With the Edelux front light there is a single spade connector hidden underneath it and a ring terminal is used on the mounting bolt. There should have been a rear light cable with the correct fitting supplied with your Edelux light but if you do not have his then we sell them separately, they are SJSC part number 15905.

Thanks.
Compatibility
07 Nov 2015
Is this light compatible with a SON 28 Dynamo hub?
Hi,

You are not able to run a rear light directly from a dynamo hub as the power output would be too great and you would blow the rear light. Rear lights piggy back off of the front lights so if you have a front light fitted to your Son 28 hub already then this rear light can piggy back off of that front light absolutely fine.

Thanks.
Is This Light Available As A Battery Powered Item?
12 Oct 2014
If so can you supply or obtain it?
Hi,

This light is only available as a dynamo powered option, their are no battery powered alternative I'm afraid.

Thanks.