Busch & Muller Toplight LineTec Senso Rear Light - 80mm Rack Spacing
Manufacturer :
SJS Cycles part number :
Manufacturer part number :
Details
This battery light has LineTec technology incorporated into its compact design. It has two high power LEDs inside the 90mm LineTec light strip. Please note the strip is made from transparent glass that shines red when the light is in use. This light is super bright with 320 degree visibility. It also has senso technology. It is supplied with a standlight that automatically deactivates after four minutes or can be switched off manually.

Weighing in at a very clever concept developed by B&M. Before LineTec cars approaching a bicycle from behind could only see a single rear light spot without being able to judge the distance very accurately. To judge distance the human eye requires spacial relation - especially in 'spaceless' darkness. B&Ms light with the LineTec light strip emit 'spatial' light. With LineTec other road users can estimate the distance to a cyclist much more accurately.

- Weight: 53g
- Dimensions: 94 x 45 x 16.5mm
- Integral large Z reflector
- 320 degree visibility
- 4 minute standlight
- 80mm bolt spacing only
Related products
Wurth Cable Connector Red Insulated 2.8mm x 0.5mm Female x 1 - Fits B+M Dynamos & Lights
£0.25 Inc VAT
Quick view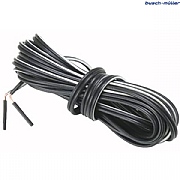 Busch & Muller Dynamo Wire Twin Core - No Connectors - Per Metre
£1.49 Inc VAT
Quick view
Product Reviews (3)
Overall Product Rating 5 / 5
Good rear light
07 Mar 2023
I recommend this product
Pros
Well designed and simple to use
A good battery rear light to replace the standard one on my Pashley roadster. I didn't want to spoil the lines if the bike with dynamo cable si the battery option was needed. This light turns on automatically when you move at night, or you can manually turn it on and off I already have a flashing LED on helmet so no need for this to flash (most pannier lights are constant
only).
Battery liife seems food so far. The unit has a low battery indicator.
German bike light standards are the best, and this unit has all the features you need.
Quality light
24 Feb 2021
I recommend this product
Pros
Quality , precision, reliability
I've fitted it to the rear rack of my Long haul Trucker. I use it every day for commuting and pleasure. The light is easy to use, well made and typical German quality. I think it will last for years.
Very Good And Compact Light
23 Nov 2016
I recommend this product
Very good and compact light.

Works very well and is visible but not in a burning out yer eyeballs kind of away which I would hate if I was riding behind someone with ridic lights
Can I use this with an Ortlieb Rack Three?
17 Nov 2023
The 50/80/100 mm spacing detail is as clear as mud!
Hi
Thank you for your enquiry. This light has fixings for a rack that has 80mm spacing on the rear bracket, most rear racks allow for lights that have either 50mm or 80mm spacing for fixing so this light should be fine.
Kind Regards. JP 20/11/23
Is this light rechargeable?
13 Dec 2021
Thank you for your enquiry, it is battery
How do you remove and replace the battery?
08 Dec 2019
Mine worked well but the battery needs replacing - do I need tools to do that?
Hi, yes. You need a T10 Torx screw driver or key which is supplied when you buy the light. Thanks. 10/12/19
Note that this light does not have a flashing mode, in contrast the response to the question below.
09 Nov 2017
Hi,

The reference to a flashing LED in the previous question response was for the battery indicator rather than the entire light. The light itself is constant only.

Thanks.
Can I Use It On Brompton Rear Rack? Is It Waterproof?
06 Jun 2017
Hi,

Unfortunately you would not be able to use this on a Brompton rear rack. This light uses the 80mm bolt spacing where as the Brompton rear rack uses the 50mm spacing. This light is 'water resistant' but in extreme downpours or submersion some water ingress can occur.

Thanks.
Is There Some Way Of Knowing In Advance When The Battery Will Run Out?
23 Jan 2016
I have been using this brilliant light to commute this winter. Yesterday, I had it on senso mode in the morning but when I returned to the bike to ride home, it flashed at me when I tried to switch it on but would not stay on in any mode. Luckily I had a back up but surely there must be some low battery warning.
Hi,

There is an indicator LED that flashes quickly when the battery is running low and needs to be replaced.

Thanks.
What Size And How Many Batteries Does It Take?
22 Sep 2014
Does it come supplied?
Hi,

This light takes a single AA battery. There should be one supplied.

Thanks.
Distance Bewteen Bolt Holes For Rack Fixing?
20 Dec 2013
DOES THE LIGHT HAVE BOTH CONSTANT AND FLASH MODES
Hi,

The rack fixing bolts are 80mm centre to centre. Yes the light should have both constant and flash modes.

Thanks.
Will Holes On Rear Of My Thorn Exped. Rack Match Up?
19 Nov 2013
Hi,

Yes this light will fit your Thorn rear rack.

Thanks.