Busch & Muller Toplight View Brake Plus Rear Dynamo Light 50 / 80 mm Vario Fitting
Manufacturer :
SJS Cycles part number :
Manufacturer part number :
Details
BrakeTec causes the two light strips to pulsate brightly. Double light source through two super bright LEDs. Two patented lighting systems generate two light bands. Effect: bright radiant light surface perception already from a very far distance.

- Ideal page radiation by rotating clear glass body
- With parking lights automatic by capacitor
- Integrated large reflector
- 18 mm flat
- 50g in weight
- Porter Mounting: Mounting bolt spacing 50mm or 80mm freely selectable
- Traffic regulations approved
- LineTec technology
- BrakeTec technology
- Dynamo powered
- Rear cable not included
- Standlight
Related products
Wurth Cable Connector Red Insulated 2.8mm x 0.5mm Female x 1 - Fits B+M Dynamos & Lights
£0.25 Inc VAT
Quick view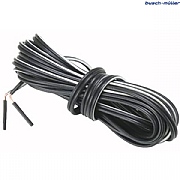 Busch & Muller Dynamo Wire Twin Core - No Connectors - Per Metre
£1.49 Inc VAT
Quick view
Product Reviews (3)
Overall Product Rating 3.7 / 5
Pretty good for the $
13 Nov 2017
Cons
A few fiddly bits and only lasted one year.
Pros
Works well, very visible
Got one of these last year for my first hub dyno setup. It works well, is super visible, and I've had mates verify that the Brake Plus function works.

I had some problems with the wiring staying put. I used the crimp plate at the back of the light, rather than fitting terminals to the wires. This was fine initially but they came loose now and then, and I had to take the light off the rack to get the wires out and re-fit them each time, which is a pain. It has also just died, conveniently just outside of it's one-year warranty. Overall I'd get another one because of the good performance, but I'm going to look around at other functionality first
Good But Unreliable
17 Nov 2016
Pros
Amazing light, good brake function
I have had two faulty versions of this toplight and about to recieve a 3rd. The light when working is superb but I fear they have had a faulty batch - first lasted a week, second 6 months. B and M usually excellent but this has been problematic
Brilliant
19 Oct 2016
I recommend this product
Pros
Bright, auto flashes when slowing down
Bought this to go with the Ixos front light, fits directly to my pannier rack and wired up simply.
NOTE: This does not come with the wiring required. You will need to order more wire and crimp connectors
Are Cable/Connections Tp Front Included With This Light?
11 Oct 2014
Are cable/connections tp front included with this light?
Hi,

I'm afraid none of the cabling or connectors are included with this light.

Thanks.