Manufacturer :
SJS Cycles part number :
Manufacturer part number :
Details
From the CarraDry range this 100% waterproof handlebar bag helps to keep your valuables safe, dry & close to hand. Made from wipe clean re-inforced PVC with high frequency welded seams to make it water tight this tough & dependable bag will take whatever you throw at it. The Rixen & Kaul KLICKfix® system allows for easy on/off bike use with 25.4mm fittings supplied as standard (31.8mm handlebar adapter set sold separately), there is an optional extender to clear computer mounts, lights etc. All CarraDry bags come with a lifetime guarantee against defective materials & workmanship

Tech Specs:
- Material: Polyester & reinforced PVC nylon
- Dimensions: H 23cm x W 25cm x D 17cm
- Fully waterproof
- Zipped internal pocket
- High visibility reflectors and mounting points for LED lights to keep you safe on the road
- Large detachable, clearview folded map case
- Shoulder strap for off bike use
- Detachable light bracket on underside
- Weight 855g
Related products
Carradice CarraDry Universal Panniers - Grey - 20 Litre
Now from

£45.99

Inc VAT
Typical RRP: £60
Quick view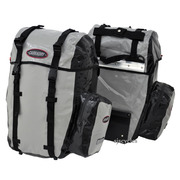 Carradice CarraDry Rear Panniers - Grey - 48 Litre
Now from

£69.99

Inc VAT
Typical RRP: £89
Quick view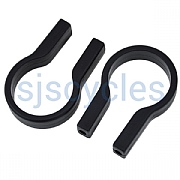 Klick Fix Handlebar Adaptor Set for 31.8mm Oversize Handlebars / CC-100 Per pair
£2.99 Inc VAT
Quick view
Product Reviews (2)
Overall Product Rating 2.5 / 5
Seems waterproof but tricky to use
24 Sep 2019
Cons
Too many unfinished aspects
Pros
Looks watertight, has inner pockets
A. Light holder interesting but looks hard to use. B. interior good with 4 thin pockets and is light in colour. C.Map holder too narrow to hold UK 1 to 50k maps well so would waste lots of time refolding them. No fun in the rain. D. No easy strap storage
Carradice Carradure Handlebar Bag
18 Sep 2012
Pros
Waterproof,Klikfit good
The bag when closed is waterproof. The lid is awkward to fit over the side walls of the bag though, so in a downpour, getting something in or out quickly and keeping the contents dry is difficult.
The two clips closing the lid are at the back. The only way to open/close the lid is to remove the bag because the handlebars block access to the clips.
Klikfit attachment/detachment is very good
The map case is waterproof and a good size however it is made of quite flimsy material.
Is this bag now updated with the standard Carradice buckle?
07 Mar 2018
The pictures shows the non-standard Carradice buckle closures. I have seen an example with standard side release buckles. Which version is your stock please?
Hi

Thank you for your enquiry, the stock that we have of this bag at this moment in time have the front push buckle closures as shown on our website which match the Carradice website as well.

Kind Regards
Weight of bag
05 Sep 2017
Hi, what is the weight of the bag without mounting bracket, map case and carrying strap? Thank you.
Hello,

The approximate weight of the bag is 803g.

Thanks.