Carradice CarraDry Universal Panniers - Grey - 20 Litre
Manufacturer :
SJS Cycles part number :
Manufacturer part number :
Details
From the CarraDry range this 100% waterproof pannier bag helps to keep your valuables safe & dry. Made from wipe clean re-inforced PVC with high frequency welded seams to make it water tight, this tough & dependable pannier will take whatever you throw at it. Fixing is with Carradice own C-System with enables easy on/off bike use. All CarraDry bags come with a lifetime guarantee against defective materials & workmanship

Tech Specs:
- Material: 600 Denier Polyester & reinforced PVC nylon
- Dimensions: H 35cm x W 27cm x D 11cm
- Fully waterproof
- Can be used on the rear when the larger capacity rear pannier is not needed
- Hi-viz reflectives front and rear
- Weight 1100g (Pair)
Related products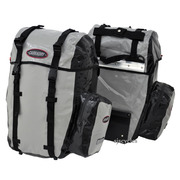 Carradice CarraDry Rear Panniers - Grey - 48 Litre
Now from

£71.99

Inc VAT
Typical RRP: £89
Quick view
Product Reviews (5)
Overall Product Rating 4 / 5
Good Product At Great Price
12 Jun 2017
I recommend this product
Pros
Cheap, waterproof. Easy to assemble
I bought these as a cheaper alternative to Ortliebs panniers. So far they have performed flawlessly.
They are not quite as well made as a pair of Ortliebs, but I suspect they will last a long time.
Great Purchase
04 Nov 2016
I recommend this product
These panniers are really tough and were just the right size for the bit of extra space I wanted on my front rack. I needed them for a short cycle tour and they didn't a great job. Didn't manage to test their waterproof properties but they seem perfect for rainy weather. You have to assemble the rack fittings after buying but this is quite straightforward. Impressed so far!
10 Sep 2016
I recommend this product
Cons
None that I can see yet!
Pros
Excellent product, waterproof, durable, great rack fixing.
New to Carradice products but was curios as to how they compare to Ortleib. I am pleased to say that I was very pleasantly surprised by the quality and durability of the products and will definitely be making further Carradice purchases in the future.
In Praise Of Small Panniers
18 Aug 2012
I recommend this product
Cons
hooks are a little fiddly (may loosen with time)
Pros
lightweight, look good, waterproof
I very happy with these, they're exactly what I wanted. They're neat, sturdy, absolutely waterproof, and easier to adjust and take on and off than my last panniers were. I wanted small ones: I do shop, but don't carry the week's provisions or building supplies. I commute to a college to work, and often need to bring A4 stuff, some clothes, shoes, sometimes the computer. It's fine. And my heels do NOT knock into them on the backpedal (with bigger ones, it does happen).
I bought these because the old ones, also Carradice, were actually disintegrating. Fair enough, after about 30 years hard use, and in fact a tribute to the durability of the folks' products.

from a happy new pannier owner

p.s. Someone really should rewrite this stupid word processing program, though. Apparently a semicolon or hyphen is too much to ask.
Tidy But Not Big Enough For Shopping!
05 Dec 2011
Cons
Quick attach/release with catches to stop them shaking off
Pros
A bit small as a rear pannier
disappointed at having to assemble the attachment system. About as easy as trying to edit these comments, which disappear if you try to insert a capital letter, say.
Will these fit on an axiom DLX low rider front rack?
05 Apr 2019
Not sure we have ever fitted them, but cannot foresee any issues.

thanks - 08/04/19
Carradry front panniers
30 Mar 2018
Please could you confirm if the Carradry front panniers are the latest ones, the picture is of the previous version as the strap brackets are different on the newer ones.
Thanks,
John
Hi there,

The current stock, at time of writing, was received less than a month ago and is the most up to date.

Thanks
Can I use these with the Axiom Journey DLX Low Rider rack?
11 Aug 2017
Rack Attachment Clips
22 May 2017
Hi there,

Would it be possible to purchase an additional 2 rack attachment clips (one more for each side) for the Carradry panniers? I am going to be traversing some very bad roads while touring and I worry that one clip on each side will holding panniers sufficiently stable.

Thanks,
Sam
Hi,

As well as the main clip there are 2 hooks supplied with each pannier. There are replacement clips available though which are SJSC part number 33623.

Thanks.
Hi There Quick Question? Will These Fit The Blackburn Low Rider Set Up? Many Thanks For Your Reply.
23 Nov 2016
Hi,

Due to the upper flat plate design used on the Blackburn racks you won't be able to use the centre safety catch but otherwise you can fit these panniers to your Blackburn rack.

Thanks.
Are These Sold As A Pair?
23 Jun 2015
Is it a 20L capacity in total, so 10L each? Or is a single pannier 20L and sold as a pair?
Hi,

These are sold as a pair so the 20L Volume is for both combined. Which would indeed mean 10L each.

Thanks.