SKS Longboard Mudguard Set - 700c - Black
Size
Manufacturer :
SJS Cycles part number :
Manufacturer part number :
Details
End wet feet forever!

SKS Longboard are one of the longest and best coverage fender on the planet.
Related products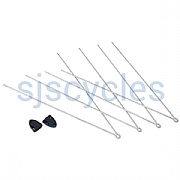 SKS Mudguard Fitting Kit
£14.99 Inc VAT
Quick view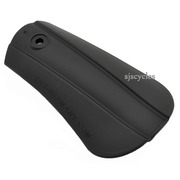 SKS Long Mudflap
£5.99 Inc VAT
Quick view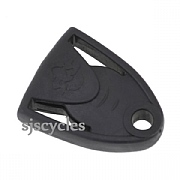 SKS Secu Clip for Front Mudguard Stay - 3.4 mm - Each
£1.49 Inc VAT
Quick view
Product Reviews (9)
Overall Product Rating 4.7 / 5
Do everything mudguards should do.
23 Feb 2021
I recommend this product
Brilliant ! SKS provide everything to fit these. FITTING, take one's time, several cups of tea, a couple of beta blockers, a soft leather mallet to knock oneself on the head and all should be fine and dandy. Measure twice, cut once !
Super Mudguards for Commuters and Tourers
27 Aug 2020
I recommend this product
Cons
Could be too wide for some bikes
Pros
Practically cover the wheel completely
Bought these to replace the 30 Year Old ESGE OEM mudguards fitted to my Dawes Galaxy Twin. No issues fitting the front ... Except make sure you have space to fit them ... I'd just gone from a 35 to a 38c tyre and the 45mm blades were fiddly to accomdate ... just glad I hadn't gone for a 40c tyre as I was planning to

Rears, again make sure you have the space between your chain stays, and in my case, the lateral stays, although being plastic with a thin aluminium support it's a matter of minutes with a dremel to shape the stays to fit 'around' those stays.

Fitting kit was excellent, all stainless and the stays are a decent diameter ... more work with the Dremel to remove and round off the ends ... also no issue fitting the covers. Stays were plenty long enough to fit from the hub boss.

Make sure if you have a Narrow pannier rack, to fit that first, and take your time to get the position right before cutting the stays to length
Functionally very good , but !
31 Jan 2019
I recommend this product
Cons
Metal stays far too short , plastic end caps impossible to fit .
Excellent service @ SJS , fitted with usual problems , could not fit stay end caps as front stays too short , using 700×37 , on the limit with these tyres as just clear . Very good protection from water , mud etc
20 Dec 2016
I recommend this product
Cons
slightly fiddly to fit
Superb mudguards, will keep more muck off you and your bottom bracket than anything else available. Great value for money.
Mixed Results For Sks Longboard 45Mm
29 Dec 2013
I commute on old railway tracks/towpaths with gravel surface and long, long puddles in winter. Used these mudguards for nearly 2 years. Positive: huge drop in water being thrown onto bottom bracket area, really good, but feet still seem to get quite wet. Negative: 1) front mudguard flap is already on the way out, the rubber has torn where it wraps onto the mudguard. 2) front mudguard flap design accumulates mud quickly because it makes a big mud trap on the inner mudguard surface. 3) front mudguard seems to 'shudder' alot when riding, as if the (quite high) added mass of the mudflap is making the mudguard resonate in some way. 4) definitely makes you more vulnerable to sucking up twigs/branches
Conclusion: Really good at keeping the surface water at bay, watch out for branches (it could hurt), could improve design to catch less mud and be more durable. If your existing mudguards are OK, just fit some DIY mudflaps out of rubber strips. If you need new ones, these are OK but expect to have to fix the mudflaps in due course.
Sks 45 Longboards
12 Feb 2013
I recommend this product
Pros
Excellent spray protection
Excellent spray protection. Fitted these to my Dawes Audax for winter use. Only gripe is the instructions and I agree with other comments here. Also, it is not clear that the black plastic caps should slide over the lugs protruding from the guard as well as the stays.
Excellent Mudguard But Fiddly To Fit
01 Jul 2012
I recommend this product
Bought the SKS 45mm longboards to replace zefal quick fit ones to which I had added mudflaps made from milk cartons. The home made mudflaps work great but have to be reattached from time to time and also flap in a strong wind. The SKS guards are obviously a much neater and solid solution. I found fitting a bit fiddly. You need a small hacksaw to cut off the excess lengths from the stays. To get the correct lengths to the stays you first have to fit them without the stay tip covers, then cut off the excess and then refit with the plastic ends. The front mudflap is very close to the ground and looks as if it will be a problem picking up debris, but I havn't noticed that happen just yet. The front stays are are fitted to the forks with a safety release that is supposed to come apart if something does get jammed. I use them on my old steel roadbike kept for winter use and for riding on unsurfaced muddy cycle trails. Once the mudguards are fitted they seem very solid. You need to take care wheeling the bike down a high step or pulling up the front wheel as the mudflaps will jam into the tyre. However they are made of very soft and flexible rubber and are easily released if that happens. In normal use even on boggy wet trails I have not had any issue with them and they keep the water from spraying on feet , ankles and bottom bracket. I think at the price they are good value.
Sks Longboards
18 Oct 2011
Pros
Coverage, build quality
Excellent product with the usual SKS solidity. Fitted to my 'crosser for winter commuting, the coverage is excellent for keeping bike and feet dry.
Sks P45 Longboards
12 Oct 2011
I recommend this product
Pros
Great coverage, classy, well-built
These are great. I installed them on my 52cm Saluki (DiaCompe centrepulls), which previously sported SKS P45 standard chromoplastic mudguards. I ride Grand Bois Hetres, which are listed as 42 mm but actually inflate to about 38 mm. There's enough room to wrap these around the tyres, although it's tight.

The Longboards are indeed long and have that terrific flap up front, really shielding my feet from puddle spray much better protection. I like that the flap is soft and flexible.

Installation was the usual for mudguards. I tried bending the front mudguard tab forward *(as shown in the Rivendell video on YouTube), but that wasn't necessary in my case. Instead, I wish that SKS made the hole in the front tab deeper. I will probably file it out when I get a moment so that I can raise my mudguard to the max allowed by my brake caliper. But it wouldn't be a clearance problem as is for most tyres. The rear installation was fine. I like the new plastic stay guards. Very clever. You need some heavy duty clippers to cut the stays. I had to take mine across the street to Leith Cycles (ace store) to get that done.
Size Of Mudguards
30 Aug 2015
Hi am looking to getting a set of sks longboards to fit to my trek 2.1 madonne 700x23 tyres fitted, but may go to 25mm tyres. What size mudguard will I need, I see you offer 28mm . Will that fit my madone. Cheers Andy
Hi, your best option with what you have would be to go for out item #38322 which are the 700c version & are 35mm wide. These would work with 28mm tyres no problem. Regards