Wellgo M919 Double Sided SPD Clipless Pedals with Flat Shoe / Reflector Adapter
Manufacturer :
SJS Cycles part number :
Manufacturer part number :
Details
The Wellgo M919 MTB pedals are great, mud-shedding clipless pedals that interface with the included platforms, so you don't always have to put on the bike shoes when you want to ride to the shops.

Body : Aluminum
Colour : Champagne
Spindle : Cr-Mo
Bearing : Ball bearing
Cleat : 98A (included) or Shimano SH-51 compatible
Size : 83.8 x 58.9 x 35.5 [mm]
Weight : 340g/pr
Related products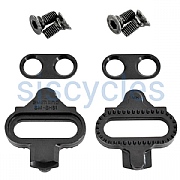 Shimano XTR SPD PD-M985 SM-SH51 Cleat Set - Single Release - Y42498200
£14.99 Inc VAT
Quick view
Product Reviews (5)
Overall Product Rating 3.8 / 5
24 Feb 2020
Cons
Cannot be serviced, now unusable
From new the bearings feel like they have sand in them because they are overtightened. If you prise out the plastic end cap, loosen the 9mm locknut and back off the 11mm cone nut, then you can feel they are smooth. But you cannot then tighten the locknut as the cone nut also tightens until the pedal is locked solid. The £50 Shimano tool doesn't fit these pedals, so you are stuck now! So please don't try to adjust these pedals. Wear them in (probably pitting the cones), wear them out and throw them away. The plastic platforms come with instructions printed on the bag to move the pedal clip with a screwdriver to fit and remove the platform. This makes sense as the plastic would break if you try to twist the platform out. The cleats are OK but the rest is rubbish. Nothing against Wellgo - I have a pair of Wellgo WPD-800 still good after 23 years!
08 Feb 2018
I recommend this product
Pros
Solid engagement, bargain price,
Have had wellgo pedals for many years now and these were a replacement for a pair that had given many years service ,through many winters along grit and gravel tracks on my daily commute, solid confident engagement. Fully agree with other reviews that initial bearing does feel a less smooth then pedals from the big 'S' but two weeks and 200 hundred miles in they are spinning like good un's :) and all for £15 you really cannot go wrong,
Wellgo M919 Double Sided Spd Clipless Pedals With Flat Shoe
17 Sep 2012
I recommend this product
Very good pedals for the price,holds feet very well.
The flat pedal adaptors work well but not sure how long they will last
as they are plastic
I have cycled 20 miles with them no problem
Great value for £15
What You Pay Is What You Get
10 Jul 2012
Cons
bearings, instructions
They work, and being reduced to £15 they're a bargain. It's nice having the cleats and the flats, too, making them a better solution than flat/cleat combo pedals. That's the good stuff.

On the debit side you have rough bearings, that would probably benefit from being disassembled and packed with grease. Of course, at £15 it'd probably be less hassle to ride them until the croak then buy a new pair.

The operating instructions are a wee bit strange, too: "lubricate the concave part before use". Which concave part? Maybe they mean the bearing cups.
Wellgo M919 Double Sided Spd Clipless Pedals With Flat Shoe
09 Dec 2011
I recommend this product
Cons
not the strongest clips for flats
The pedals are great valve for £15, double sided a bonus. Even better you get the cleats chucked in. Even BETTERER there's the flats that just clip on to the pedals for that time where you don't want to wear you cycling shoes. Ideal for trainers. The tabs to fit the flats are not the strongest so ease them off with a flat bladed screwdriver of similar but once there're on stick like glue. Great value and a great alternative to the much more expensive option with so much more to boot. Oh did I say they were only fifteen quid !!
Questions & Answers
If you have any questions ask here or phone 01278 441500 (+44 1278 441500).