Sun CR18 20" 406 ABT Rim - Silver
Holes
Manufacturer :
SJS Cycles part number :
Manufacturer part number :
Details
A really good quality rim in the popular 406 size, giving the best combination of strength & weight.
Overall width 22.4mm, inner well width 17.5mm.
- Weight: 350g
- ERD - 397
Related products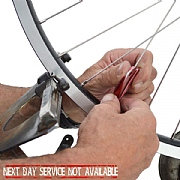 Wheel Build with 14g DT Champion Stainless SILVER spokes - per wheel
£47.28 Inc VAT
Quick view
Product Reviews (6)
Overall Product Rating 5 / 5
Solid
20 Jul 2021
I recommend this product
Pros
Good value, solid build quality
Good solid double walled rim. Used the 36 spoke option on an old e.bike hub that only had a single wall rim, and it was carrying some weight too lol. Trued up well.
Good rim
05 May 2021
I recommend this product
Solid, strong rim. Will be used as a front wheel in my recumbent. Can't comment on the longevity as I only have it for 2 weeks.
10 Jun 2020
I recommend this product
Pros
Strong rim at a good price
The first rim on my tandem lasted 6 months before the eyelets started pulling out. This rim has done 2 years and 2000 miles on roads and trails - no problems
26 Jan 2019
I recommend this product
Had these rims built into a wheel-set by sjs to bring an old moulton apb back to life. Wheels arrived within a week. First class service and made into really nice wheels.
Useful, Good Quality Rim At The Price
09 Dec 2016
I recommend this product
Cons
Like any alloy rim, it eventually wears out
Pros
Strong, well-made, easy to true
Bought this to replace an identical rim on my Moulton TSR, which has lasted about 8,000km of hard commuting and some training, in all weathers. I could possibly have got a bit more out of the old one but didn't want it to fail suddenly. Well made, easy to true. SJS did well - it arrived here in Australia in under a week.
Nice Rim
11 Oct 2011
I recommend this product
Pros
Strong, good looking,
This with a Hope hub has built into a nice strong wheel, for my DiscBrake project on my Moulton. I wish that I'd known about Spoke Length Spreadsheets on the net and could have quickly worked out which spokes to order at the same time, saving myself the small postage add on. It was easy to build the wheel, but was not a quick job, mainly because of threading the short strong spokes and not letting the ends scratch the rim. There was no problem putting a Marathon Plus on by hand. Have finished with a lovely strong wheel.
Presta or Schrader?
21 Mar 2021
Hi!
I'm looking for Schrader rims.
Are these rims(36 holes) Presta or Schrader?

Thank you

Thank you for your enquiry, they are drilled for Presta

WD 22/03/21
Hello. Do these rims have a Presta or Schrader valve drilling? Thank you.
03 Sep 2020
Hi, they are drilled for Presta valves. Thanks
The same in black
03 Nov 2019
Hi
Do you have this rim in black
Regards
Unfortunately not in this size.

Thanks - 04/11/19
Original thickness?
14 Oct 2019
Have been using these rims on my Moulton TSR for a while and done 4,100miles on them.

Nice shiny silver rims!

However, they are showing signs or wear. Measuring mine, the rear one is down to 1.1mm

What thickness were they when new?
If I knew that figure, I would know when they were to be replaced.

Thanks, Mick.
Hi
Thank you for your enquiry, the approximate rim wall thickness on this rim is 3mm.
Regards. 16/10/19
Hi can I use this rim for a moulton TSR? Thak you.
03 Oct 2019
The rim is: Sun CR18 20" 406 ABT Rim - Silver
Hi there,

As we do not deal with those bikes we would have no idea what size you need im afraid.

Thanks.
Size Confirmation
09 May 2019
Hey Guys,

Hope you're well. Im looking for a set of rims that are 20" x 1.75 in 32h and wanted to make sure that these are what I need.

https://www.sjscycles.co.uk/rims-tape/28-sun-cr18-20in-406-abt-rim-silver/

Can you confirm and ill place an order?

I also need a set of 24x1.75 32h if you have some.

Thanks in advance,

Mar
Do you know the actual 20" and 24" sizing? within 20" there is 406mm, 438mm and 451mm and 24" has 507mm and 520mm.

Without this we could not confirm!

Thanks - 10/05/19
Do you have experiance of building these into wheels?
20 Sep 2018
If so, can you do it? What would you charge? I'm thinking of a front schmidt dynamo, and a rear, robust hub with a 10 gear cassette.
Yes, we have built many many wheels with CR18 rims, our wheel building packages can be seen here - https://www.sjscycles.co.uk/wheel-build/

Thanks
New rims for HP-Velotech. Grasshopper fx?
22 Apr 2018
My Grasshopper recumbent from ca. 2007 will soon need new rims (has V-Brakes). Do you think this rim with 32 holes will fit with the same size of spokes as the original ones? The old rims are Alexrims, but I am not able to read which type. I normally use Marathon 35-406 or 47-406 tubes.
Or do you have other suggestions?

Thanks in advance.
Johannes (DK)
Hi there,

It is highly unlikely you will be able to re use the spokes unless using the exact same rim. After 11 years of use we would recommend using new spokes regardless.

Thanks
Can I use this rim with a 44-406 tubeless tire?
12 Apr 2018
(Section width 44 mm)
Hi there,

No, these are not tubeless compatible.

Thanks
Max tyre size?
18 Nov 2017
What is the maximum tyre size please? Would a bmx tyre either 1.75, 1.95, or 2.1 fit?
Hi,

As this rim has an internal width of 17.5mm we would recommend a maximum tyre size of 2
CR18 406 rims
02 Oct 2017
Are your 20 inch cr18 rims Schrader or Presta? Can I fit both a 1.75 Marathon Plus and a 35-406 20 x 1.35 Marathon?
Good question. Our CURRENT stock is presta for 28 and 36 hole but Schrader for 32h! Either of these tyres will fit.
please see extra detail
29 Sep 2017
Hi I'm intending to buy a sun CR18 20inch 406 rim from you.
Can you tell me the OSB so that I can calculate the spoke size for a hub disc ( Shimano Deore M525 Disc hub )?
Regard Robert
Hi,

This rim has 1mm of spoke offset.

Thanks.
Rubber Gromet To Plug Valve Hole
08 Feb 2017
Hello, I intend fitting a solid tyre onto the rim so therefore I am looking for a rubber gromet to plug the valve hole. Otherwise water will enter the rim and stagnate. I hope you can help me. Regards from Bernard.
Hi,

Unfortunately this is not something we would have I'm afraid. It is not something we were aware was produced. The best we can recommend is speaking to whoever you're getting the solid tyres from as they would have the best idea.

Thanks.
Valve - Presta Or Schrader
19 Dec 2016
I purchased four of these rims recently. They were described as 'drilled for Presta', which is what I was expecting. However, they are actually drilled for Schrader. Can you check and, if applicable, correct the product listing.
Hi, we have checked these & our description was incorrect. The description has now been changed to say drilled for Schrader. We have sent you some Mavic Valve Adapters & apologize for any inconvenience caused.

Regards
Sun Cr18 20In , 406 Abt Rim - Silver
05 Nov 2016
Hello, are these eyeleted like in the pic or non eyeleted like in the cross section drawing?



Hi,

These rims are eyeleted as shown in the photo.

Thanks.