Ryde Sputnik R 700c 622 Touring Rim - Polished
Holes
Manufacturer :
SJS Cycles part number :
Manufacturer part number :
Details
- Very strong and stable, heavy duty
- 6063 T6 alloy
- CNC machined sidewalls
- Double eyeleted
- Drilled for Schrader
- 19 mm int
- 745g
- ERD - 602
Related products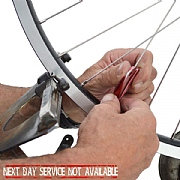 Wheel Build with 14g DT Champion Stainless SILVER spokes - per wheel
£47.28 Inc VAT
Quick view
Product Reviews (1)
Overall Product Rating 5 / 5
05 Oct 2022
I recommend this product
Pros
Great looks, Great quality and fantastic value
Good looking and super strong rims worth much more than they actually cost.
Perfect for classic builds
Ten out of ten from me.
Can I re-rim a 622x19 wheel where existing rim has a slightly different profile
23 Oct 2021
Hi, I have a Dutch bike with generic 622x19 rim - seems same dimension as this one, but it has a slight taper rather than being flat like this one. Will this one work to re-rim? Also Woods valve - same size as Schraeder hole?
Thank you for your enquiry, yes this should be fine
What is a date when this rim will back in stock?
07 Jul 2020
Can you tell an estimate date when this rim will be back in stock?
Hi, unfortunately he supply of Ryde rims is very erratic. We have been waiting on 32 hole for nearly a year , the 36 hole were due in June. Sorry we can't give an accurate estimate. Thanks
Is page for Ryde Sputnik Polished rim using correct image?
30 Jun 2020
Please specify if correct image is used for Ryde Sputnik Polished version. It appears there is not much difference between images found on pages for Ryde Sputnik Silver rim and Ryde Sputnik Polished rim.
Yes, this is the correct image for this product as provided by the manufacture.
This is for Presta I think
17 Mar 2020
Hi, just ordered a pair of these and they are drilled for Presta valves, not Schrader as in your description.

On the silver version (39438H36) you state Presta and on the black one (23180BLK36) you state 32h =Schrader and 36H =Presta. Is that correct for all Ryde Sputnik rims?
If only!! I'm sorry, Ryde seem to do what they like, we do try to keep everything up to date but these small details slip through. At lease it's the simplest way, you just need to drill the holes out bigger. The other way, we sell a Mavic Rim Valve Hole Drilling Converter Insert - Schraeder to Presta (SJS Cycles part number : 3335) regards Robin
Can you confirm the ERD
07 May 2019
You say 607, Tude website says 600, see https://www.ryde.nl/sputnik. Which is right, that's quite a difference.
Hi, I have checked our stock and amended our spec to 600 mm. Thanks 08/05/2019
Is this rim CSS treated ?
09 Jun 2018
No this is not CSS coated.

Thanks