Ryde Andra 40 26" 559 Rim - Black
Holes
Manufacturer :
SJS Cycles part number :
Manufacturer part number :
Details
Durable, strong and very smart.

The Andra range gives a new meaning to strong wheels. The secret to that is in the details.

The Andra 40 rim is the solution to get the strongest wheels for hard used bikes. From cargo bikes to family bikes ('bakfiets') to mountain-bike downhill bikes. The 25 mm internal width works perfectly with all the wider tyres that are available. If it has to last, take the Andra 40.

- Sides: UP
- Weight: 750g
- Optimum Tyre Width: 37-62 mm
- Eyelets: No eyelets
- Valve Hole: 8.5mm
- Colour: Black
- ERD: 541mm
Related products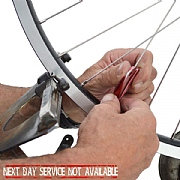 Wheel Build with 14g DT Champion Stainless SILVER spokes - per wheel
£47.28 Inc VAT
Quick view
Product Reviews (3)
Overall Product Rating 5 / 5
Great service
23 Jun 2022
I recommend this product
Pros
Very strong rims compared to want else is on the market
Wanted to build a set heavy duty wheel set for my Touring Bike.Which all my research lead to the Andra 40 rims.Next where to buy as I live in Australia ,so this where SJS Cycles comes in as these rims are non existent in Australia.So happy to have these rims knowing I have a strong reliable Touring wheelset.
The Andra 40 Rim is the strongest Bicycle Rim available.
27 Aug 2020
I recommend this product
The Andra 40 Rim is the strongest Bicycle Rim available.Period.If you are running a cargo bike or an e-bike this is your go to rim.You need to combine it with Sapim Strong Spokes and nipples for the full effect.It works well with a derailleur drivetrain or an internal geared hub.If you are regularly pushing a heavy load then if you prefer an internal geared hub the only choice that can handle this task is the Rohloff Speedhub.
Excellent touring or cargo bike rim
23 Jun 2018
I recommend this product
Cons
Quite heavy but in line with other rims made for this purpose
Pros
Easy to build a strong and true wheel
The Andra 40 rim built into an extremely strong wheel for a cargo bike. Spoke hole drilling impressively angled and countersunk for a 3x build.
Quality appears to be a step up from the Sputnik range. Smooth rim join and minimal out or round.
What rim tape width? Schrader or Presta?
01 Nov 2022
Hi, I'm looking at these Andra 40 32h rims to use with either 20mm, 22mm or 25mm wide rim tapes or another width you could recommend. What rim tape width would fit this Andra 40 best? Are these rims Presta or Schrader valve? Thanks
Thank you for enquiry, please see SJS Cycles part number 18420 for the rim tape, drilling is Schrader

WD 01/11/22
Pro 2 Evo spoke length?
13 Mar 2021
Hi. Would you agree that I need 258/257mm spokes for a three cross build on Hope Pro 2 Evo rear? And then 257/259 for the front? Thanks
From our calculations, assuming 32x3, we would start with;
Front 258/259
Rear 259/258

Thanks
Silver?
30 May 2020
Are these or the Andra 35 available in all silver? If no, do you know a way to remove the black coating?
Hi, they are not available in silver. There is no easy way to remove the coating. Thanks
Andra40
08 May 2020
How much stronger is this rim compared to the Sputnik or the Andra30? And what rear hub do you recommend to go with it I'm using deore right now but seems an awful lot of faffing with regreasing pretty often?
This is so hard to say, it's much heavier, so more metal = stronger. As for a hub, the more money you pay, generally the better, suggest Shimano XT or Hope RT
Is this ERD based on measurement?
21 Mar 2020
I see in the specifications that the ERD is slightly different than specified on the manufacturer's website 536 vs 534mm. I assume that the ERD specified by SJS is based on experience/measurement?
Ryde unfortunately don't seem to be able to measure ERD properly, every single rim we stock from them we've had to change the ERD measurement once we've measured it ourselves. We have used the the rim ERD of 541 for these rims for a large number of years and would have built probably close to a 1000 wheels using the Andra rims.

Thanks 23/03/20
andra 40 rims
20 Dec 2019
what is the spoke offset of these rims
Hi, the holes are symmetrically drilled, the offset is less than 1mm from the centre line. Thanks AK 02/01/2020
rim ERD
09 Dec 2019
My previouse rims were ryde sputnik which had ERD of 537 my question is could I still use these rims without changing spoke length since the ERD is only 1mm difference of 536
Yes, provided you can see from the current build that an extra 0.5mm of spoke sticking through the nipple won't cause a problem. RT 10/12/19
Tandem build spec
06 Apr 2019
Hi, would these be your rim of choice for 36 hole tandem wheels for a c155kg couple (rim brakes)?
Which spokes would you use with them? (using XT parallax steel axle hubs from the 90s btw)
We are looking for maximum durability, and use Dureme Tandem tyres.
Thanks
We would suggest Andra 30 or 40 in many cases. We would recommend DT Swiss Champion Spokes.

Thanks - 08/04/19
Are they out of round?
05 Nov 2018
Hi! I've heard from several bike mechanics in Finland that Andra rims are so out of round they are extremely hard to build. Is this a common problem or are they selling us b-stock?
Hi, yes Andra rims are difficult to build! However they are good. Our technique is to use 14mm nipples, plenty of lubricant, build and tension the drive side first then the non drive. Thanks
does this come with a CSS coating
30 Aug 2018
I'm looking for a strong wheel with ceramic coating (am using sputnik CSS rims with 40k miles, and still going strong). If the andra 40 would not be the right choice, which rim would you recommend?
These are not CSS coated, we would therefore recommend an Andra, Grizzly or similar.

Thanks
Are they good for disc brake? Thanks!
29 Mar 2018
Hi there,

These rims are designed for rim brakes and have machined side walls, but there is no reason you could not use these with disc brakes.

Thanks
Stronger than Andra 30?
31 Jan 2018
Another inquire, I usually use 26 inch by 1,75 and wider for travelling with heavy loads on very bad surfaces, would this rim make a stronger and more long lasting wheel than the Andra 30? thanks again !
Hi there,

The 40 has a max weight limit of 180kgs compared to the 30s 130kg, the internal diameter is also 3mm wider, giving a slightly wider tyre profile.
Please be aware, you can have the best components but a badly built wheel will last no longer than a cheap wheel that is well built!

Thanks
Drilling of the rim
31 Jan 2018
Hello, i wonder if this andra 40 is drilled in the same way as the andra 30, i found this product description of it at the manufacturer wesite, i wonder if it is the same you have https://www.ryde.nl/andra-40
Hi there,

We have the standard drilled rims.

Thanks
Andra 40 Rohloff Hub
22 Aug 2016
Hello,

I wonder if the Andra 40 rim is drilled particulary for internal rear hubs like Rohloff.
Hi,

These Andra 40 rims are drilled for standard hubs, you could still run them with an internal hub but the spoke angle would be less than ideal.

Thanks.