Sun CR18 26" 559 ATB Alloy Rim - Silver
Holes
Manufacturer :
SJS Cycles part number :
Manufacturer part number :
Details
A good quality, versatile, medium weight rim suitable for all round use, including touring. Single eyelets.
Overall width 22.5mm, inner well width 17mm.
Weight: 500g
ERD - 549
Related products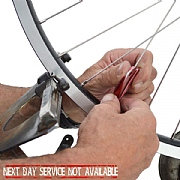 Wheel Build with 14g DT Champion Stainless SILVER spokes - per wheel
£47.28 Inc VAT
Quick view
Product Reviews (1)
Overall Product Rating 4 / 5
26" Cr18 36 Hole Rim
20 Mar 2013
I recommend this product
Cons
In basic non anodised aluminium
Pros
Excellent quality, good reputation
An excellent robust eyeletted rim although not in fashionable black but which will cope easily with the touring use that I will put it to. The published ERD proved accurate and the wheel easy to build
Can I use this on the front wheel with a Sun Rhyno on the back
09 Jul 2018
My Thorn Adventure is now 15 years old and the Sun Ryhno rims have worn too thin. I have an almost new back wheel but can't get another Ryhno rim to build the front wheel. Is there any problem having a front wheel with this rim and a back wheel with the Ryhno? We're not planning to tour with the bike in future but just use it for day rides, or just overnight, not camping.
This set up will be functionally absolutely fine, of course aesthetically the rims will be slightly different.

Thanks
Hey. Will this be enough for spoke nipples 5mm in width?
23 Apr 2018
Hi there,

The largest nipple to fit would be 4mm.

Thanks
Is this the right size for a 50 -559, 26 x 2.00 tyre?
23 Apr 2018
Or would a thicker or thinner tyre be better?
Hi there,

2.00 would be fine but we would not recommend any bigger.

Thanks
Can I Use With Rod Brakes?
07 Jun 2017
Is The Profile Similar To Westwood/Westrick? If Not, Can You Recommend An Alloy Rim That Can Be Used With Rod Brakes? (Trying To Avoid Chrome Steel Due To The Slipperiness In Rain)
Hi,

Unfortunately these rims would not be suitable for use with Rod brakes as they have a straight edge. We don't stock any and we're not aware of any alloy rims suitable for use with Rod brakes either I'm afraid.

Thanks.