Ryde Andra 30 26" 559 MTB CSS Rim - Regular Drilling - Black - 48 Hole
Manufacturer :
SJS Cycles part number :
Manufacturer part number :
Details
Ultra hard wearing Carbide Super Sonic brake surface, allowing fantastic braking and wear characteristics. The carbide is projected at seven times the speed of sound on to the rim imbedding it into the alloy. Unlike a ceramic surface it cannot flake away as it is part of the rim (not a layer). Rim overall width of 24mm & inner well width 19mm.

The only recommended brake blocks are Swissstop C.S.S. Blue V brake blocks (SJSC part # 32142).

Manufacturer Details:
- ETRTO compatability size: 559 x 19
- Sides: CSS
- Eyelets: -
- Valve hole diameter: 6.5 mm
- Recommended tyre widths: 28 to 62 mm
- Weight 735g
- ERD - 541
Related products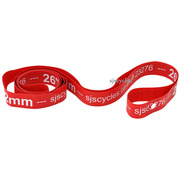 SJSC Reinforced Nylon Rim Tape - 26" 559 x 22mm - Red
£1.39 Inc VAT
Quick view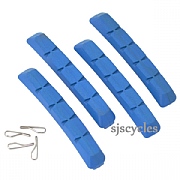 Swissstop Blue cartridge V Brake Pads - inc. Pins - for Ceramic & CSS Rims
£25.99 Inc VAT
Quick view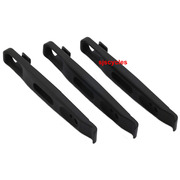 SJSC Steel Core Tyre Lever - Set of 3
£2.99 Inc VAT
Quick view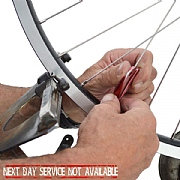 Wheel Build with 14g DT Champion Stainless SILVER spokes - per wheel
£47.28 Inc VAT
Quick view
Product Reviews (3)
Overall Product Rating 5 / 5
Expensive but bombproof
07 Oct 2019
I recommend this product
If you don't need 48 holes then I find the Andra 40 a better, stronger rim, especially if you run 2.0 tires or wider but for a super strong rim which you will NEVER wear out the breaking surface of you can't beat this. The brakes do lose some 'feel' due to the CCS coating and do need more anticipation in the wet but do not lack any strength. If you don't wear out rims get the non CCS version and save money but if you do these are unbeatable!
Top product!
13 May 2018
I recommend this product
This rim is the only rim I can find in Europe that is strong enough to support my longtail cargo bike and its 80kg of luggage I cart around on it every day. Even though the first rigida andra rim cracked on the inner wall after about 20.000km the rim was still holding it's shape really well and I managed another 1000km or more on a broken rim.
Rigida Andra Tungsten Carbide Rims
09 Aug 2011
I recommend this product
After failer with outher rims,I am over the moon with these, I should say from the start WE travelon our tandem with FULL CAMPING KIT for most of the summer months, 4to 5, and cover 6000km.
they remain true and show little sign of wear after3years use.
As a bonus the breaking is superb
Hi do you sell the wheel complete ?
09 Jan 2022
Do you sell the Rigide 30 or 40 rim made up as a complete wheel
?
We can have this built onto a hub of your choice- for this please email
[email protected]
Hi can I get a 26inch rim, 36 hole CSS.
26 Dec 2020
I want to use it on a electric front hub motor
We do not stock this in 32 hole CSS anymore. These rims are not suitable for use on ebikes.

Thanks 30.12.20
do you sell this wheel complete rear 26-inch css
21 Sep 2020
The only 26" CSS wheel we have is SJS Cycles part number : 32767

Thanks- 21/09/20
Do you think I could force in a nipple of 4.8mm?
27 Apr 2018
Hi there,

4.8mm simply would not fit.

Thanks
Will the holes be big enough for spoke nipples 5mm in width?
23 Apr 2018
Hi there,

The largest nipple to fit would be 4.5mm.

Thanks
Can I use this rim with a 50-559, 26x2.00 tyre?
20 Apr 2018
Hi there,

Yes a 26x2" tyre would be ideal.

Thanks
Can this rim be used with a size 26 tyre? Does it have 48 spoke holes?
13 Apr 2018
Hi

Thank you for your enquiry. This rim is suitable for 26inch, 559 tyres & has 48 spoke holes, please note as well that this id the CSS version of the rim which means that it has had a special coating on the brake surface. If you havent already you will need different brake blocks for this which is our item 32142.

Kind Regards
Comparing this with the sun cr18 48 hole rim
13 Jan 2018
Comparing this with the sun cr18 48 hole, which rim would allow the nipples to have a greater angle at the rim??
Concidering that the cr18 has eyeletts, and the Andra has no eyelets and possibly has 'angled- drillings' which could allow for increased nipple angle.
Thanks
Stephen
Hi there,

The Andra is a stronger rim, and has the massive benefit of CSS braking surface and we would 99% of the time recommend those.

The Andra will allow the nipples to have a greater angle at the rim. - the eyelets main benefit is to strengthen the spoke hole and evenly distribute the stress from the nipple.

Thanks
Is This A Clincher Type Rim?
22 Jan 2015
I want to use this rim with Marathon Plus tires, which require a clincher type rim, hence my question.
Hi,

Yes this is a clincher type rim, all the rims in the normal categories are clincher. We only sell a few tubular rims and they are in a separate category.

Thanks.