Ryde Andra 30 26", 559 MTB CSS Rim - Rohloff Drilling - Black - 32 Hole
Manufacturer :
SJS Cycles part number :
Manufacturer part number :
Details
Ultra hard wearing Carbide Super Sonic brake surface, allowing fantastic braking and wear characteristics. The carbide is projected at seven times the speed of sound on to the rim imbedding it into the alloy. Unlike a ceramic surface it cannot flake away as it is part of the rim (not a layer). Rim overall width of 24mm & inner well width 19mm.

The only recommended brake blocks are Swisstop C.S.S. Blue V brake blocks (SJSC part # 32142).

Manufacturer Details:
- ETRTO compatability size: 559 x 19
- Sides: CSS
- Eyelets: -
- Valve hole diameter: 6.5 mm
- Recommended tyre widths: 28 to 62 mm
- Weight 735g
- ERD - 541
Related products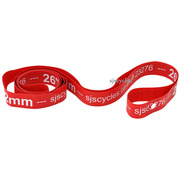 SJSC Reinforced Nylon Rim Tape - 26", 559 x 22mm - Red
£1.39 Inc VAT
Quick view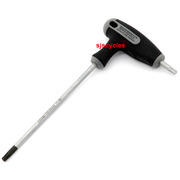 Teng Tools TS/TX20 Torx T key for Rohloff hubs
£7.99 Inc VAT
Quick view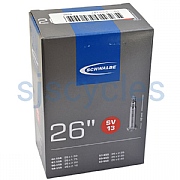 Schwalbe SV13 Presta Tube - 26" Tyres - 40-559 to 62-559
£3.99 Inc VAT
Quick view
Product Reviews (1)
Overall Product Rating 5 / 5
Rigida Andra 30
11 Aug 2016
Ryde Andra 30 26", 559 MTB CSS Rim - Rohloff Drilling - Black - 32 Hole
I recommend this product
Pros
Rohloff specific drilling for spoke nipple angle, heavy duty braking surface
A great, very heavy duty rim to suit the large flange of the Rohloff hub. Allows for straight nipple and spoke thread engagement under optimal spoke tension.
Suitability For Use With Disk Brakes
29 Mar 2017
I plan on building a rear wheel with a disk brake Rohloff. The bike has V-brakes as standard, the disk brake will be used to assist with longer fast descents as a drag brake. I plan to use a 32 spoke hub/rim.

Will there be any issues using the Andra rim in this way?

Thanks in advance.
Hi,

This would be absolutely fine to use this Andra rim in this way. We actually spec a number of our tandems with this rim and run a disc brake and a rim brake on them.

Thanks.
Recomended Spokes And Niples?
08 Apr 2015
Which spokes and niples (length and types) are recomendet with this rim.
What tension is recomended for heavy duty?
I`m replacing my old rim Riga Andra 30 26" Rohloff Drilling and reusing my old rohloff gearhub 32h on my Thorn Raven Tour bike.
Hi,

When building with a Rohloff hub we always recommend using Sapim spokes as they seat better with the Rohloff flange. The length required for this build would be 238mm and you would also require 14mm nipples. You will need to build these 2-cross and make sure they cross the flange. There is a large range of tension that these could be built at, as long as all of the spokes are evenly tensioned they should be okay.

Thanks.
Will This In Rohloff Wheel Build Hold My 190Kg Weight?
26 Jan 2015
I am considering having you build a wheel with this rim and a Rohloff Speedhub once I have the money. You only carry this rim in 32h Rohloff drilling and not 36h even though Rohloff now makes a 36h Speedhub, and you only sell 32h Rohloff hubs. As I weigh 190kg and want to bike ride to lose weight, I am concerned as to whether a 32h wheel build will stand up to my weight, as I had hoped for a 36h wheel build to be safe.
Hi,

Due to the larger flanges on the Rohloff it makes for a very strong wheel even with only 32 spokes. Because of how they are built due to the large flanges changing up to 36 spokes actually makes a lot less difference than with a normal wheel. We happily use these wheels with only 32 spokes on our tandems and never have an issue with the strength of them.

Thanks.