Brooks B67 Textured Top Leather Saddle Single Rail for Micro Adjust Posts
Colour
Manufacturer :
SJS Cycles part number :
Manufacturer part number :
Details
Identical to the comfortable and popular B66, using the same springs and top, but with a single rail allowing fitting to modern micro-adjust seat posts without the need for an adaptor. Size: 210 x 260 mm

Available in black or honey
Similar products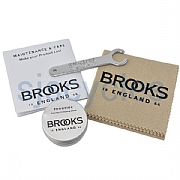 Brooks Saddle Maintenance Kit
£9.99 Inc VAT
Quick view
Brooks Coated Nylon Waterproof Saddle Cover - Black
£7.99 Inc VAT
Quick view
Product Reviews (3)
Overall Product Rating 5 / 5
A Very Comfortable Brooks Saddle
27 Jul 2016
Brooks B67 Textured Top Leather Saddle Single Rail for Micro Adjust Posts
I recommend this product
Cons
Slightly heavier than other Brooks saddle
I bought the B67 to replace my current B17. I also have B17 narrow and B15 Swallow titanium. The B67 is very comfortable from new. The two springs absorb impact from the road and the leather has more flex and flatter surface. I plan to order another one soon. I recommend this saddle for a more upright riding bike. Mine is an H6R Brompton.
Brooks B67: As Comfortable And Functional As It Is Good Looking.
14 Feb 2016
Brooks B67 Textured Top Leather Saddle Single Rail for Micro Adjust Posts
Cons
Leather,doesnt,like,getting,wet,so,should,be,covered,with,a,plastic,bag,when,bike,is,parked,outdoors
Pros
Most,comfortable,saddle,I,have,ever,ridden
I think every Brooks saddle owner will come to the conclusion that it is not fair to write a review on such a product when it is brand spanking new. It takes faith and patience to believe that this stiff leather board will, over time and helped by Proofide, become comfortable, just like a good pair of hiking boots. It's counter intuitive – ask most people how to make a bike saddle comfortable and they will say it should be thick and well padded – NO!! Just a simple sheet of leather, perhaps with springs, and when it has broken in, it will be the most comfortable saddle you have ever ridden. My advice would always be that a suspension seatpost is a poor alternative to a high quality saddle that fits you well. I have branded my initials on mine with a soldering iron as a theft deterrent – if a Brooks saddle is stolen you not only have the financial loss, but also the fact that it has taken time to mould to fit you.

I love the timeless old fashioned design of Brooks saddles, and I find it astonishing how so few bicycle saddles have loops to carry saddlebags. There are no modern materials in this saddle – no plastic or foam or anything like that. It is built to a specification that could be Victorian – proof that old technology really is the best.

Brooks B67
15 Mar 2011
Brooks B67 Textured Top Leather Saddle Single Rail for Micro Adjust Posts
I recommend this product
Excellent piece of kit which hopefully will last a lifetime.
SJS were great,immediately answering my enquiries and delivery was very fast.
Questions & Answers
If you have any questions ask here or phone 01278 441500 (+44 1278 441500).