Shimano 18T Sprocket for Nexus Geared Hubs - Black - Y73T21830
Manufacturer :
SJS Cycles part number :
Manufacturer part number :
Related products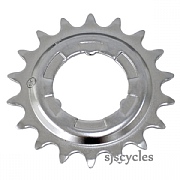 Shimano 18T Sprocket for Nexus Geared Hubs - Silver - Y32203420
Now from

£6.99

Inc VAT
Typical RRP: £9.99
Quick view
Product Reviews (4)
Overall Product Rating 5 / 5
Easy change of hub gear ratios
13 Sep 2019
I recommend this product
Pros
cheap, easy option to change ratios in a hub gear
Shimano SG 3C41 hub gear ratios didn't suit my commute, original sprocket was 16T. Got this and a 19T to try. 18T suited me for my commute. Easy to fit just remember the slight difference it will make to the chain tension when putting the axle back in the drop outs.
5/5
19 Feb 2018
I recommend this product
Pros
good price so replacement not a great cost
Good product and a very good price
One Of My Favourite Purchases.
20 Jun 2017
I recommend this product
Cons
This one is black - I prefer silver but I am not complaining
Pros
Great price for such a durable and important item
Old-fashioned article at what is to me as a 70 year old codger an old-fashioned price (and please note SJS long may it remain so!).
Shimano Sprocket
24 Mar 2017
I recommend this product
very pleased with spocket, good price and quality.
Looking for a dished alternative to this
22 Nov 2018
I am using this sprocket with an Alfine 11 and a CT-S510 chain tensioner, and they don't align very well - the chain falls off every now and then. Can you recommend a dished 18T sprocket that will fit Alfine 11 and straighten my chain line?

Secondary question - I just bought a pair of Ortlieb Back Roller Pro Classic QL2.1 Panniers from you guys via Ebay, is it possible to combine them with an order from website to save on shipping?

Thank you.
As this sprocket is dished and not flat, we would need to see the bike in person to advise further.

Unfortunately Web orders and Ebay orders can not be combined.

Thanks - 23/11/18
Can you sell the plastic chain guide that fits with this?
01 May 2018
For use on a 2010 Scott Sub 35 8 speed Nexus
Hi there,

The guides are not available alone, they come factory fitted to sprockets, such as - SJS Cycles part number : 17420S18

Thanks