Schwalbe Marathon HS420 Rigid Tyre - 27.5 x 1.65, 44-584
Manufacturer :
SJS Cycles part number :
Manufacturer part number :
Details
The Original: The archetypal high quality touring tyre. The highly elastic GreenGuard layer is 3mm thick. One third of the GreenGuard is made up of recycled latex products. The 'Anti-Aging' sidewall can withstand the typical cracking that results from overloading due to insufficient inflation pressure for much longer.

E-Bike Ready. You can choose every Marathon for your E-Bike (E-25). The main sizes are approved and tested for E-Bikes up to 50km/h (E-50).

- Size: ETRTO 44-584 (27.5 x 1.65 Inch)
- Type: Wired
- Compound: Endurance
- Execution: GreenGuard
- Colour: Black / Reflex
- Seal: Tube
- Weight: 820g
- Pressure: 3.50 - 6.00 Bar (50 - 85 psi)
- Maximum Load: 105kg
- EPI: 67
- E-Bike: E-25
- Tube: 12, 21, 21A, 21AP

Ratings:
- Rolling: 4 / 6
- Road Grip: 4 / 6
- Off-Road Grip: 2.5 / 6
- Protection: 5 / 7
- Service Life: 5.5 / 6

E-25 - Suitable for E-Bike: Tires with the recommendation E-25 are the perfect choice for all pedelecs with a pedal assist up to 25km/h. The most important criterion for this recommendation: safety.
Related products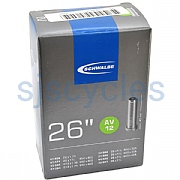 Schwalbe AV12 Schrader Tube - 650c/26" Tyres - 47-559 47-571 35-584 to 44-584 32-590 to 44-590 & 32-597
Now from

£4.99

Inc VAT
Typical RRP: £7.99
Quick view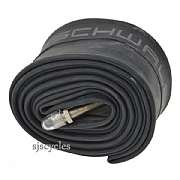 Schwalbe AV21 Schrader Tube - 650B / 27.5" Tyres - 40-584 to 62-584
Now from

£3.99

Inc VAT
Typical RRP: £7.99
Quick view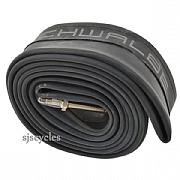 Schwalbe SV21 Presta Tube - 650B / 27.5" Tyres - 40-584 to 62-584
Now from

£4.99

Inc VAT
Typical RRP: £7.99
Quick view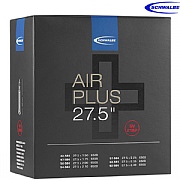 Schwalbe SV21AP Presta Air Plus Tube - 27.5" / 650B Tyres - 40-584 to 62-584
Now from

£6.99

Inc VAT
Typical RRP: £9.99
Quick view
Be the first to write a review
Feel free to leave a review of this product, good or bad it helps other customers with their buying decision.
Would these fit on a Carerra Subway 3 Mens hybrid bike (from Halfords)?
18 Apr 2022
Road speed vs Schwalbe Durano
28 Oct 2020
Hi, what would be faster/better on the road and pathways vs the Schwalbe Durano DD 27.5 x 1.10 Inch 28-584?

They're to fit a Carrera Subway that has a 19-584 rim, and 48-584 tyres on it currently.

Looking for something faster and less road resistance
You need to be wary of the width of tyres you are fitting, please consult the rim manufacture for the maximum and minimum safe tyre widths as going down from your current 48-584 to 28-584 may be too thin a tyre for the rim. Something like the Marathon all motion would be a good balance of grip, speed, all-weather versatility and puncture protection for general commuting use.

JK 29.10.20
Can I replace my Maxis 2.45 for these 1.65 for road and cross country trails?
05 Oct 2020
I have a Norco sight 27.5B and want to use these tyres for easier riding when out with my wife.
Probably going to be a push on the rims, we would look for something about 2". Obviously you will need to ensure the inner tubes are suitable.

Thanks
Can I use these on a Voodoo Bantu mountain bike.
21 Sep 2020
The bike currently has 27.5 x 2.25 knobbly tyres. I want to fit road tyres as skinny as possible.

I found this information about the rim 14Gx32H.

If these won't fit please can you recommend some road tyres with the skinniest width that will fit. THanks.
Hello, We cannot advise the skinniest tyres that will fit as this information is only known to the rim manufacture- please contact the retailer who sold the bike or Voodoo directly for confirmation asto the safe min/ max tyre sizes your rims can run.

Thanks,


Will these fit 26 x 1 1/2 x 1 5/8 (44-584) 1980s Peugeot?
12 Jul 2020
Yes they will fit, just make sure the frame has enough clearance!

jk 13.07.2020
Can this tyre be used to replace a 54-584
27 Apr 2020
My wife had mountain bike but looking for road friendly tyres. Current size of tyre is 54-584.

Thanks!
Hi, yes this tyre will be suitable. Thanks 27/04/2020
Is this tyre ok for 48-584 (48x 650b) pls?
28 Jun 2018
Yes, this will be suitable, just 4mm narrower.

Thanks
Could you advise me of the correct tubes to use please?
28 Jul 2017
I have schwalbe Marathon cross raceguard tyres for my Cannondale Slate bike. The tyre size is 650b 27.5 x 1.65. I haven`t fitted them yet as I am struggling to find compatible inner tubes. Could you advise me of the correct tubes to use please?
Hi,

Assuming you're using Presta valves then we'd recommend the Schwalbe SV21 inner tubes, these are SJSC part 41090.

Thanks.