Schwalbe Marathon Plus Tyre - 26 x 1.35, 35-559 (NOS)
Manufacturer :
SJS Cycles part number :
Manufacturer part number :
Details
Tread pattern HS348 with wire bead (rigid)
Punctures are a memory. The SmartGuard layer made from a flexible, special rubber offers particular resistance to shards of glass & flints. Even a thumbtack cannot penetrate this protective layer. The SmartGuard belt does not increase rolling resistance. The MARATHON PLUS rolls as easily as a tyre without protection.

It is impossible to guarantee that a flat will never happen, but the Marathon Plus has the best defense against everyday tyre wreckers such as glass, flints or metal shards. Use a pressure gauge to adjust tyre pressures as the common "thumb check" is insufficient due to the special construction of the Marathon Plus.

Tech Specs:
- Type: Wired
- Version: Performance Line
- Compound: Endurance
- Puncture Protection: SmartGuard®
- Protection Level: 6
- EPI: 67
- Pressure (PSI): 55-95psi
- Max Load: 90kg
- Weight: 775g

Please note: These tyres are NOS ( new old stock) and have been in storage for a little while so may have a few cosmetic marks and be slightly mishapen (hence the bargain price!) but they will straighten up once fitted and this will not detract from the performance of the tyre in any way.
Related products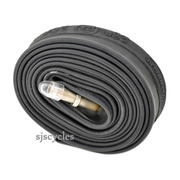 Schwalbe AV12A Schrader Tube - 26" Tyres - 25-559 to 40-559
Now from

£3.99

Inc VAT
Typical RRP: £7.99
Quick view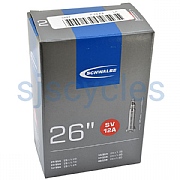 Schwalbe SV12A Presta Tube - 26" Tyres - 25-559 to 40-559
Now from

£4.99

Inc VAT
Typical RRP: £7.99
Quick view
Product Reviews (14)
Overall Product Rating 4.6 / 5
Very good tire at very good price
25 May 2022
I recommend this product
I fitted these to two bikes a few months ago. I have since ridden them on and off road without any issues or punctures so happy to recommend them. They are a tight fit but that is not too much as an issue as it appears that it only needs doing once.
16 Mar 2022
I recommend this product
total bargain spent ages looking for this item
so very pleased thanks
A STEAL !
07 Feb 2022
I recommend this product
Pros
Quality at an unbelievable price.
These tyres are fantastic. The dampening effect of them is surprisingly effective and the 35mm width is a bonus. I am 11 and a 1/2 stone and have the tyre pressures set at a couple pounds below 70psi on the front and a couple of pounds above 70psi on the rear, lovely. Buy these whilst stock lasts.
A bargain, but, needs carefull installation.
07 Dec 2021
I recommend this product
Cons
none, except a bit more difficult to fit.
Pros
Price, quality, and hopefully least amount of punctures.
When I ordered these I had already read the comments section regarding customers experiences with them, so I was not surprised when I got them. Firstly, do not be in rush to fit these, leave them aside in a warm room for 24 hours and then go about fitting them. I have some old rims with 19mm inside dimension and fitted them to those first and pumped them up to 100 psi, whereon they seated up perfectly. There is a bit of manhandling involved, but, they came good. These are the first Marathon Plus tyres I have ever bought, having found the standard Marathon more than capable for around London. I look forward to how well they stand up to their reputation.
Good value
27 Apr 2021
I recommend this product
Hard work to fit these mis-shaped tyres, but got there in the end, and all is well. Certainly worth the money though.
Good for another few years
18 Mar 2021
I recommend this product
Cons
Need good technique to fit
Pros
As puncture proof as anything I know
Should have got two of these the first time I ordered, at such a bargain price. Quick delivery again. Needed a pair of full sized Park Tools tyre levers to fit, but Marathon Pluses have never been the easiest to get on a wheel. As another reviewer has pointed out though, you don't need to do it that often. If I'm right, my previous tyres had been on the bike for 7-8 years.
Excellent tyres
12 Mar 2021
I recommend this product
Great tyres at a bargain price-usual Schwalbe quality-been using them for 30years-never disappointed!
Rippled inner surface & distorted shape.
29 Jul 2020
Cons
On this occasion, not fit for purpose.
Pros
Usually excellent. Unsurpassed in my experience.
I received two tyres both distorted such that when they were fitted, the centre line of the tyre was not consistently in the centre line of the rim.

The inner surface of both tyres was rippled in places, like separated lamination.

Additionally, on one tyre, the end of one bead wire protruded about 3cm outside of the inner surface of the tyre. I didn't notice this when fitting the tyre and it caused a puncture. The tyre is scrap. Both are.

SJS resolved the issues promptly - thank you. How ever did they get through quality control? My previous experience of these tyres is of a quality which is unsurpassed and I'm sorry to leave such a negative review on this occasion.
23 Jun 2020
I recommend this product
Pros
Puncture resistance, durability.
First class tyres at a great price.
Great value tyre
11 Apr 2020
I recommend this product
Pros
Half the price of the equivalent brand new tyres, and just like a brand new tyre
Bought these NOS tyres, half the price of brand new, and they are perfect.

Very slightly mis-shapen when delivered - pretty much exactly as described in the product description - but when fitted to my rims and pumped up to 85psi these straightened out, and the tyres roll straight and true just like brand new ones.

A really great buy at half the price of brand new tyres.
Best commuter tyre hands down
30 Aug 2019
I recommend this product
Cons
Hard to fit - but there is a certain technique.
Pros
Great brand, puncture resistance. Last for thousands of miles.
Already had a pair of these in 700x25c on my MTB for ages and they have been great, but 25c is the thinnest version of this tyre and those are a bit harsh over all the inevitable potholes we have in the UK, so I have swapped to these in a 1.35 inch version on a whole new wheelset. Never had a puncture and expect the same from these new ones. SJS were selling these at a bargain price - half price - so I jumped at the chance since it was the exact size I was looking for anyway. Apparently the 35c (or 1.35 inch) has better rolling resistance than the 25c, which sounds wrong, but isn't. It's one reason I wanted to get off 25c, to these. Will last for multiple thousands of miles.
Outstanding Value - Indestructible And Nice To Ride
20 Sep 2012
I recommend this product
Cons
strong thumbs needed for first (and only) fit
Pros
puncture proof, indestructible
These tyres are great. Stick them on a mountain bike with new tubes and then forget about them for half a decade. They roll well, are faster than my Hutchinsons and my previous set lasted for over 10000 miles before there was no tread left.
Schwalbe Marathon Plus Tyres
18 Feb 2012
I recommend this product
wExcellent speedy delivery, well packed. Have these tyres on another bike, no punctures, many miles over various terrains including the Pyrenees. Very hard to put on first time but worth the effort.
Excellent Puncture Resistance
27 Aug 2011
I recommend this product
Pros
good puncture resistance
Selected these tyres to replace previous Schwalbe Marathon tyres that were starting to show their age. Delivered rapidly. They are difficult to put on, but experience indicates that they rarely have to be removed.
which tubes do I need ?
19 Nov 2021
hi can't find RT180719 on your website - which tubes do i need ?
SJS parts: 13011 (Schrader valve) & 3827 (Presta Valve).

JK 19.11.21


1990,s marin mountain bike
17 Jul 2019
hi there , i have an old 1990,s marin mountain bike that i want to make into an expedition bike for a month riding in morocco . please could you tell me if these : Schwalbe Marathon Plus SmartGuard Tyre - 26 x 1.35 Inch (35-559) will for onto the original wheels that are on it ? !
many thanks in advance .
yes, no problem, don't forget new tubes RT180719
How old is the stock you have on sale
01 Jul 2019
We received the current stock on 11/06/19

Thanks - 02/07/19