Schwalbe Marathon Racer HS429 Tyre - 18 Inch 355
Size
Manufacturer :
SJS Cycles part number :
Manufacturer part number :
Details
The fastest and lightest Marathon. Now in the highest Schwalbe category, Evolution Line. HD-Speed-Guard provides the highest level of puncture protection. RoadStar Triple Compound for the best handling characteristics. Greater tread depth increases lifespan. LiteSkin sidewall.

Tech Specs:
- Type: Wired
- Version: Performance Line
- Compound: SpeedGrip
- Puncture Protection: RaceGuard
- Protection Level: 5
- EPI: 67
- Pressure (PSI): 55-85psi
- Max Load: 70kg
- Weight: 295g
Related products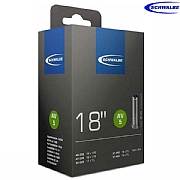 Schwalbe AV5 Schrader Tube - 18"/20" Tyres - 40-355 to 47-355 32-369 37-390 & 37-400
£2.99 Inc VAT
Quick view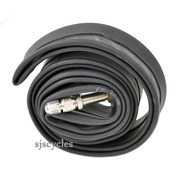 Schwalbe DV5 Woods Tube - 18"/20" Tyres - 40-355 to 47-355 32-369 37-390 & 37-400
£1.99 Inc VAT
Quick view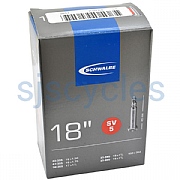 Schwalbe SV5 Presta Tube - 18"/20" Tyres - 40-355 to 47-355 32-369 37-390 & 37-400
£3.99 Inc VAT
Quick view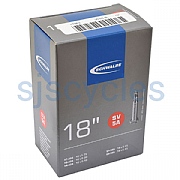 Schwalbe SV5A Presta Tube - 18" Tyres - 47-355 to 60-355
£2.99 Inc VAT
Quick view
Product Reviews (1)
Overall Product Rating 5 / 5
10 Oct 2017
Schwalbe Marathon Racer HS429 Tyre - 18 Inch 355
I recommend this product
Tyre with which I'm very familiar they came very well packed and I have no doubt they will perform as well as the last pair did.
Looking to buy 2 off 40-355 Schwalbe tyres ...
11 Feb 2018
...for my R&M Birdy bike but I see the max load is 70kg for each tyre.
I weigh 88kg plus the bike. If these are unsuitable you sell tyres that are?.
Thanks in advance.

Gerry
Hi there,

The max load is per tyre, so if you plan on using two wheels the max load for the set would be 140kgs for these tyres.

Thanks
Hi I am looking for tyres to fit my Strida.
03 Oct 2017
The size is 18" 32 x 355. I have a set of Kojaks on at the moment but they are no good in the wet so I now need a bit of grip. What would you suggest.
Hi,

The only other tyre we can offer in this 355 size are these Marathon Racers that will provide much better wet weather grip than the Kojaks without sacrificing too much of the rolling speed.

Thanks.
Would It Be Safe To Inflate This Tyre To The Maximum 85Psi, The Bike In Question Is A Birdy
19 Jun 2017
Hi yes, the max inflation pressure is 85 PSI
Does It Fit Strida 18Inch Wheel?
01 Apr 2017
Hi,

As long as the wheels are definitely the 355 size (it should be printed on the sidewall of the previous tyres) then these tyres will fit.

Thanks.