Schwalbe Marathon Original HS420 Tyre - 20 Inch 406
Size
Manufacturer :
SJS Cycles part number :
Manufacturer part number :
Details
The Original - The archetypal high quality touring tyre. Now completely revised:

GreenGuard - The highly elastic, India rubber layer is 3mm thick. Other manufacturers call such a tyre "Plus". However, Green is not just the colour, but also the philosophy: One third of the GreenGuard is made up of recycled latex products.

"Anti-Aging" - The completely new sidewall construction can withstand for much longer the typical cracking resulting from overloading due to insufficient inflation pressure. Also the new Endurance Compound substantially increases durability.

E-Bike Ready - The new Marathon has been designed for use on all types of E-Bikes. The following sizes bear the ECE75 mark, suitable for use on faster, up to 50kph, E-Bikes.

Tech Specs:
- Type: Wired
- Version: Performance Line
- Compound: Endurance
- Puncture Protection: GreenGuard®
- Protection Level: 5
- EPI: 67
- Pressure (PSI): 20x1.50 - 55-100psi / 20x1.75 - 50-70psi
- Max Load: 80kg
- Weight: 20x1.50 - 530g / 20x1.75 - 640g
Related products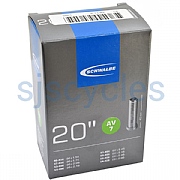 Schwalbe AV7 Schrader Tube - 20" Tyres - 40-406 to 62-406 & 54-428
£3.99 Inc VAT
Quick view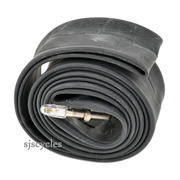 Schwalbe SV7 Presta Tube - 20" Tyres - 40-406 to 62-406 & 54-428
£3.99 Inc VAT
Quick view
Schwalbe AV7C XLight Schrader Tube - 20" Tyres - 40-406 to 60-406
£4.99 Inc VAT
Quick view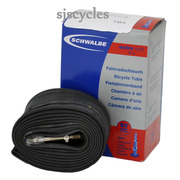 Schwalbe SV7C XLight Presta Tube - 20" Tyres - 40-406 to 60-406
£4.99 Inc VAT
Quick view
Product Reviews (3)
Overall Product Rating 4.3 / 5
Good Quality Tyres
04 Oct 2016
I recommend this product
Cons
none for tyre. Website unresponsive.
Pros
Puncture resistance, quality of manufacture
I have used Schwalbe Marathon tyres on my hybrid bike for several years and they have very good puncture resistance. They also have good wear resistance - would recommend if you are looking for a durable long lasting tyre (not too heavy either).
Good Service, Good Product
12 Aug 2016
I recommend this product
Bought these to replace tyres on a Dahon folding bike. The service was good and the tyres look great. Haven't done a million miles yet but they were fine the first few journeys
Reliable Tyre
20 Oct 2012
Pros
Long life, high pressure, tough, easy to fit
I ride these all year round even though they are a bit chunky because they give me more confidence. If I hit a patch of bad surface they seem to cope very well. They do seem to give many months of riding between punctures. The older they get the thinner they are and embedded stones and glass start to cause punctures, but that would be true of any tyre. They wear out before they perish so I don't waste money changing a perished tyre that still has a decent tread. Also the pressure rating is twice that of similar tyres which is good for Moultons.
Tyre size
30 Sep 2019
My tern link c7 bike has Schwalbe Citizen, 42-406 (20?1.6). Would this tyre (20?1.7) be ok to replace the old tyres? If not which one do you recommend
The 1.7" will be 5mm wider. This will be fine providing you have the clearance for wider tyres.

Thanks - 01/10/19
Can I use this with my Tern D8 link bike?
17 Nov 2018
Which tyre size will be better for my Tern D8 link bike? 1.50 or 1.75? I'm currently running on a 1.60 tyre? Thanks.
1.50 will be slightly lighter, less comfortable generally but give more clearance. 1.75 may foul the mudguard or frame, but would offer slightly more compliance and grip.

Thanks - 19/11/18
This will be OK to replace my 32-406 (20 x 1.35)? Thanks!
03 Oct 2018
https://www.ecosmobike.com/products/ecosmo-20-lightweight-alloy-folding-bicycle-bike-12kg-on-sale15-off-105.html
Hi there,

This should fit absolutely fine.

Thanks.
Is this tyre foldable?
23 Jul 2018
No, this tyre is not foldable.

Thanks
Re Tyres
20 Jun 2018
Will this tyre be OK for my Dahon Jetsream 20in bike. Original tyre size marked 40 406 1.20x1.50. Thanks.
Hello,

These tyres should fit absolutely fine.

Thanks.
My bike is a Dahon Vybe current tyre is 40-406 20 x 1.50 K193-03
02 May 2018
Will the Schwalbe Marathon original HS420 tyre 20" 406 be the correct tyre for me?
Hi there,

Yes these will be a suitable replacement.

Thanks