Schwalbe Marathon Plus Tour HS404 Tyre - 26 Inch 559
Size
Manufacturer :
SJS Cycles part number :
Manufacturer part number :
Details
Flat-less - with a purposeful trekking tread. Asphalt or off-road? Everyday use or bicycle expeditions? This versatile tyre always does the job. Its robust construction handles almost any mistreatment. Protected by SmartGuard, the most effective puncture protection belt available for bicycle tyres.

It is impossible to guarantee that a flat will never happen, but the Marathon Plus has the best defense against everyday tyre wreckers such as glass, flints or metal shards. Use a pressure gauge to adjust tyre pressures as the common "thumb check" is insufficient due to the special construction of the Marathon Plus.

Tech Specs:
- Type: Wired
- Version: Performance Line
- Compound: Endurance
- Puncture Protection: SmartGuard®
- Protection Level: 6
- EPI: 67
- Pressure (PSI): 26x1.75 - 45-70psi / 26x2.00 - 30-70psi
- Max Load: 26x1.75 - 115kg / 26x2.00 - 130kg
- Weight: 26x1.75 - 980g / 26x2.00 - 1100g
Related products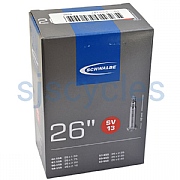 Schwalbe SV13 Presta Tube - 26" Tyres - 40-559 to 62-559
£3.99 Inc VAT
Quick view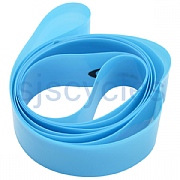 Schwalbe 26 Inch 559 x 25 mm High Pressure PU Rim Tape
£1.49 Inc VAT
Quick view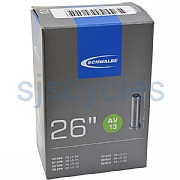 Schwalbe AV13 Schrader Tube - 26" Tyres - 40-559 to 62-559
£3.99 Inc VAT
Quick view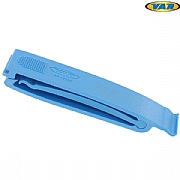 VAR Tyre Levers
£7.50 Inc VAT
Quick view
Product Reviews (5)
Overall Product Rating 4.6 / 5
Fit and forget heavy duty tires
07 Oct 2019
I recommend this product
Cons
Heavy, expensive & unsuitable for thinner rims
Pros
Strength, reliability & puncture protection
These are the toughest tires I could find (26x2.0 is rated for 130kgs per tyre). They have steel beads, thick sidewalls and great puncture protection. They are difficult to fit and impossible to centre on my thin rims like my Ryde Andra 30's but on my Andra 40's or other wider rims they go on by hand and centre perfectly. They are heavy but roll pretty well. I've only had 2 punctures in multiple sets on 2 e-bikes used daily on roads, cycle paths and canal towpaths for nearly 4 years, and one of them was a huge nail that went in the tread and out of the sidewall!
09 Jul 2019
I recommend this product
Cons
They will be a bit heavy for some.
Fitted these to my Thorn Nomad for LEJOG.993 miles no punctures.Ridden on gravel,canal towpath,tarmac etc.Totally secure fit and forget.Highly recommended.
Bad surprise
28 May 2019
Cons
Ask where they are made in...
Pros
Very polyvalent for road and offroad word tour
My brother used them 21500 km without a puncture. Mine were completely worn after only 6000 km. Very difficult to center, worn down to the blue gum and one cut along the cable.
written inside : made in Vietnam (my brother's ones : made in Germany) So, what can I say ...
http://www.lesandesentandems.wordpress.com
The Ultimate Commuter Tyre
03 May 2018
I recommend this product
Cons
Maybe a bit heavy for a serious rider
Found out through process of elimination, sweat and sore feet these are the only tyre that's worth having on your commuter bike (or any other bike for that matter!). Schwalbe reckon you can ride over broken glass on these tyres.... And it's true - I've done it. Riding 24 miles a day into Manchester City center, never had another puncture after fitting these, despite all the pot holes.....
20 Oct 2017
I recommend this product
Cons
Harder to fit than 'normal' tyres
Good price, quick delivery, great for the trails
Reading Francois review is it worth asking where these tyres are made?
25 Jun 2019
Hi there,

Unfortunately, we do not know. As Schwalbe is a German company it is safe to assume that they are made there.

Thanks.
rolling resistance
17 Aug 2017
hi
trying to decide about these marathon plus tours as replacements for the schwalbe hurricanes with kevlar guard i've been buying for ages.
the marathon plus tours are much heavier and i'm keen to understand how they roll compared to the hurricanes - any comments, suggestions?
thanks
Hi,

The Marathon Plus Tour tyres will roll slower than the Hurricanes, but not by much so in most conditions you may not even notice it. The Marathon Plus Tour's do offer much better durability and puncture resistance than the Hurricanes though.

Thanks.