Schwalbe Marathon Plus Tour HS404 Tyre - 700c 622
Size
Manufacturer :
SJS Cycles part number :
Manufacturer part number :
Details
Flat-less - with a purposeful trekking tread. Asphalt or off-road? Everyday use or bicycle expeditions? This versatile tyre always does the job. Its robust construction handles almost any mistreatment. Protected by SmartGuard, the most effective puncture protection belt available for bicycle tyres.

It is impossible to guarantee that a flat will never happen, but the Marathon Plus has the best defense against everyday tyre wreckers such as glass, flints or metal shards. Use a pressure gauge to adjust tyre pressures as the common "thumb check" is insufficient due to the special construction of the Marathon Plus.

Tech Specs:
- Type: Wired
- Version: Performance Line
- Compound: Endurance
- Puncture Protection: SmartGuard®
- Protection Level: 6
- EPI: 67
- Pressure (PSI): 50-85psi
- Max Load: 700x35 - 105kg / 700x40 - 120kg
- Weight: 700x35 - 890g / 700x40 - 940g
Related products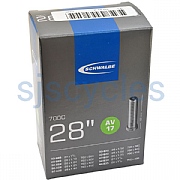 Schwalbe AV17 Schrader Tube - 700c/27"/28" Tyres - 40-609 28-622 to 47-622 32-630 & 40-635
£3.99 Inc VAT
Quick view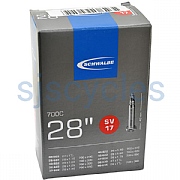 Schwalbe SV17 Presta Tube - 700c/27"/28" Tyres - 40-609 28-622 to 47-622 32-630 & 40-635
£3.99 Inc VAT
Quick view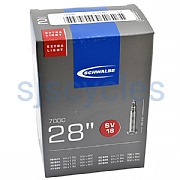 Schwalbe SV18 XLight Presta Tube - 28" Tyres - 28-622 to 44-622
£4.99 Inc VAT
Quick view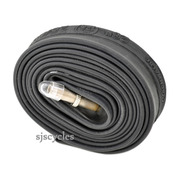 Schwalbe AV19 Schrader Tube - 27.5"/28"/29" Tyres - 50-584 60-584 40-622 to 62-622 & 40-635
£3.99 Inc VAT
Quick view
Product Reviews (19)
Overall Product Rating 4.9 / 5
Ride with confidence!
02 Aug 2019
I recommend this product
Cons
Slightly heavier than other tyres, but not noticeable when riding
Great tyres. Very easy to fit (some people say the marathons are tricky to get over the rim, but I did it with just my fingers - no levers). I can ride with confidence now, safe in the knowledge that I'm pretty well protected from thorns and other sharp objects (smashing glass bottles on the cycle path seems to be a favourite pastime for the local youth).

SJS had the best price on these by a long way, and delivery was super fast. Will definitely buy from you again!
What I was looking for
17 May 2019
I recommend this product
Cons
A bit heavier but if no flats worth it
After having way too many flats while going away on tours (country Lanes, minor and major roads and a bit of off road), I did some research and came up with these. Have had them for two weeks. So far so good. Did not struggle too much putting them on - saw a helpful video online.
30 Jan 2019
I recommend this product
Verry happy
SJS Customer Service:
You are welcome
The best tyres for ebikes
22 Aug 2018
I recommend this product
Great service and a superb product at a good price, and I've bought a second pair for my partner. Thank you SJS
Awesome protection, silky rolling.
06 Nov 2017
I recommend this product
Cons
For me there are none.
Pros
Protection. Construction quality. Grip in the muck. Smooth rolling.
I use a heavily-laden hybrid on Norfolk's country lanes. Damaged tarmac, mud, thorns and flints. I switched to Marathon Plus Tour on the recommendation of SJS Cycles after using standard Marathon Plus tyres for many years.
Let's not get into a debate about tread not being required on bike tyres for tarmac, I'm now firmly in the camp that says it is, because these more open-treaded Tour HS404s are simply wonderful.
I had clearance for the widest size and that would be my recommendation if your bike allows. You will be impressed with how they roll. So quiet and smooth, yet forgiving.
Schwalbe maximum-level puncture protection. Nothing I know of can give the same peace of mind.
The weight of these awesome tyres is irrelevant to me with my priorities. I did briefly experiment with Lite Skin types but they proved way too fussy.
No, Tour HS404 are superb. Thanks again for the advice SJS. I could not be more pleased.
20 Oct 2017
I recommend this product
Cons
Harder to fit than 'ordinary' tyres
Quick delivery, good price. Great for the trails
Excellent Tyres
04 Oct 2017
I recommend this product
Bought these for my gravel bike which is ridden almost exclusively on rough tracks. Have the road tyre version on my other bike and have complete faith in their construction and ability to resist punctures.
Excellent tyres
26 Jul 2017
I recommend this product
Absolutely bombproof tyres at good price, plus the fast delivery from sjscycles. What more to ask for?!
Thank you
Great service
19 Jul 2017
I recommend this product
Pros
Stock availability and price
Prompt delivery from stock at a great price.
Had in stock just what we wanted.
Excellent
04 Jun 2017
I recommend this product
Cons
They are a little on the heavy side but worth the trade off for commuting / touring.
Pros
Top quality puncture resistance
I've been using these tyres for three to four years now. I commute on mixed surfaces in all weather conditions and I can't fault them. Obviously no tyre can be 100% puncture proof but I've pulled bits of glass, metal, and thorns out of these over the years and had no punctures to date. I've just bought a new bike and changed the tyres for these as I have so much confidence in them. The price and delivery from SJS Cycles was excellent.
Quality Tyre
04 Mar 2017
I recommend this product
I've been unlucky enough to have a couple of punctures whilst cycling to work. A friend recommended this tyre, as he'd been using them for 3 years and never had a puncture. The second I unwrapped it I could instantly tell it was a high quality tyre, and a lot better than the one that came with my bike. It's quite heavy but robust. So far, I'm very happy with it.
Perfect For Me
10 Feb 2017
I recommend this product
Pros
Punctureless and hard wearing
Bought this tyre on the back of having it before, only reason I needed another is the tread has worn down but after around 4000 miles of mixed surface riding without a puncture I can't complain.
Great Tyres, Great Customer Service
29 Dec 2016
I recommend this product
Pros
Tyre quality, customer service
I bought 4 of these tyres for an upcoming 6 month tour for my partner and I. I've previously had these tyres on my other bike, 3 tours and daily riding for 3 years, no punctures and perfect rolling.They are slightly heavier than other tyres but for the puncture protection and tread lasting it's more than worth it.

Also, one tyre arrived and once fitted had a ballooning in the outter lining. One email later and a brand new tyre without charged arrived the next day.

Overall, brilliant tyre and amazing company to buy from. Recommended, without a doubt.
Good Value, Quality Touring Tyre.
21 Dec 2016
I recommend this product
Pros
Good construction, easily fitted, good value.
I usually fit Continental touring tyres, but quality has declined. First impressions on opening the package were, sturdy construction.This tyre was very easy to fit to my Mavic rims. I have fitted this tyre with a new matching Schwalbe tube, so far so good.
Schwalbe Marathons
23 Nov 2016
I recommend this product
Pros
Price and Schwalbe reputation
I was recommended these tyres by a friend who has used them for years. My previous tyres were Schwalbe Durano Plus and I'd used them since 2012 and only had 1 puncture. SJS cycles were selling them at a very competitive price. They were delivered promptly and well packaged.
Great Tyres
25 Oct 2016
I recommend this product
My third bike now with these fitted on them and never had a flat. If your on the road, gravel path or crossing a grass verge these will safely take you across them without slipping.
A heavier tyre but a good trade off for not having punctures or sliding sideways in the wet.
Great Tyres
07 Sep 2016
I recommend this product
Pros
Excellent puncture protection with great tread
Bought these tyres for myself as I wanted the best puncture protection I could get, I know they are heavier than other tyres but to me it's worth the trade off, so much so that my 3 friends got me to order them as well, sjs had a great deal so ended up with great tyres at a great price
Excellent!
17 Apr 2013
I recommend this product
Pros
Bombproof, all terrain.
Fab tyres!

Bombproof.

Excellent on roads, on gravel, forest/fire tracks, single track, etc. Compound grippy but durable, tread cut for off and on road.

I've worn a couple of rear tyres smooth but that's after 10's of thousands of miles of loaded tarmac/mixed use. I've never had a puncture with these tyres, despite once picking a nail out and often picking out glass shards. (I have once had a puncture with a Marathon Plus. But that was a sharp, sheared bolt!)

Sometimes difficult to put on.

Downside is the weight. Rolling weight too.

Upside is you can forget about punctures and replacing tyres for a very LONG time.

They also have a curious habit of being very slippery sideways when riding on top of road line markings, you can end up a few inches to the left or right all of a sudden. (Maybe that's true for all tyres?) Exercise caution anyway.

All in all 9.5/10. (Just the weight lets them down).
Tyre Change Update
14 Oct 2011
I recommend this product
Have tried the tyres today across our local heath ( gravel tracks) & roads. V.good stability on gravel/sand & excellent rolling performance on tarmac.
700 x 40C marathon plus tour tyre
15 Aug 2019
Will these fit on my Carrera Crossfuse e bike at the moment I have 700 x 38c tyres
Can i run these tyres tubeless?
18 Jul 2019
I have tubeless wheels but fed up with punctures that never repair. This morning completely stuck when i find my sealant has all gone. 1st time ever i have had to call for a lift home as tyre would not seal and unable to get valve out
No these do no work tubeless.

Thanks - 19/07/19
Daft question, but....
18 Apr 2019
If I buy this product, do I get 1 tyre in the box or 2? I want to replace both tyres on my bike, but don't want to order 2 from here and end up with 4 tyres!
These are sold individually.

Thanks - 23/04/19
I have been advised to buy 700 x 38C marathon plus tour tyres for my e-bike. Do you sell these pl?
21 Feb 2019
Yes, search using SJS Cycles part number : 34231S40

Thanks - 25/02/19
Can I use the 700 x 35 37 - 622 on my 700 x 32c bike?
26 Jan 2019
I just don't really understand wat the 37- 622 is.


37 is width of a tire when mounted, 622 stands dia tire bead .
37 is slightly to wide it might rub, it depends on your bike.
many thanks
28/01/19
Tyre sizes
27 Apr 2018
I currently have Kenda 700x42c (42-622) tyres on my hybrid bike, but the 42-622 size is showing as 700x40c on this page. I assume that while they are a couple of mm thinner that they would fit my rims?
Hi there,

Yes these will be absolutely fine.

Thanks
Tyre width?
29 Jan 2018
Claud Butler, Odyssey,2017. Wheel rim marked 622x12 ¤t tyre is 700x38c. Interested in Schwalbe marathon tour which doesn't come in this size. Can i fit the Schwalbe 40c or should i come down to the next size? Many thanks, david.
Hi there,

As long as you have room under the mudguard (if fitted) and within the frame, you will be fine to use the 40c tyre. If you are not sure, you drop to the next size.

Thanks
Which Inner Tubes For Marathon Plus Tour 47-622?
15 May 2017
I currently have Marathon greenguard 40-622 on my e-bike and want to replace them with Marathon Plus Tours 47-622. Which inner tubes do you recommend for them? Thank you.
Hi,

Its the size 17 size of Schwalbe inner tube that we recommend. For Presta valves they are SJSC part number 3830, for Schrader valves they are SJSC part number 3857 and for Woods/Dunlop valves they are SJSC part number 3872.

Thanks.
Giant Slr 0 Rims What Size Tyres I Can Put In From 28 Up
14 Feb 2017
Hi, I have Giant SLR 0 carbon disk rims and would line to know what size tyres I can put in the rims ideally anything from 28 the bike is a Giant defy advance SL 0

Thanks

Dom
Hi,

After doing some internet research I can see that your wheels have an internal diameter of 17mm. Rims with these dimensions usually have a wide range of tyres that they can fit normally safely all the way up to 45/47mm wide. As you have a carbon road frame you will need to check what clearances your frame has as this will definitely be a limiting factor on what size tyres you can run.

Thanks.
I Have An Electric Bike With 27.5 *1.95 (50 584) Tyres On, Want To Upgrade To Marathon Plus
23 Jul 2016
Would these be suitable ?
Hi, no unfortunately these tyres will not fit as they are for the 622 size & not 584. The Marathon Plus Tour tyres are not available in the 27.5 (584). Regards
Do You Sell The Schwalbe Marathon Tour Plus In 26
18 Jul 2016
I'm not a robot
Hi,

We do sell this Marathon Plus Tour in 26" as well, these are SJSC part number 22423.

Thanks.