Hutchinson Junior Tyre - Black - 600 x 28A 28-541
Manufacturer :
SJS Cycles part number :
Manufacturer part number :
Details
For use on road and easy trails

Rating (Good - Very Good - Excellent):
- Performance: Very Good
- Lateral Grip: Good
- Weight: Very Good
- Performance: Very Good
- Puncture Resistance: Good
Related products
Schwalbe AV9 Schrader Tube - 600a/24" Tyres - 47-507 28-540 to 37-540 & 28-541 to 37-541
Now from

£4.99

Inc VAT
Typical RRP: £7.99
Quick view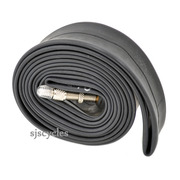 Schwalbe DV9 Woods Tube - 600a/24" Tyres - 47-507 28-540 to 37-540 & 28-541 to 37-541
Now from

£4.99

Inc VAT
Typical RRP: £7.99
Quick view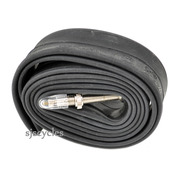 Schwalbe SV9 Presta Tube - 600a/24" Tyres - 47-507 28-540 to 37-540 & 28-541 to 37-541
Now from

£4.99

Inc VAT
Typical RRP: £7.99
Quick view
Product Reviews (1)
Overall Product Rating 5 / 5
Hutchinson 600x28A tyres and Schwalbe tubes
29 Oct 2019
I recommend this product
Cons
Delivery by Parcelforce
Pros
Available from stock.
Hard to find tyre size. Good quality Hutchinson easy enough to fit and matching inner tubes also available. Downside to the purchase was caused by Parcelforce with wrongly advised delivery date, followed by delivery to wrong depot followed by 1.5 hours later than time advised. Phew what a business they operate.
Junior bike tyres 600-28A. What tyre and tube to buy please. It has the thin valve on. Thanks.
28 May 2020
This tyre is 600-28A, if you scroll down to the related products you will see the suitable inner tubes.

Thanks- 28/05/20
Is this the back tyre size for the Kingcycle
05 Apr 2019
We are not aware of the size for that, if you could confirm the size we could suggest some tyres.

Thanks - 08/04/19
600 X 28, 28 - 541
15 Apr 2017
have you got wheels that would fit that tyre?
Hi,

Unfortunately we don't have any tyres or rims in a suitable size for use with this tyre.

Thanks.
Alternatives
19 Aug 2016
Hi this might be a long shot but I have an old peugeot junior road bike with tyres 600 x 28A / 28-541, 24" . If i were to change the tyres to something easily available out there, what would you recommend please? Thank you
Hi,

These Hutchinson tyres are the only ones we have available in this size I'm afraid.

Thanks.
Tyres For 28X541 , 600A
19 Oct 2015
Hello, three questions:
1. Can you confirm these tyres are 28x541, 600x28A? I'm using them for a kid racing bike, old Decathlon (2004). They seem pretty hard to find.
2. What pressure do they hold?
3. What tubes (schrader valve) would you recommend?
Hi,

These tyres are indeed the correct size you are looking for. Hutchinson recommend that you pump these to 70PSI. We always recommend Schwalbe inner tubes and for this size tyre with a Schrader valve it would be the AV9 size you need which are SJSC part number 3864.

Thanks.
Replacement Tubes For 28 X 541
06 Sep 2014
Hi. I need 2 new tubes for my son's 28 x 541 tyres which you stock
Can you let me know which ones to order and what's your best price for 2 tubes and 2 tyres?
Thanks
Hi,

The tubes you require are SJSC part number 4259. The best price we can offer on these is the list price on the website.

Thanks.
Looking For A Tyre, 600 A 32 541,
30 Jan 2014
hi, I´am recycling and old road bicycle and i´need tyres and it´simposible to find them i spain so far, i wonder if this hutchinson tyres could make it... thank you for the help!
Hi,

This tyre will fit your rim but will just be a little bit skinnier than your previous tyre. It will still work as well just have slightly different characteristics compared to your previous tyre.

Thanks.