Schwalbe HS130 Tyre - 26 x 1 1/4 Inch 32-597
Manufacturer :
SJS Cycles part number :
Manufacturer part number :
Details
The best quality tyre in this size ever made! Small block tread.
- Max 85 psi
- Weight 450g

This tyre will not fit 26 inch (559) mountain bike wheels
Related products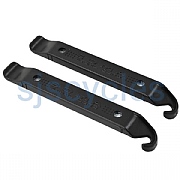 Soma Fabrications Steel Core Tyre Lever - Pair
£4.99 Inc VAT
Quick view
Product Reviews (5)
Overall Product Rating 4.2 / 5
Do the job well enough but they can be wrecked fitting them
28 Jul 2020
I recommend this product
Cons
Tight fit and less tread.
Pros
Only option if you run an old bike
I have bought these tyres before and wrecked one of them fitting it they are a tight fit on an old bike. So put my 70 old tandem war grade tyre back on the bike. Do buy plastic tyre pullers the old metal ones are only fine on vintage tyres.

Once fitted the tyres are good even though they have less tread.
07 Jun 2017
I recommend this product
Excellent tyres at a great price.
Excellent Tyres
24 May 2017
I recommend this product
Excellent tyres that fit my older bike perfectly. Well packaged and quickly delivered at a reasonable price
04 Jan 2017
I recommend this product
Pros
Fast delivery, great price.
Excellent modern tyre for an obsolete rim size, I was very happy with this tyre. Customer service was great and also matched with a fast delivery. Overall I wouldn't hesitate in using you guys again .
Nice modern spec for an old style tyre
20 Jun 2010
Pumps up nice and hard to protect those dodgey old rims and give an efficient ride. Have bought several of these for use on old knock-around town bikes and theyre great.
Can I use a 26x1 (20-559) inner tube with a 26 x1 1/4 (32-597) tyre ? Thanks Pete
22 Oct 2020
Hi, no. You risk over inflating the tube causing a blow out. You should use a tube within the 32-597 range. Thanks
Replace 26 x 1 3/8 x 1 1/2 650 35 B tyres ?
27 Aug 2020
Will these replace Semperit 26 x 1 3/8 x 1 1/2 650 35 B Sport (1835 mm rim) tyres ?.. Raleigh Record 26 x 1 3/8 are too big. Cheers, Matt
Hi No. You need tyres with an ETRO of 584. Our category Tyres - 26 / 27.5" - 584 650B. Thanks
How many tyres do you have of this model .....
26 Feb 2020
Schwalbe HS130 Tyre - 26 x 1 1/4 Inch 32-597
Hi, about 350. Thanks 27/02/20
Will thse fit 26 x 1 3/8 1 1/4 (37-597) Schwinn S-6 Rims?
21 Jan 2020
Will you combine shipping if I buy 2?
Hi, it appears from the sizes you quote that you are looking at the tyre markings. The important number is 597, this is the rim diameter. Product 6884 will fit this rim. Yes you can order a pair , the shopping basket will calculate the shipping. Thanks 22/01/20
26 x 1 1/4 city tyres for Halford Catkin
18 Oct 2018
I am looking for city bike tyres for an old Halford Catkin siz 26" x 1 1/4".
I am unsure of you question, these are 26" x 1 1/4 as per the listing.

Thanks - 19/10/18
Do i need an inner tube with this tyre? Do you sell?
16 Aug 2018
?
Yes you can use - SJS Cycles part number : 3855

Thanks
Afternoon, Are These Tyres Non-Clincher To Fit To A Classic Rim (Circa 1950S)?
07 Dec 2016
Hi,

These tyres are modern clincher tyres but as they are in this older size they should be suitable for older rim types.

Thanks.