Schwalbe Marathon Dureme HS410 Folding Tyre - 26 x 2.0 Inch 50-559
Manufacturer :
SJS Cycles part number :
Manufacturer part number :
Details
These tyres are a BRAND NEW PRODUCTION RUN exclusive to SJSC. We have sold thousands of these tyres on our bikes and we are convinced that they are the best 26" tyres ever made for most touring applications.
We know the following from vast experience of these tyres… they roll really well, they are very reliable, they have an exceptionally long service life, they have outstanding grip on wet or dry back country roads, they are very puncture resistant and at 590g, they are surprisingly light and nimble. We have never found a tyre that ticks all of these boxes so convincingly.
All of the tyres which could compete in terms of reliability, service life, grip and puncture resistance are much heavier and don't feel anywhere near as nice to ride. There is no other tyre which feels as nice to ride, which offers the Dureme's reliability, service life and puncture resistance.

Here's what Schwalbe said about them when they first introduced them:-

This Marathon is a dream. Incorporated in it is all of Schwalbe´s Evolution Technology:

High Density Guard - The safest protection belt for light weight tyres.
SnakeSkin - Much lighter than a rubber sidewall, but just as robust.
RoadStar - Triple-Compound. Our best rubber compound for outstanding grip, easy rolling & long life.

Schwalbe combined this high quality technology with a classic, versatile tread, which feels at home on any road: The Dureme is a breeze on tracks & rolls phenomenally easily on the road.

Tech Specs:
- Type: Folding
- Version: Evolution Line
- Compound: RoadStar
- Puncture Protection: Double Defense
- Protection Level: 5
- EPI: 67
- Pressure (PSI): 30-70psi
- Max Load: 130kg
- Weight: 590g
Related products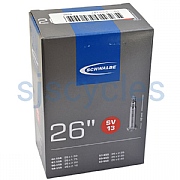 Schwalbe SV13 Presta Tube - 26" Tyres - 40-559 to 62-559
Now from

£4.99

Inc VAT
Typical RRP: £7.99
Quick view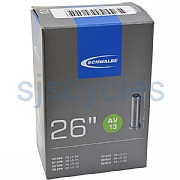 Schwalbe AV13 Schrader Tube - 26" Tyres - 40-559 to 62-559
Now from

£4.99

Inc VAT
Typical RRP: £7.99
Quick view
Product Reviews (13)
Overall Product Rating 4.8 / 5
Not as puncture protection as I thought
05 Jan 2021
Cons
Puncture protection not as good as I expected
Pros
Good rolling resistance, comfortable and light
Good and comfortable easy rolling for city and tour.
However, the puncture protection is not as great as I thought.
I had 2 punctures within a few days from an average piece of glass
Light tyres though !!
Excellent tyre
10 May 2020
I recommend this product
Pros
Good value for money on these sort of mileages.
Excellent tyre, just replaced the original Dureme after 13,000 miles and 7 years on the rear of my Nomad, still has about 1 mm tread but beginning to perish between treads. Good on all surfaces expect wet mud, puncture resistant, no complaints even with heavy load. Needless to say fitted another
First class tyre
28 Nov 2019
I recommend this product
Cons
They are only available from one place
Pros
Long lasting, comfortable, puncture resistant
I have ridden about 22,000km so far on these tyres, and have only good things to say about them. My front tyre was still in pretty decent shape at 19,000km (and puncture free) but I decided to change it for my most recent journey. The rear tyre was getting a bit worn so I replaced that at 16,000km. About 75% of the riding was on sealed roads and 25% on unsealed or dirt tracks. They roll really nicely on good roads and feel excellent on rough tracks. Highly recommended!
Awesome!
07 Mar 2019
I recommend this product
Pros
Great tyre. Rolls well, grips well and resists punctures well.
I had these tyres from new on my Thorn bike and I find them great. At first I was sceptical but riding through the forests here in Germany on on the roads (including cobbles/sets) in all weathers, I find them great.
Solid tire for a serious cyclists.
07 Feb 2019
I recommend this product
This tire had taken me to Nordkapp. Quality tire - folding option slightly lighter, in 26x2.00 provides ample amount of cushioning. Very good grip in the wet.

For summer I do tend to swap them with Schwalbe Supreme (semi-slick ones). It does a wonderful job

FYI Rolled at 50 mph :-)
Best all round touring tyre
28 Jan 2019
Pros
Roll and wear well. Easy to fit.
My wife and I have used these tyres for our last 3 tours... across Canada, 7,000km, across the USA, 7000km's and around Iceland,Shetlands/Orkney/Outer Hebrides/Scotland, 3500km's.
Have put a new set on for each tour, but still heaps of wear after 7,000km of loaded camping/touring. proved to be excellent, minimal punctures, roll well, and give a comfortable ride.
Our tyre of choice.
SJS Customer Service:
You are welcome
Great tyres!
13 Jun 2018
I recommend this product
Pros
Lovely and comfortable to ride on.
Really comfortable to ride on, esp. at the lower pressures recommended by Andy! Great grip too. I've done over 100 miles already on mine and there is absolutely no sign of wear. Looks like these will last! Well recommended!
A good tyre
11 May 2018
I recommend this product
Cons
Can puncture fairly easy with thorns. Side wall not bombproof.
Pros
Light, good roll and can be used on various surfaces. Very easy to take on and off.
I had these fitted with the Thorn Sherpa I purchased. I have done two tours on them. One round Scotland and one round Ireland. A few miles from home on the last trip I had a thorn puncture the rear tyre.
These are light tyres, almost 600g lighter than the wire version. Quite expensive for what they are however they served me well. Will I replace them like for like? I don't think so.
Too Good to Miss.
22 Apr 2018
I recommend this product
Cons
Not wide enough for Sand.
Pros
Multi use Tyre Loaded & unloaded
I had these Tyres fitted when my Nomad was built & they are simply Grate. I run them at 40 psi Front & 45 rear, they are very comfy and the grip is excellent across a variety of surfaces. They are not the lightest 2 inch Tyre out there but I can happily live with that in return for the Performance, lack of punctures & slow rate of decay. I am 1200 miles in and they are good for many more yet. I have purchased a spare set in case Schwalbe stop making them just for SJS.
Nice and supple gives a great ride.
10 Apr 2018
I recommend this product
Cons
Not the cheapest tyre
I have still to wear one out. The ride is smooth and supple which helps to counteract the poor road surfaces you encounter.
I find low pressures around 2 atmospheres work best for me with an unladen touring bike, maybe 2.5 atmospheres with a touring load.
Very pleased with the product
05 Mar 2018
I recommend this product
Cons
A little heavier than some but worth the little penalty
Pros
So far had no punctures - comfortable ride
Thorn cycles built me a Thorn Sherpa I had these tyres fitted with build. I cycle regularly in all conditions they have served me well. Last year my son and I cycled the Dales Way staying at the YHA's. At 75 I have cycled for many years and would choose no other tyre - Thank you.
Excellent Tyres For Our Tandem
26 Oct 2016
I recommend this product
Cons
There is of course the weight but not that noticeable
Pros
Roll well, easy to put on,
We have had our Thorn Adventure for about 15 years and decided this tyre change to go back to a set of wider tyres having read all of the advice. These tyres roll extremely well on road and coped very well with rough gravel near Brean Somerset. They als smooth out the rough roads to give a pleasant ride. Glad we changed back from 1.5 in.
Super Tandem Tyre
01 Aug 2016
I recommend this product
Cons
Difficult to fit, ended up using toe strap until all seated.
Was sceptical about these tyres, 2 inch was far wider than ever used before. No worries though, tyres roll easily and give great confidence when descending at high speed. Wear has been minimal with virtually none visible on rear after 1500 miles. No punctures in that time. Absolutely recommend.
Weight limits?
24 Dec 2020
Hello, I have a touring bike, which, with 4 fully laden pannier bags plus myself, amounts to approximately 175 Kg. Will the Dureme be able to cope with that weight?
we have listed these tyres with a max load capacity per tyre of 130kg.

Thanks
Suitable for lightly loaded tandem?
17 Dec 2020
We have a Thorn Voyager which is used for day rides . Combined weight of riders ~120 kg, speed and comfort a priority over durability.

We have fitted these to many tandems, while they do not receive a "tandem rating" the load limit is quite high and we consider them to be a suitable option.

Thanks
What sized mudguards?
28 Aug 2020
I currently have Panaracer Pasela 1.5" tyres on my Raven Tour, with sks p45 guards.
I'd like to try the Duremes but I'm pretty sure I'd have to get new mudguards too.
Which size guards would fit best?
Thanks for the help ????
A 26x55 muguard should fit over these fine. For reference 2" is 50.1mm.
What is the packed size
06 Jul 2020
What is the size of the box when this tyre is folded and packed? I want to request a friend to bring this over for me. He might want to know that before agreeing.
The tyres ship folded, the size when folded is around 230x 140x100mm
700c equivalent?
08 May 2020
Hi there
I've been using the 700c version on my tourer for years and love them, but they're now reaching the end of their (long long) lives and I'm sad to see I can't replace them. Any recommendations for something similar for a 700c wheel, or any chance you can convince schwalbe to start them again?
Hi, I would suggest Marathon Almotion or Marathon GT Tour as close alternatives. Thanks
Schwalbe dureme tyres
05 Mar 2020
I've just ordered 2 of the above tyres for my Sherpa.
however I've just noticed that the max weight that they will take is 130kg
- I weigh 75kg the bike camping equipment
Should I be concerned?
Hi, no. The bike's loaded weight is spread between the two tyres. Thanks 05/03/2020
Do you ship to South Africa?
By
Eduard Janse van Rensburg
06 Feb 2020
Hi yes but it is expensive! We have to use a courier to get through South African customs successfully without unreasonable delays. Thanks 06/02/20
Dureme or mondial
01 Sep 2019
Hi. We have a 2003 thorn adventure tandem. We currently run panaracer 1.75 tyres. I would like something slightly more robust. Two questions - would a 2.00 tyre fit? And would you recommend the dureme or mondial? We ride mostly on roads but also gravel cycle tracks.

Many thanks, Simon
Yes a 2" tyre would fit, we would go with a Dureme for road/gravel tracks.

Thanks - 02/09/19
good for a tandem?
23 Aug 2018
There used to be a 'Tandem Ready' Dureme. Is that what these are? Would you recommend it for a fairly heavily loaded touring tandem?
Hi there,

This tyre would be suitable for use for a tandem, however whether this is the tandem ready Dureme that you have seen, we would have no idea im afraid. We would normally recommend the Schwalbe Marathon as these tend to be the most hard wearing and most puncture resistant.

Thanks.
what circumference setting do you use for these tyres - I measured mine at 2669mm do you agree?
07 Jul 2018
Tyres are generally not measured in circumference, when converted to the diameter 2669mm does not relate to a tyre size we keep in stock. Has the current tyre got any markings on?

Thanks
another question!
10 May 2018
do i need to order x2 or is the quantity of "one" equal to 2 tyres?
Hi there,

These are sold as single tyres.

Thanks
will thesed tyres go on my 2015 Thorn nomad
10 May 2018
Hi, are these the only duremes you sell, and are they compatible with the above mentioned bike?

Schwalbe Marathon Dureme HS410 Folding Tyre - 26 x 2.0 Inch , 50-559
Hi there,

Yes they will be suitable and are the only Duremes we sell.

Thanks