Wheel Build with 14/17g DT Revolution Stainless SILVER spokes - per wheel
Spokes
Manufacturer :
SJS Cycles part number :
Manufacturer part number :
Details
Please note wheel builds are NOT available on a NEXT day service but will be despatched within 7-10 working days, normally sooner Add this to your basket & the rims & hubs on your order will be combined to form a very high quality wheel built to our master wheel builders exacting standards. Select this product, then go to the relevant rim & hub sections & choose the relevant items. Be sure to pick hubs & rims with correct hole drillings! Normally only Sapim or DT spokes will be used but occasionally with some odd lengths we may substitute another brand.
ALL our wheels are built with SILVER nipples, made from brass, finished with a nickel plate. Alternative nipples can be purchased through our online store. If you have purchased alternative nipples, we will assume you want these used to build your wheels. If you don't please let us know customerservice@sjscycles.com. Additional spokes can be purchased through our online store, please order at time of build.

Note: For wheels of 20" diameter & smaller please choose 14g spokes.

NOTE: Rim tape not included needs to be purchased separately ** Please note wheel builds are NOT available on a NEXT day service**
Related products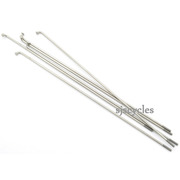 Custom Wheel Build 6 Spare Spoke Pack - 14/17g DT Revolution Silver
£5.99 Inc VAT
Quick view
Be the first to write a review
Feel free to leave a review of this product, good or bad it helps other customers with their buying decision.
Can you supply other hubs?
21 Nov 2018
I need a 12 x 100 mm thru axle dynamo disk hub. Shutter precision makes one. Can you supply this hub for a wheel build, or would I have to send you one?
Hi there,

If youre looking to get a wheel built with a hub that we do not stock your best option would be to send us the hub and we can get it built for you.

Thanks.
Hi,
13 Sep 2017
Which wheel build service should I choose for a Sturmey Archer AW3 NOS (44836) and a DT Swiss 533D 26" rim? Thanks
Hello,

Depending on which spoke colour you would like, Silver spokes are sjs part #5027 and black spokes are sjs part #19924. You then need to choose the 36 spoke option.

Thanks.
Do you provide warranty for wheel builds?
10 Sep 2017
Hi, Do you provide a warranty for wheel builds? If so, what is covered under warranty? If a spoke breaks can you replace it?
Hi,

We do provide a warranty on our custom wheels against manufacturing defects, things like spoke breakages however will be treated on a case by case basis. Wheels are subject to wear and extreme strain (like caused by pot holes ETC) can push a wheel beyond its recommended use and cause premature spoke breakages that would not be covered under warranty.

Thanks.
Can I provide a hub for a wheel to be built with?
04 Aug 2017
I have a Hope Ti front hub which goes with my trusty old bike which is in need of new rims and a new rear hub and freewheel. Can I buy the other bits and supply my hub for the build please? Thanks!
Hi, yes that's no problem. You can send us the hub removed from the wheel (cutting the old spokes with pliers is the easiest way to do this), choose your rim and wheel build, we will assemble and return to you. Please contact our sales team ( sales@sjscycles.com ) for advice. Thanks