26 559 Rear Wheel 36h Ryde Andra 30 Rim with Deore 8/9/10 speed Hub - Black
Manufacturer :
SJS Cycles part number :
Manufacturer part number :
Details
26" (559) Rear wheel 36h Ryde Andra 30 rim in black with Shimano Deore FH-T610 hub in black.
Handbuilt by our Master wheelbuilder from DT stainless spokes 259/260mm with 14mm nipples (For wheels purchased before 09th July 2019 Champion 260/261 mm with 14mm nipples) This is due to the rims now being countersunk.
135mm OLN.

Note: This wheel is not supplied with rim tape.
Related products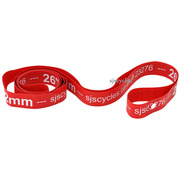 SJSC Reinforced Nylon Rim Tape - 26" 559 x 22mm - Red
£1.39 Inc VAT
Quick view
26 559 Rear Wheel 36h Ryde Andra 30 Rim with Deore 8/9/10 speed Hub - Black
£99.99 Inc VAT
Quick view
26 559 Wheelset 36h Ryde Andra 30 Rims with Shimano Deore Hubs in Black
£184.99 Inc VAT
Quick view
Product Reviews (2)
Overall Product Rating 5 / 5
SOLID
10 May 2018
I recommend this product
Solid
Solid as a rock
Thats what this wheel is
Thats what I've got

Last one did 20,000 miles, was true till the end but hub wore out. Lets hope replacement does as good a job.
Great Wheels
By
Pedro Henrique Escada Kern
06 Apr 2017
I recommend this product
Really well finished wheel, I got one for me and one for my girlfriend, (which is not installed at her bike yet), but for my side, I may say that this wheel is really seems really sturdy and you may see it's build to last.
SJS Cycles service as well is top notch!
available
15 May 2020
Will this wheel be available again ?

Thanks,

Andreas
Hi, we estimate having stock in the next 14 days. Thanks 15/05/2020
OLD spacing 132.5?
27 Oct 2018
My frame has just OLD spacing of 132mm, will it be OK to use this wheel? Can I reduce the spacer on the non drive side, or could you? Thanks
Frames of 132.5mm are fine to use 130mm or 135mm hubs, unless its meant to be 130mm and its wandered!

Thanks - 29/10/18
What width rim tape would you recommend?
07 Oct 2018
Hi,

What rim tape would you recommend for this wheel.

Thanks,
Tom
We would recommend - SJS Cycles part number : 23276

Thanks - 08/10/18
Can i use this with a 7 speed cassette?
29 Jul 2017
Hi,

As this wheel was originally designed for 8,9 and 10spd cassettes you would need a spacer to allow it to be compatible with 7spd cassettes. These are SJSC part number 18561.

Thanks.
Spoke Lengths
10 Mar 2017
Hi,

Can you please tell me what the spoke lengths are for this wheel? Also, what nipple lengths are required?
Hi,

This wheel requires 260mm spokes on the drive side and 261mm spokes on the non-drive side. We normally recommend 14mm nipples for use with the Andra rims as they are overly thick.

Thanks.
Difference Between This Rim And The Grizzly At £102.99
01 Dec 2016
Needed for offroad with 2.1 panaracer tyres for use with 8 speed cassettee.
Can you tell me outer rim width as using this as second pair of wheel
Hi,

The Andra rim is a much heavier but stronger rim than the Grizzly. The Grizzly rim also has spoke eyelets where as the Andra doesn't. The Andra rim has a 24mm external width.

Thanks.
Is This The Correct Replacement For A Thorn Sherpa
30 Oct 2016
I bought a complete Thorn Sherpa using Shimano Deore from you about 7 years ago and the rear wheel rim has finally failed and I need a replacement quickly but can't decide if this wheel is correct. Help!
Hi,

This wheel may not have been exactly what was originally fitted to your bike, but this is what we're fitting to a lot of Sherpa's now so this will be more than suitable for your bike.

Thanks.
Will It Take A 6 Point Fixing Disk
18 Oct 2016
Hi,

Unfortunately not, this is a non-disc wheel designed to work with rim brakes.

Thanks.
Will This Fitt My Surly Long Haul Trucker ?
05 Jan 2015
Hi
Im looking for a rearwheel to fit my Surly LHT 26". With 26 x 2.0 tires.

I can't se any spec for this wheel.
What is the dimension? hub spacing? dimension of the rim?
Will it fitt with 9speed?

Thank you
Hi,

The hub is 135mm wide in OLN spacing. The rim has a 19mm internal width perfectly suitable to 2" wide tyres. The hub can take 8, 9 and 10spd cassettes.

Thanks.