Brompton Gear Upgrade set, 3spd to 6spd-BWR, exc.Cables
Manufacturer :
SJS Cycles part number :
Manufacturer part number :
Details
The combination of the highly-efficient BWR [Brompton Wide Range] hub with our own derailleur system gives six evenly-spaced gears. Control with the two triggers is easy and, with its low transmission losses and wide range, this multi-gear system is the right choice for touring and for riding in hilly areas.

Contains a BWR (Brompton Wide Range) hub built into a Brompton rim, with rim tape (SJSC Item # 19457). Also contains all the hub fixings and gear mech required to convert your 3 speed Brompton into a 6 speed. You will need cables for the hub and derailleur.

Please note Brompton have selling restrictions to some countries who have their own dealers. If you are unsure please contact our sales team.
Similar products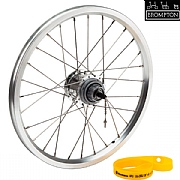 16 x 1 3/8 2013 Brompton 3-spd Rear Wheel Brompton Wide Range BWR - QRW3SS-BWR
£160 Inc VAT
Quick view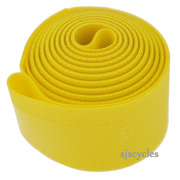 Jtek Rim Tape 18 x 1070 mm , for ETRTO 349 Double Wall Rim 16"
£1.50 Inc VAT
Quick view
Product Reviews (1)
Overall Product Rating 5 / 5
Great, But Check Which Cable Set You Order !
22 Apr 2016
Brompton Gear Upgrade set, 3spd to 6spd-BWR, exc.Cables
I recommend this product
Cons
Why disn't you buy the 6 speed model in the first place ?
Pros
Extra gears are a real benfit
Just be aware that the dogleg which operates the shifting mechanism isn't included in the package, suprisingly enough. You will have to order this with the cable set... so make sure you order the Brompton DR Gear Cable Set MType LWB Complete (or SWB if it's an older Brompton)
Change 2016 3 Speed To 6 Speed
01 Feb 2017
I'm a bit confused ... I'm just getting a 3 speed H3L 2016 model but if I want to have 6 speeds what will I need to buy in addition to this and also does it come with the wheel itself or do I use my existing one?
SJS Customer Service:
Hi,

If you want to upgrade from a 3spd to a 6spd then all you need is this kit and a new set of gear cables. This kit does include a new 6spd rear wheel as it is a different wheel to the 3spd.

Thanks.
I Would Like To Know What Parts Are Included In That Kit?
18 Sep 2016
If you do not mind me asking...
SJS Customer Service:
Hi,

Everything that is shown in the second photo is included. Everything you need for the conversion except the cables which need to be purchased separately is included with this kit.

Thanks.
Upgrade From 1 Speed
20 Dec 2014
Hi, will this kit be sufficient to upgrade a Brompton 1 speed?
What other parts do I need apart from cables and 3 spd shifter?
Will the chain fit 44t crank and does it come with a quick release chainlink or powerlink?
SJS Customer Service:
Hi,

This kit should be a good upgrade for your bike, you shouldn't need anything else other that the 3spd shifter and the cables. The chain should come with a powerlink but it will be too long for a 44T crankset, the upgrade kit comes with an 100L chain and the optimum length for use with two sprockets and a 44T front chainring is 98L, you could either take two links (one inner, one outer plate) out of the chain before joining it or purchase a 98L chain seperately.

Thanks.
Which Type Of Rim It Is..
20 May 2014
Does it contain double wall rim, that came in 2013, from picture it looks its older type brompton rim
SJS Customer Service:
Hi,

When they brought out the new rim all of these upgrade kits began to be supplied with the new rims. So yes, this wheel will use the new double wall Brompton rim.

Thanks.
Want To Upgrade 3 Spees Sach To 6 Speed Bwr
19 May 2014
My brompton is old with sach 3 speed hub, its 3 speed shifter is not working, is this kit 3speed to 6 speed bwr sufficient , will 3 speed shifter , and a 2 speed deurailer come with it,
SJS Customer Service:
Hi,

It comes with everything other than the 3spd shifter and the cables. So you would need to purchase the 3spd shifter and cables separately, other than that it would work as a replacement for your old hub.

Thanks.