16 349 SJSC for Brompton Sturmey Archer SRF3 / CR18 3 Speed Rear Wheel - Black
Manufacturer :
SJS Cycles part number :
Manufacturer part number :
Details
Black Sturmey Archer S-RF3 3 speed hub built on to black Sun CR18 ABT 349 rim with 14G black stainless steel spokes. Also includes Sturmey Archer SLS30 thumbshifter with inner cable (1950mm) and HSL759 cable adjuster .
Drilled for Schrader valve.

Note: This wheel is not supplied with rim tape.
Related products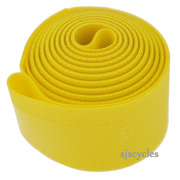 Jtek Rim Tape 349 x 18 mm
£1.50 Inc VAT
Quick view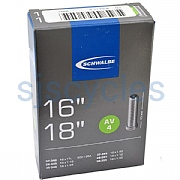 Schwalbe AV4 Schrader Tube - 400a/16"/18" Tyres - 37-340 28-349 to 37-349 & 28-355 to 35-355
Now from

£3.99

Inc VAT
Typical RRP: £7.99
Quick view
Product Reviews (6)
Overall Product Rating 5 / 5
Delighted with this purchase
14 Sep 2018
I recommend this product
My old 3 speed Sturmey Archer was slipping and would not hold the any adjustment. The new black wheel complete with new Sturmey Archer as supplied by SJS is superb and I would recommend it to anyone who was thinking of replacing their old unit
Good buy
14 Sep 2017
I recommend this product
Ideal replacement wheel or upgrade to 3 speed for a Brompton. Replaced the Sachs hub on my 2002 Brommie with no problems. I even managed to refit the Schwalbe Marathon tyre.
05 Aug 2017
I recommend this product
Cons
Tight fit with some tyres
Pros
Lightweight, good look, well built.
Excellent lightweight replacement for the original Brompton wheels. Only downside was the Marathon tyres are tight on these wheels.
A New Bike!
04 Apr 2017
I recommend this product
Fitted my old MR3 Brommie with ease and feels like riding a new bike. Just one thing, it comes without a spare axle nut and when fitting with a new chain tensioner one will have to be cannibalised from the old wheel.
Excellent
14 Oct 2016
I recommend this product
Good wheel. Replaced heavily used two year old original wheel. Fixed all but one clicks and slips in the drive chain.
Good Product
04 Jul 2016
I recommend this product
Cheaper than the equivalent Brompton product, but I don't see any shortcomings. The gear hub is the standard SA product for the Brompton, but in black.
Can I use this on my 2018 Brompton 6 speed?
20 May 2019
Also is it standard ratio gearing rather than wide ratio? If I can't then can you please advise what wheel is available that gives me a standard ratio set of gears? With thanks.
Yes, but this is only a 3 speed wheel. The 6 speed version is - SJS Cycles part number : 43709

Thanks - 20/05/19
Can this be used on the 6 speed Brompton?
28 Nov 2018
Also, is there any weight saving compared to the Brompton original wheel? Thanks
Hi there,

Unfortunately this cannot be used on a 6 speed Brompton im afraid. In terms of weight saving, the two are fairly similar.

Thanks.
Will this fit a 1994 Brompton?
19 Nov 2018
Yes this will be suitable.

Thanks - 20/11/18
can i use with old brompton 5 speed
13 Sep 2017
do i need to change anything else? the oldie has a shorter width but would the existing cables and sprockets work?
Hi,

The existing cables and sprockets will be the same fitting so you could re-use them if you wish. You would need to fit the new shifter that is supplied though.

Thanks.
Will This Work With A 2-Speed?
13 May 2017
I've got a M2L with reduced gearing (44T) and I want a wider gear range without putting on too much weight. Would this kit work on a M2L, and if so, would it end up with 2 shift levers?
Hi,

This wheel can only accept a single sprocket so you would have to convert your bike to a M3L to get this to work. This would mean new shifter (supplied), new chain tensioner, new single sprocket, new cables and new grips (if you still have the original ones as they have to be removed to fit the shifter).

Thanks.
Brompton Rear And Front Wheel
11 Apr 2017
Hi, i need to replace my rear 2012 brompton wheel which currently has a 3 speed sturmey hub. Will the black version you have for £99 work with my current shifter and is the black front wheel you have for sale a matching rim? Finally does the front wheel also come with the axle bolts.
Hi,

The rear wheel is an exact replacement for your previous one, so the shifter and everything will work with this exactly the same. The black front wheels we stock do indeed have a matching rim to these rear wheels, we do actually sell them as a set for less if you're looking to purchase both, these sets are SJSC part 40115. The front wheel comes with the skewer for fitting, but you'll need to re-use your current safety tabs.

Thanks.
What Is The Oln Dimension?
24 Mar 2017
I want to use this on an old F frame Moulton with a rear fork inside width of roughly 113mm
Hi,

These use an OLN of 111mm to suit a Brompton but easily could be spaced an additional 2mm if required.

Thanks.
Will This Fit My 2002 Brompton M3L
03 Nov 2016
I've got an old M3L fitted with the Sachs 3 speed hub, now rather worn. Would this be a good replacement and will I need new shifter and cable too.
Thanks, Alan
Hi,

This wheel would indeed be a good replacement for your rear wheel. You will need to fit a different shifter but there is a suitable one supplied with the wheel so you should not need to purchase any extra parts.

Thanks.
Will The Sjsc Made Rear Wheel Fit My Brompton?
13 Sep 2016
Hi,

I have a 2011 3speed Brompton bicycle and I wonder if the "SJSC for Brompton Sturmey Archer 3 Speed Rear Wheel 16 x 1 3/8 - Black" is a direct replacement for the rear wheel. Can you please advise? Thank you in advance.
Hi,

This wheel can indeed be used as a direct replacement for your standard 3spd Brompton rear wheel.

Thanks.
Can You Sell Me One Of These With The 1/2 Speed Brompton Hub?
26 Aug 2016
Love the look of these but I don't want a 3 speed hub. Can you sell me one with the Brompton 1/2 speed hub? Preferably in black.
Hi,

We are not able to get hold of Brompton's own 1/2spd hub in black I'm afraid. We could do a customer build with the silver hub, black spokes and black rim if you wanted to though.

Thanks.
What Is The Maximum Size Of Sprocket I Could Use With The Existing Brompton Chain Tensioner?
01 Jun 2016
Will a 20T or 22T sprocket work? Also would I need a straight or dished one?
Hi,

We have never fitted anything different to the standard 13 and 14T sprockets that are used on Bromptons. There is a small amount of clearance so you may be able to go up to a 15 or possibly a 16T but we have never tested the clearance with these sprockets. You definitely would not have the clearance for a 20 or 22T sprocket though I'm afraid.

Thanks.
Is A Sprocket Included In The Kit?
15 Oct 2015
Or do you need to buy on in addition?
Hi,

I'm afraid there is not a sprocket included in this kit, we sell them without the sprocket so customers can choose the size they need for the gearing ration they are looking for. The hub takes standard hub gear 3 notch sprockets.

Thanks.
Gear Ratios For This Hub
16 Jul 2015
Which version of the SRF3 hub is this wheel built on, the 'normal' internal gear hub type sprocket (13t min) or the SRF3 (N) version which is a hub with a 9spline driver taking a 12T sprocket?
Hi,

The hub in this wheel is the standard S-RF3 hub which takes a standard "3-notch" fitting sprocket in a minimum of 13T.

Thanks.