700c 622 Wheelset 36h Ryde Zac 19 Rims / SJSC Fixed Hubs
Manufacturer :
SJS Cycles part number :
Manufacturer part number :
Details
Handbuilt at SJSC with DT stainless steel spokes. Front hub OLN is 100mm, rear hub OLN is 120mm but will respace down to 110mm or up to 130mm with the addition or removal of washers.
Rear Axle is 10mm in diameter, Front is 9mm, and hollow for lightness. Overall length of the axle is 165mm.
The hub can be spaced to 130mm without swapping the axle.
Supplied with 2 lockrings.
Replacement bearings. - These are the same bearing for both front and rear. It is the 6000RS. Our part no. is 510F.

Recommended Tyre Size: 28-51mm

DT Swiss Champion Stainless Plain Gauge Spokes
Rim tape not included
Related products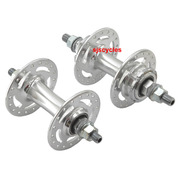 SJSC Double Fixed Track Hubs with High Quality Sealed Bearings - 36 Hole - Polished Alloy
£49.99 Inc VAT
Quick view
Product Reviews (1)
Overall Product Rating 5 / 5
Looks good, works well
31 Aug 2018
I recommend this product
Both wheels look good and were true and round out of the box. Not done many miles as yet, so only time and British roads will tell !
Is the rear hub a flip-flop?
08 Jan 2022
Thank you for your enquiry, yes it is a flip flop hub

WD 10/01/22
Will the rear hub take a single speed freewheel?
06 Jan 2022
Will the rear hub take a single speed freewheel?
Yes, it will, as the threading is for standard freewheels.

JK 06.01.21
Can I use these with 23mm tyres?
30 Sep 2021
It says 28-51mm, but would 23mm work?
Thank you for your enquiry, on this rim the minimum tyre we would recommend is a 28

WD 30/09/21
Do these rims require 40mm or 60mm valves?
02 Feb 2021
Thank you for your enquiry, 40mm valves will be fine

Regards WD 02/02/2021
Do you sell replacement nipples for these wheels?
28 Oct 2020
Yes, you are after SJS part: 3103

JK 29.10.20
Can you please let me know the depth of wheel profile
05 Oct 2020
Is it 20 mm or below
Hello, i have measured this at approx 21mm.

Hope this helps,

JK 06.20.20
What speed cassette are these compatible with please?
13 Sep 2020
Considering these for a 7 speed old Dawes Warwick with 125mms spacing, meant as a touring bike would these be appropriate? I like that they would fit without me needing to cold wet the frame to 130mm.

Not very knowledgeable about bike parts and terminology so details appreciated, and apologies if I am missed something obvious in the description.
Hello- These are designed for single speed use only so one 1 speed.
Suitable for road use?
01 Aug 2020
Are these wheels suitable for U.K. road use or are they more designed for the track?

Thank you.
Hi, these are suitable for road use. Thanks
Do these rims have a machined braking surface?
01 Aug 2018
Hi, these rims have CNC machined sidewalls. Thanks
Can I buy replacement axles for these hubs?
01 Aug 2018
These hubs have sealed bearings, is the axle then stepped to provide additional support for the bearings , or is it a straight through axle?
Hi, replacement axles are not available for these hubs. Thanks
How wide is the rim on the inside? Distance between flanges. P
17 Oct 2017
Hi,

The inner width of the rims is 14mm, the front flange spacing is 66mm and the rear flange spacing is 55mm.

Thanks.
Rear Spacing?
10 Sep 2017
I'm looking for a 135mm track hub for a steel frame. Is there enough length in the rear axle to space it out the extra 5mm? Thanks
Hi,

Unfortunately not, the rear axle would not be long enough for this. To do this would require a longer axle to be fitted.

Thanks.
What Is The Recommended Rim Tape For These Wheels?
19 Nov 2016
Hi,

The recommended rim tape is part number 23277.

Thanks.
Will These Hubs Take A Ss Freewheel? Thx.
05 Dec 2014
Hi,

I'm afraid not, these hubs are designed to only take fixed sprockets on both sides.

Thanks.