16 349 SJSC for Brompton 3 Speed Super Light Wheel Set - Black
Manufacturer :
SJS Cycles part number :
Manufacturer part number :
Details
A high quality Brompton fitting front hub with a matching black Sturmey Archer S-RF3 3 speed hub built on to black Sun CR18 ABT 349 rims with 14G black stainless steel spokes.

Includes a Sturmey Archer SLS30 thumbshifter with inner cable (1950mm) and HSL759 cable adjuster .
The rims are drilled for Schrader valves.

A fantastic upgrade for your Brompton!

- Rim tape not included

Fulcrum / Fulcrum cover not required for a Brompton.
Related products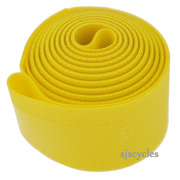 Jtek Rim Tape 349 x 18 mm
£1.50 Inc VAT
Quick view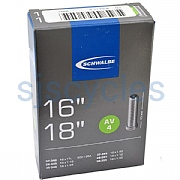 Schwalbe AV4 Schrader Tube - 400a/16"/18" Tyres - 37-340 28-349 to 37-349 & 28-355 to 35-355
Now from

£3.99

Inc VAT
Typical RRP: £7.99
Quick view
Product Reviews (4)
Overall Product Rating 4.8 / 5
Great looking wheels.
04 Jan 2019
I recommend this product
Haven't fitted them yet but these wheels look great and well built, front seems really light, rear is probably same as Bromptons own as the hub is the same. Best bit is that it's really a two for one deal price wise as both cost basically the same as a rear one from Brompton. Have to add that customer service was fantastic too, it was my first purchase from SJS but I shall return.
Great Wheels
28 May 2017
I recommend this product
Great wheels.Any tips on fitting Schwalbe marathon tyres.Got them on but a huge struggle.

New Brompton Wheels
18 Nov 2016
I recommend this product
Cons
None, except useless SA instructions.
Pros
Appearance, ease of fitting
A very nice pair of new wheels for my elderly Brompton, at quite a saving compared with the Brompton branded equivalent. Fitting the wheels was easy, though I must agree with a previous reviewer that the Sturmey Archer instructions were for completely different kit. A minute or two on YouTube will sort the problem. I had to keep and reuse the nut and washer which keep the tensioner arm on (the pierced nut through which the indicator chain runs), but this had already been advised by staff at SJSC, and is not a problem. Wheels look great and work well.
Pretty Wheels. Poor 3 Speed Instructions
09 Aug 2016
I recommend this product
Cons
poor instructions for setting up 3 speed
Very nice set of wheels to replace my original Brompton wheels (after 19 years, the rear still rolling with two spokes missing..) Some very nice touches like the Allen key tightening front axle. Dreadful instructions from Sturmey Archer. The pictures bear no relation to the bits that are supplied. Fine for a pro but hopeless for an amateur like me.
S-RF3 already adjusted to OLN 111mm.
10 May 2019
Hello, the S-RF3 has 108 OLN. Is this set already adjusted to 111mm. Or do I have to add 1,5 mm spacer on each side. Thanks Ingo
This is ready to go for Brompton at 112mm.

Thanks - 13/05/19
What else is needed to fit this wheel to a 3-speed Brompton?
27 Mar 2019
Apart from rim tape and a sprocket, do I need to purchase anything else to fit this wheel set to my 2016 3-speed Brompton? Thanks.
Hi there,

You could do with some new cable and this would depend on what handlebar type that you have. Other than that, everything else that you would need comes with the rim.

Thanks.
28/03/19
Super light BWR rear wheel?
01 Dec 2018
Do either you or Brompton sell a super light (ideally black) rear wheel with a BWR hub for use with a 6 speed, please?
Please email ryan@sjscycles.com directly with some information on what you would like.

Thanks - 03/12/18
Are they supplied with Rim tape?
01 Aug 2018
What tools do i need to add a cog and tighten it?
31 Jul 2018
Just a screwdriver, it's a snap ring fitting.
Will your 3 speed superlight set work on a 6 spd Brompton?
12 Jul 2018
Hi there,

Yes these will fit on any Brompton, but they are limited to only 3 speed.

Thanks.
Includes?
05 Apr 2018
Does this include the chain tensioner plus the nuts and washers shown in the image or just the tensioner as stated in the description?
Hi there,

You will receive everything pictured, the indicator chain is included, a chain tensioner is not and you will need to purchase one separately - SJS Cycles part number : 3020

Thanks
Would this fit on a pre-2000 Brompton?
14 Jan 2018
I'm currently updating my 5 speed 1998 brompton. Would this wheelset fit? Thanks.
Hi,

Yes you should be able to use this on your Brompton!

Thanks
Is it possible to use this kit to convert a 2-speed brompton?
05 Nov 2017
...and if so what other parts would i need? 3 speed shifter, derrailuer, and anything else? Its a pre 2013 model, so also looking to upgrade to newer pattern spider crank chainset so be useful to know what teeth no.is for the standard gearing. Thanks
Hi,

You would need a sprocket, a different chain tensioner, the correct length of outer gear cabling, a new chain and most likely new rim tape. The standard sized front chainring on a 3spd is the 50T.

Thanks.
.
01 Jun 2017
Any Tips On Fitting Schwalbe Marathon Plus Tyres On these wheels.Managed It eventually but It seems impossible at first.
Hi, The smaller the diameter of the wheel the more difficult it becomes. The key is to get the bead as close to the centre line of the wheel as possible, a decent set of tyre levers can help but you have to be very careful not to pinch the inner tube.
Is The 6 Speed Version (Bwr),Going To Be Available Anytime Soon?
18 Mar 2017
Hi,

Brompton themselves already produce the BWR 6spd compatible wheel in black. We stock these and they are SJSC part number 43709.

Thanks.
Can This Package Be Upgraded To Use The Sa X-Rf8 Hub?
10 Feb 2017
I like the look of the package but would prefer to upgarde to the 8 speed X-RF8 hub instead.

I understand it would be more expensive I just wanted to ask if it would be possible?

Thanks


Hi,

These wheels are all pre-built so we would not be able to offer this set with an 8spd hub in but we could do a custom wheel build for you using one of these CR18 rims and an X-RF8 hub. These wheels were originally designed for Bromptons which use a narrower spaced rear end than the X-RF8 hubs, so please bear this in mind if you're planning to fit these to a Brompton.

Thanks.
Hi, I Have A 6-Speed, Can I Re-Use The 2 Existing Sprockets?
20 Jul 2016
2015 M6L
Hi,

This wheel is designed to take a single sprocket with a 3-notch fitting where as your two sprockets will have a 9-spline fitting so you won't be able to use either of them I'm afraid.

Thanks.
What Is The Weight Saving Over The Original Wheels?
05 Jun 2016
2013 Brompton 3 speed
Hi,

As the hub which is the heaviest part is the same between the two wheel-sets the total weight saving is not hugely massive it is 70 grams, most of which is saved from the front wheel.

Thanks.