Prestine Threadless 68mm Sealed Bearing Bottom Bracket for Frames with Damaged Threads
Size
Manufacturer :
SJS Cycles part number :
Manufacturer part number :
Details
Fits to frames with damaged threads, the bottom bracket screws together ignoring the threads and clamping the frame. The frame requires no preparation other than the removal of paint on the flat faces of the frame.
You should also regularly check and tighten the cups.
The bracket is best fitted with 2 x UN74-S style bottom bracket tools and two people.

Requires a Shimano type splined bottom bracket removal tool. (Shimano's own is SJSC part #858)
Similar products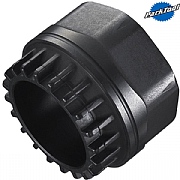 Shimano TL-UN74S Bottom Bracket Removal Tool Modern Splined Type Fitting
£16.99 Inc VAT
Quick view
Be the first to write a review
Feel free to leave a review of this product, good or bad it helps other customers with their buying decision.
The Wight Of Bb Shel On My Bycucle Is 68Mm With Inside Diameter 35Mm.
27 Nov 2015
I need square taper axle 119mm long. Do you have threadless bottom bracket which mech this dimensions?
SJS Customer Service:
Hi,

Most threadless bottom brackets have an external measurement of just over 33mm, if this is what your bottom bracket shell measures then there is a number that would fit. The one we'd recommend is SJSC part number 30694, just select the 119mm length from the drop down menu.

Thanks.
Do You Sell Iso Compatable Sealed Bb S For Stripped Shel
15 May 2015
my presnt tifosi bb is held in with araldite, this might pe a more permanent solution chainset is1990 campy i dont want to throw away, regards jeff
SJS Customer Service:
Hi,

Unfortunately all of the thread-less bottom brackets we do are for JIS spindles only.

Thanks.
65Mm Width
14 May 2015
My Bottom Bracket shell was chamfered out for an old Mavic BB which annoyingly made the width to 65mm.. I'm wondering if this Bottom bracket would tighten to this width else would I need spacers, thou i think using spacers might prevent this from holding the BB shell enough to be effective.

Thank for any info

SJS Customer Service:
Hi,

This bottom bracket will not be able to be done up tight enough to be used in a 65mm shell. In theory you could run it with spacers but we have never tried this and would not recommend it, as there is not much of a lip to rest on the spacers.

Thanks.
Had A Prob With Old Raleigh With Damaged Frame Threads
By
saen hogg murroe bike repair
20 Oct 2014
Am enquiring if threadless sealed bearing bottom bracket for frames with damaged threads available in cottered form
SJS Customer Service:
Hi,

I'm afraid not, the threadless sealed bottom brackets are only available for square taper chainsets.

Thanks.
Where Can I Get Some Spare Shims For Prestine Bottom Bra
27 Jun 2014
there is one at each end of the body the last one i fitted to my sons mtb i could have done with about 4 where can i get some
SJS Customer Service:
Hi,

I'm afraid we don't have any spares for these bottom brackets, we can only get hold of them as whole units.

Thanks.