Shimano Deore XT FH-M756-A 6 Bolt Disc Rear Hub 135mm - Black
Holes
Manufacturer :
SJS Cycles part number :
Manufacturer part number :
Details
A reliable long-lasting disc-compatible rear hub from a classic ATB groupset
Standard six-bolt fitting for Disc brake rotors, the perfect hub for Shimano Deore XT hydraulic Disc brake system
Double contact sealing shuts out mud and water from bearings to extend their service life and maintain smooth operation in all environments
Low-friction Borozon treatment bearing races for a precision rolling action
Light alloy quick release included
10mm chrome-moly steel axle
Anodised aluminium hub shell
Available in 32 and 36 hole drillings
Average weight 425 grams (without Q/R)
Related products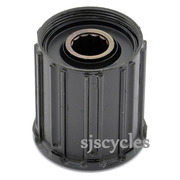 Shimano Deore FH-M595 Complete Freehub Body - Y3SW98050
£22.99 Inc VAT
Quick view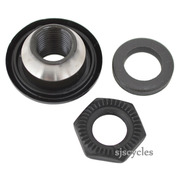 Shimano FH-M529 Rear Left Lock Nut Unit - Y3SX98020
£5.99 Inc VAT
Quick view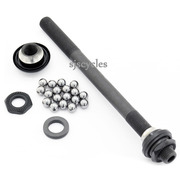 Shimano Deore XT FH-M756-A Rear Complete Hub Axle - 146mm - Y3BW98060
£22.99 Inc VAT
Quick view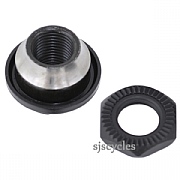 Shimano Deore FH-M525-A Rear Right Lock Nut Unit - Y3SP98090
£5.99 Inc VAT
Quick view
Product Reviews (1)
Overall Product Rating 5 / 5
Shimano Xt 36 Hole Rear Cassette Hub For 6 Bolt Disc.
20 Mar 2013
I recommend this product
Pros
Excellent design, robust durable.
These well designed hubs are superior to many much more expensive cartridge bearring hubs in terms of their free running abilty and longevity.
The amount of time needed to maintain them in good condition is scarcely excessive for anyone who takes pleasure in keeping a bike in top condition.
Does this work with a shimano cs-hg50-10 10sp cassette?
17 Apr 2022
Thank you for your enquiry, yes it will accept that cassette all ok.

WD 19/04/22
Spokes measure for wheel building , Shimano Deore XT FH-M756 36 Holes hub and Andra 30 26' rim
19 Apr 2021
Could you help me to order the right lenght of spokes for the follow handcrafted construction, I want to build a rear wheel using Shimano Deore XT FH-M756 36 holes and Andra 30 26' rim 36 holes , crossing in third. Unfortunately I cannot find the specific detailed measurements of the hub. Thanks in advance
257mm LH
255mm RH

Thanks - 20/04/21
Will this work with sramXG1150 10–42 11SPD if not can you please recommend. Thanks
18 Jan 2021
It looks like it should as it's using the same pattern freehub body, however as I don't have one of these cassettes in stock I cannot confirm this.

Thanks, 19.01.21
Is this compatible with a Shimano HG (CS-HG41-8ao) MegaRange 8 speed cassette please?
18 Dec 2020
Yes, this is compatible with an 8 speed Shimano HG cassette.

JK 21.12.20
Can I use this with regular mtb 7 speed cassette with spacer?
28 Nov 2020
Also is there a 40-46 hole option, if not which other durable hub for heavyweight touring on 7/8 speed cassette would you recommend? (disc-compatible)
For heavy-duty touring, we have recommended XT hubs for a long time, however, this hub is not available with a 40/46 hole option. We would also suggest the HOPE rear hubs, as they require less adjustment and have easy to service bearings- SJS part: 40414H36

JK 30.11.20
Can I use this with shimano 105 11 speed cassette.
25 Nov 2020
NO, this will only work with 11-speed MTB cassettes.

JK 25.11.20
Can I use this with Shimano XT CS-8000 11 speed cassette
04 Jul 2020
Can I use this with a 8 speed Shimano hyperglide cassette
20 Apr 2020
Yes it's Compatible with 8 and 9-speed cassettes RT 20/04/2020
Will this work with a cs-6700 (road 10 speed) cassette?
17 Apr 2019
Hi
Thank you for your enquiry, we can confirm that a CS-6700 10 speed cassette will fit on to this hub.
Regards. 17/04/19
CS-M770 9Speed cassette compatibility
05 Aug 2018
I want to mount the cassette in object. Is the hub suitable?
Yes that is suitable.

Thanks
CS-M7000 11-42T
01 May 2018
Will take a Shimano CS-M7000 11-42T MTB cassette ?.
Hi there,

Yes this will be compatible with 11spd Shimano mountain cassettes but not 11 road or Sram 11.

Thanks
Can this hub be used on a Ryde Sputnik 36 hole rim?
24 Apr 2018
I currently have Deore XT 10 speed disk hub, centerlock on my new touring bike. Will this XT hub fit/work on a Ryde Sputnik 700c 36 hole rim?
Hi there,

As long as the spoke hole count matches, then there is no reason you could not use the two.

Thanks
Can I use this hub with a Sram PG 1130 11-36 cassette
08 Feb 2018
Hi there,

Yes a Sram cassette will fit up to 10spd.

Thanks
Compatibility
20 Nov 2017
Hi
You say that these won't work with a road cassette. I am slightly confused. I am looking at these for wheels for a 135mm OLD frame and a 105 groupset. I had read that these would be fine. Can you clarify, please?
Hi there,

This wont work with a 105 11 speed as the cassette will not fit on to the freehub as the cassette is too wide. It will work with a mountain bike 11 speed as they are slightly less wide.

Thanks.
Compatibilty
04 Apr 2017
Hello.
I currently have the old style M525 rear hub.(9 speed ) Are the dimensions for the M756 rear the same to the point I can reuse the spokes.
Many Thanks.
Hi,

Unfortunately the dimensions of the M525 hubs are different to that of the M756 hubs so if you were to change to this hub you would not be able to re-use the spokes.

Thanks.
Are These 11 Speed ?
07 Mar 2017
Hi,

These hubs will take a Shimano 11spd MTB cassette but not an 11spd road cassette.

Thanks.