700c 622 Wheelset 36h Mavic A719 Rims / Shimano Deore Hubs 8/9/10 speed
Manufacturer :
SJS Cycles part number :
Manufacturer part number :
Details
700c (622) Wheelset 36h Mavic A719 Rims with Shimano Deore Hubs in Black. Handbuilt by our Master wheelbuilder with DT stainless spokes.

- Rim tape not included Spokes Champion Rear 290/292 Front 292. Mavic A719 rims are Bombproof and high endurace.
Featuring the most renown Mavic technologies, A719 is the benchmark rim for the trekking and tour market (All Road). SUP welded, wide, UB Control machined braking surface, its endurace enables to accumulate kilometres in the roughest road conditions.
Features:
- Traditional drilling
- SUP
- UB Control
- Double eyelet
- Maxtal
- Clincher

Compatible with 8, 9 and 10spd cassettes without the need for a spacer and 7spd cassettes with a spacer (SJSC part number 45468).

Dimensions:
- ETRTO Size: 622 x 19
- Recommended Tyre Widths: 28 to 47 mm
- Recommended Nipple Length: 12 mm
- Recommended Rim Tape: 622 x 20 x 0.6
- Valve Hole Diameter: 8.5 mm, supplied with valve adapter
Related products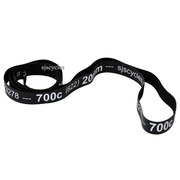 SJSC Reinforced Nylon Rim Tape - 700c 622 x 20mm - Black
£1.39 Inc VAT
Quick view
700c 622 Front Wheel 36h Mavic A719 Rim / Shimano Deore Hub
£124.99 Inc VAT
Quick view
700c 622 Rear Wheel 36h Mavic A719 Rim / Shimano Deore 8/9/10 speed Hub
£134.99 Inc VAT
Quick view
Product Reviews (5)
Overall Product Rating 5 / 5
Bulletproof
26 Nov 2019
I recommend this product
Pros
Super strong, arrived perfectly true, long lasting
Used these for around 5000km so far, getting their first correction now but very slight and all my cycling is city centre bike messaging. Unbelievably strong, solid wheels!
Excellent
27 Feb 2018
I recommend this product
Top quality wheel build and service
Really good wheels
17 Feb 2018
I recommend this product
Only just put these on, big jump in quality from what I had been abusing on all the potholes and gravel round here. I'd been weighing up the expense of a new bike, instead I upgraded the drivetrain and got these wheels. The braking surface on these has solved my only remaining worry which was my canti brakes, oodles more stopping power now.
50 Years Touring
17 Feb 2016
Pros
strong, true,long lasting
Have done 17000 miles in 3 years, commuting,touring and rough stuff. Still perfectly true with no breakages. I am no lighweght. These are super tough wheels.
Mavic Hoops For Touring
09 May 2012
I recommend this product
Pros
Strong, relaible and stay in shape
These hoops are strong and reliable and these are the second pair I've had. The first pair have done over 12,000 miles hard touring.
How heavy is the rear wheel on its own (to compare vs Ryde Andra)
23 Jun 2022
Sadly we don't have this wheelset in stock to provide a front or rear wheel weight.

JK 24.06.22
Would these be suitable for a Dawes Super Galaxy?
21 Feb 2021
To replace WTB XC 700C 23mm wide, OLD 100/135.
Deore LX. 9 speed Shimano. 32C Tyres.
Thank your for your enquiry, yes will fit fine

WD 22/02/21
Son Dynamo Front Hub
31 Aug 2019
Sirs,
What is the cost to supply a Son Dynamo hub instead?
Thank you,
Jim
Pick a front wheel from here- https://www.sjscycles.co.uk/wheels-dynohub/?brand=handbuilt%5Fby%5Fsjsc. Then purchase the rear separately.

Thanks - 02/09/19
Can I use these wheels on a hybrid Kona dew bike?
07 Feb 2019
I'm currently running Shining MT20 wheels (622 x 17) with Formula hubs. Will these fit my Kona Dew hybrid bike?
Thanks.
As long your bike is equipped with V-brakes, then Yes.
This non disc rim/hub set
many thanks
07/02/19
Tandem use
27 Nov 2018
Would these be suitable for lightweight tandem crew use?
Crew total 130kg (after a very, very heavy lunch) - Tandem 20kg
Tandem only used on road for short 2-3hr runs (never loaded for touring)
Dropout spacing 100mm F, 135mm R
Many thanks
Hi there,

These wheels will fit absolutely fine. In terms of use on a tandem, as we have never done this before we cannot say for certain but going off of what you have described we can see no reason why this wouldn't work.

Thanks.
29/11/18
Will a 700x42 tyre run on these rims?
06 Jan 2018
I've got some continental travel contact 2s that I'd like to mount on this wheelset, possible? What's the max width they mount?
Hi there,

From Mavic - Recommended tyre widths: 28 to 47 mm


Thanks
Can I use these wheels with a Giant SL 2 Contend 2017 ?
20 Nov 2017
Giant SR 2 Wheel Set,
Cassett Shimano Tiagra
Hello,

As we do not stock your bike we cannot say for certain whether these will fit im afraid.

Thanks.
Compatble with a 9 speed cassette ?
16 Sep 2017
Just double checking - got a Dawes Discovery 9 speed bike looking to upgrade to these A719 wheel set - are they compatible? Cheers Steve
Hi,

You would be fine to fit a 9spd cassette to these wheels.

Thanks.
For Thorn Audax?
20 Mar 2017
I am thinking of a tour on my Audax that will involve some dry tracks ('pista') as well as surfaced roads. I am thinking to put on these wheels with Marathon Supreme 700x32 tryres. Will they fit OK? Do you think it is overkill? I weigh 85Kg, say 10-15Kg luggage.
Hi,

If you're looking for a tougher set of wheels then these would definitely be a good option. You would only just be able to fit 32mm Marathon supreme tyres though, the clearances next to the mudguards would be very tight. We would normally recommend a max size of 28mm with mudguards to give full clearances especially in muddy or wet conditions.

Thanks.
Will A719 Wheel Set Fit?
26 Nov 2016
I have an Orbit Gold Medal touring bike with Mavic Module 3 wheel set with 130mm rear hub. I want to upgrade the wheels and gears from current 7 speed. Will the Mavic A719/ shimano deore hub wheel set fit? If not is there a wheel set you recommend?
Hi,

Unfortunately these wheels would not be suitable as the rear hub is 135mm in length. We do sell some wheels more similar to yours with a 130mm rear hub. These have Mavic Open Elite rims and Shimano Tiagra hubs, they are SJSC part number 40812, we also do a more expensive higher quality set with Mavic Open Pro C rims and Shimano 105 hubs that are SJSC part number 40818.

Thanks.
Can These Be Built Up With An 8 Speed Hub?
30 Oct 2016
Thanks
Hi,

The Deore hub that is already built into these wheels is 8spd compatible so these wheels should be suitable as they are.

Thanks.
05 Aug 2016
Hi are these 11 speed compatible?
Hi these use Deore 10 speed hubs.
Will These Hubs Be 10 Speed Compatible
21 Jun 2016
as above
Hi,

The hubs in these wheels are indeed 10spd compatible.

Thanks.
Strong Replacement Road Bike Wheels
01 Apr 2016
Hi, I'm considering these wheels to replace the existing wheels on a Felt F95 Special Edition (Sora 9 speed, non disc break) road bike due to on going spoke/truing issues, so I'm in search of a stronger wheelset. From what I can tell these would be a straight swap for my 700c wheels, could you please advise if this is the case?
Hi,

It is unlikely these wheels will fit your bike I'm afraid as these have a MTB style hub in them. This means that the rear hub spacing is 135mm where as your bike being a road bike will most likely have the rear spacing of only 130mm.

Thanks.
Do You Sell Wheels Individually?
28 Feb 2016
Hi there, I've tended to update my bike incrementally so my rear wheel (also an A719 rim) is newer than my front and in good condition so doesn't really need replacing.

Are you willing to sell just a front wheel in this spec?

Thanks.
Hi,
The only pre-built front wheel similar to this set we have available at the moment is built with the lower grade A319 rim I'm afraid (This is SJSC part number 33865). We are able to do custom wheel builds though, so we could easily build you up a wheel with a Deore hub and an A719 rim if you wanted us to. If you would like more information on custom wheel builds please email
[email protected]
who will be able to provide you with all the current information on prices and lead times.
Thanks.
What Model Hubs Please?
15 Oct 2015
M590 or perhaps M770 given the extra price? Or have you found that the cheaper hubs are more robust?
Hi,

These wheels are now built with Shimano's newer Deore T610 hubs. The Deore hubs have a steel axle compared to the XT's alloy axle, both are strong but the steel axles are always going to be more robust over continuous use, their only downside is the increased weight.

Thanks.
Will A 7 Speed Shimano Cassette Fit Ok On The Hub Spline
01 Jul 2014
I'm sure the answer is yes, but with the advent of 10/11 speed cassettes I was just wondering whether or not some form of spacer is supplied or required?
Hi,

These wheels will be compatible with 7spd but a spacer will be required. The spacer required is SJSC part number: 3888.

Thanks.
Tires Size 26X2,00
24 May 2014
Hi, Can I use tires size 26x2.00 in these rims?
Hi,

These rims are 700c rims which are designed to take tyres with a larger diameter than 26" so unfortunately your tyres won't fit.

Thanks.
Can I Use These Set Of Wheels On A Ridge Back Flight Bik
16 Jan 2014
Hi,

Providing you have the non-disc version of that bike then yes these will fit fine to your bike.

Thanks.
I Have A 2014 Surly Disc Trucker, Will These Wheels Work On My Bike?
25 Oct 2013
Hi,

As your bike uses disc brakes, then no I'm afraid these wheels won't work as the hubs are none disc versions.

Thanks.