Rixen & Kaul KlickFix Multi Clip Plus
Manufacturer :
SJS Cycles part number :
Manufacturer part number :
Details
The Multi-Clip Plus provides extra handelbar space for computers, lights, mapholders or GPS units. You do not need any tools for mounting. SJSC Item # 618 handlebar adaptor required in addition to this MultiClip Plus.
Related products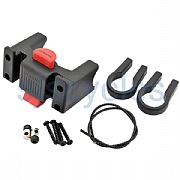 Rixen & Kaul Klick Fix Cordo CC-100 QR Handlebar Mount
£18.95 Inc VAT
Quick view
Product Reviews (2)
Overall Product Rating 4.5 / 5
14 Mar 2018
I recommend this product
Perfect for the job I needed it for.
Very practical
25 Oct 2017
I recommend this product
Much more practical than the Ortlieb fitting. Also fixing cables cheaply & easily replaced with brake cables. Ortlieb product needs special cables.
Hi, is this compatible with Carradice KlickFix Handlebar Kit part no 46480
08 Oct 2019
Hi there,

yes, this should work absolutely fine.

Thanks.
Does this also work with the Rixen and Kaul mount for oversized handlebars (#45466)
05 Oct 2019
Yes, this should be compatible.

Thanks - 08/10/19
Can you use this on the Ortlieb bag mount?
08 Nov 2017
Hi,

Unfortunately due to the design, this will only work with Rixen and Kaul's own Klickfix bar mounts.

Thanks.
How Far Vertically Above The Klickfix Mount Does The Multi Clip Plus Extend?
04 May 2017
I turn my bike upside down for maintenance, and I want to check that if I fit a Multi Clip Plus then the upside-down bike won't sit on it with all its weight. Please could you therefore advise how far the Multi Clip Plus extends vertically above the standard KlickFix mount? Many thanks.
Hello.

The multi clip plus extends approximately 40mm vertically.

Thanks.
I Am Looking For An Extension Bar For Front Light
24 Jun 2014
I already have a Rixen & Kaul handlebar mount with an Altura Orkney bar bag mounted, and wanted to ask if I needed anything else or do I need SJSC Item # 618 handlebar adaptor as well or just the multi clip plus? Would this bar be tall enough for my cateye light to be seen over the top of the bar bag?

Many thanks.
Hi,

As you already have the handlebar mount you won't need item 618, this is just an additional mount as the Multi Clip Plus is only the raised part. It is dependant on the size of the bag and what sort of Cateye light you have as to whether or not the light will clear the bag, even though this should raise it enough I can't say for definite without checking I'm afraid.

Thanks.