Manufacturer :
SJS Cycles part number :
Manufacturer part number :
Details
Perfect as a birthday present for her or him.
SpurCycle bells create powerful, enduring sound. Give notice well in advance with a loud, convincing tone. Precision built in the USA for a lifetime of way clearing.

- Good Vibrations: Engineered for quality sound. Spurcycle bells ring 3x longer than others
- Killer Finishes: Available in a pure raw metal finish or black DLC (Diamond Like Carbon) coating
- Bar Hopping: Highly adaptable mounting system attaches to any handlebar, standard and oversize, aluminium or carbon

Specification:
- Material: Premium brass and stainless steel
- Finish: Raw
- Dome Size: 30mm Diameter x 20.5mm
- Weight: 45g
- Origin: Made in the USA
- Guaranteed for Life
Related products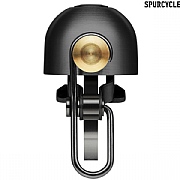 SpurCycle Bell - Black DLC
£54.99 Inc VAT
Quick view
SpurCycle Bell Service Kit
£44.99 Inc VAT
Quick view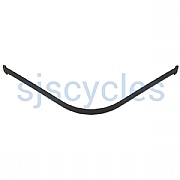 SpurCycle Replacement Large Band - Black
£12.99 Inc VAT
Quick view
Product Reviews (10)
Overall Product Rating 5 / 5
Ridiculously Nice
19 Mar 2019
I recommend this product
A gorgeous ring with such a longggggg sustain. It is the best bell and nicely compact on the handlebars. The bike stands in the hallway and the bell gets pinged frequently just for sheer pleasure.

Some say its expensive, but its cheaper than most other components on the bike but works exceptionally well.
very good
25 Jun 2018
I recommend this product
lovely clear tone when you get it right
have to ping it a few times
better than whistle I was using in that it's more accessible
expensive but should last
Binging amazing
03 Jun 2018
I recommend this product
Cons
You could do with two
Pros
No electrical connections
You long for a pedestrian to be ahead. I bing other cyclist now rather than wave
"How much?" they all scream!
12 Apr 2018
I recommend this product
Cons
People will think you have more money than sense.
Pros
Great, long lasting, non-aggressive tone.
The only bell which is superior, in my wholly objective opinion to a crane. The way it fits is a joy, the tone is a delight, and the design values so good I bought a second one for another bike. But when you tell them what it cost.....
As good as a dinger can get
26 Jan 2018
I recommend this product
Sounds good, looks good, well worth it (well, almost). Take a deep breath and buy it, you won't regret it
great little bell
18 Jan 2018
I recommend this product
Pros
small, good loud noise
very well made when compared with cheaper options and small enough to fit unobtrusively anywhere on the handle bars. Great noise even seems to alert headphone wearers.
Excellent
07 Dec 2017
I recommend this product
Pros
Small and discrete and of adequate volume
An excellent little bell which fits neatly and securely on either the smallest or larger part of the handlebars. Time will tell if it's worth the extra expense but the build quality inspires confidence.
Ding dong!
16 Oct 2017
I recommend this product
I love this bell. Looks great and subtle but makes a fabulous sound.
Chic!
05 Jul 2017
I recommend this product
Best quality and sound for a bike bell!
One Bell To Rule Them All
10 Feb 2017
I recommend this product
This bell is absolutely amazing. Don't waste your money buying inferior products. This bell will outlast them all 100 times over.
Can I use a Spurcycle bell on a Brompton
24 Jun 2019
Yes, it will fit any Brompton generally!

Thanks - 24/06/19