Thorn Me 'n' U2 Childback Triplet - Yellow
Manufacturer :
SJS Cycles part number :
Manufacturer part number :
Details
For the full range of high quality steel framed touring bikes and tandems please
click here
to visit the Thorn Cycles website (note: clicking the link will open a new browser window).
"We recommend that this item is collected in person. If delivery is absolutely necessary, the bike will be partially dismantled for shipping and will require good level of mechanical competence from either yourself, or a professional cycle mechanic to be reassembled. Typically, this takes 2 – 4 hours.
Please phone us on 01278441505 (Mon – Fri, 08.00 hours – 16.00 hours), or email us
[email protected]
for a quote to have this bike delivered 95% assembled."
The Me'n'u2 carries one adult and two children. Suggested rider ages / size; front rider; 5'4 upwards, middle rider; children 7 to 12, rear rider 4 years to 10. This brand-new example is built up exactly as the photo complete with mudguards, rear rack, rear chainguard and three brakes (rear V and cable operated disc) all operated by the pilot. 27 speed wide ratio Shimano drivetrain. Frame construction heat treated cro mo with Reynolds bladed double plate crown tandem forks with low rider bosses. 14-day 100% money back guarantee (UK only, excludes delivery costs) if not delighted.
Average weight 24kg.
Dimensions: Centre to Top 320/420/510mm, Centre to Centre 280/364/450mm.
Pilot cranks 170mm
Lowest seat height 770mm
Stand over height 775mm
Reach approx. 510mm
Middle cranks double drilled 115/140 CRANKS (not shown in picture)
Lowest seat height - 630mm
Stand over height - 675mm
Rear cranks double drilled 115/140 CRANKS
Lowest seat height 490mm
Length approx. 284cm
Wheelbase (axle to axle) approx. 218cm
Transmission: SRAM twist shifters, 12-36 Shimano Cassette, 26/38/48 chainrings, KMX X9 Chain, Sram PC830 connecting chains, Shimano Deore rear mech and Shimano front.
Braking: Shimano Deore V brakes front controlled by a right hand Deore Lever, Rear setup as an emergency/parking brake with a Sun race gear control. Rear TRP Spyre 203mm Disc brake controlled by a left hand Deore brake lever, all brake levers are controlled by the pilot.
Handlebars: Thorn Silver Flat Handlebars front fitted with a Kalloy 110mm stem, swept back alloy bars in the middle and rear positions fitted with adjustable reach stoker stems. Velo Dual density Gel grips middle and rear, SRAM Racing grips front.
Wheels: Rigida Sputnik 36-hole rims, Shimano XT rear disc brake, Shimano Deore front. Hand built by us with DT Spokes. Schwalbe Energizer Plus 26 x 1.75" tyres, Schwalbe inner tubes.
Accessories: Rear rack (brand may vary), SKS Cromoplastic mudguards, Thorn ping bell.
NO PEDALS INCLUDED
SAFETY NOTICE: Always use pedals with toe clips and straps for the children on the back.
N.B. Occasionally components may be substituted by parts of equal or higher quality to those illustrated in this photograph.
This bike specification is fixed as this bike is already built.
An appointment needs to be booked if any alterations/additions are to be carried out in the workshop, all parts are sold at full retail price and the removed parts supplied with the bike loose.
Labour is charged at £40 an hour with a minimum of ½ hour to be charged, same day not guaranteed.
No discounts are available.
Related products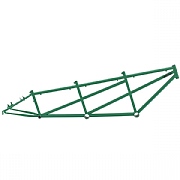 Thorn Me'n'u2 Triplet Frame - Yellow
£899.99 Inc VAT
Quick view
Product Reviews (3)
Overall Product Rating 5 / 5
Great for the school run
10 Sep 2021
I recommend this product
Cons
Faff to transport by car
Pros
Fun, fast, unique, very height adjustable.
We have had this bike for nearly two years and it is fantastic. From boys' ages 4 & 5 it should be fine to early teens as saddles and handlebars so adjustable. We should also be able to do some bike packing with it. Transporting it is a bit of a faff: it goes on an extended pendle tandem carrier on the roof of our car, but at least we do have a viable way to take it away with us.

The boys love it too. Whenever I ask in the morning, " triplet or own bikes" the answer is nearly always "triplet". It certainly turns heads at the school gate!
Excellent family adventure machine
19 Jun 2020
I recommend this product
I can not recommend this enough, it is the best way to transport two children. We can go much further and quicker than we would manage with them on their own bikes. Easy to use once it is set up, but getting the seat heights right was a fiddle and involved trimming down packers between seat posts and handle bar mounts. The middle set of cranks were too long but Thorn not only sent out shorter ones free of charge, but also changed the design of the future bikes they sell, I was impressed with the ability to listen to customers once you get put through to the right person.
It generates curtesy on the road. An excellent bike for exploring the local area with the whole family with good powerful brakes, unlike trailer arrangements. The kids are keen peddlers and make a good difference. Not so quick on your own on the way to collect them.
Awesome
22 Nov 2019
I recommend this product
Cons
Big - not easy to transport or store
Pros
Best way to transport two children
Awesome - as it inspires awe. Great to ride. Makes transporting two children around fun - and they really enjoy it too. We all feel like a team.
Attracts a lot of attention - not for the shy and retiring.
Had to tweak the seat posts and rear stoker stem to get the saddles low enough for my kids (age 5 & 7).
What is the rear dropout spacing?
22 Oct 2019
I saw this and thought about adding a rear hub motor E-Bike system to replace my Tern GSD.
( I work in the bike industry and am familiar with installing E-Bike systems)
These are 135mm rear.

Thanks - 22/10/19