Tifosi Bottom Bracket with 68 mm Carbon Shell - Campagnolo - English Thread
Size
Manufacturer :
SJS Cycles part number :
Manufacturer part number :
Details
Tifosi carbon shelled Campagnolo fit bottom bracket
- Cr Mo Axle
- 68 mm carbon shell
- ISO English Taper
- Includes crank bolts


Requires a Shimano type splined bottom bracket removal tool. (Shimano's own is SJSC part #858)
Related products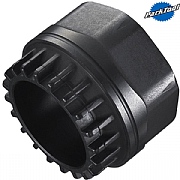 Shimano TL-UN74S Bottom Bracket Removal Tool Modern Splined Type Fitting
£18.99 Inc VAT
Quick view
Product Reviews (1)
Overall Product Rating 4 / 5
Great Delivery And Really Light
31 May 2017
I recommend this product
Cons
Yet to be convinced it will last the summer
Pros
Great delivery and light
I've only completed100ish miles on this BB, I'm please so far. I do seem to go through quickly so time will tell.
suitability
20 Jun 2023
I have an older campagnolo square axle triple (Veloce) and wish to fit to bsa 68mm bb. I have not existing axle to work from. Which length would you recommend?
Hello & thank you for your enquiry.
Suitable length would be 115mm or 118mm for Veloce triple under ISO taper standard. Without the sizing, unfortunately cant recommend exact bb fitment.

Can i use this to replace my Campag Veloce' BB currently fitted to my 1998 Specialized Allez.
04 Mar 2021
I know the stock fitment is ISO taper, english thread. Are all Campy square tapers equal ?
Cheers
Thank you for your enquiry, yes this is correct ISO taper is required for Campag

WD 04/03/21
Tifosi BB 111mm BSA 68mm for Campagnolo Pista chainset ( new)
24 Mar 2020
1)Is this BB asymmetrical as the campaign one is.
2)Also all good for normal road us?

Many thanks
This is symmetrical, and is for road use.

Thanks - 06/04/20
can i use to replace vintage spindle / cups BB?
21 Nov 2017
i have a vintage campagnolo 1989/90ish spindle/cups style BB. want to replace with sealed BB. spindle is 115mm total length. symetrical. mavic cranks, double rather than triple chainrings. english thread. so measurements all seem ok, but seems to say 115mm is triple, so wondering if ok for double chainring crank? measured spindle a few times to be sure and definitely looks to be 115mm. and definitely has 2 chainrings :-)
Hi,

Different cranks use different offsets so whilst the 115mm length was quite common with Campagnolo triple chainsets other cranks like your Mavic ones may have require a 115mm bottom bracket for a double set up. We would definitely recommend sticking to the exact same size as you had before as you know that works and gives the correct chainline.

Thanks.
Bottom Bracket
20 Mar 2017
I Have A Stronglight 99 Triple Chainset On A Tandem And Need To Replace The Bottom Bracket. Can You Tell Me If The Tifosi Iso Taper Would Be Suitable And Advise Axle Length For Triple Chainset. Thanks,
Hi,

Unfortunately from the limited information available on the Stronglight 99 crankset it appears to use a JIS taper meaning that this bottom bracket would not be suitable. As for the axle length we would recommend sticking to exactly the same as what was previously fitted so we would recommend measuring your current one.

Thanks.
14 Jun 2016
Does this BB fit non Campagnilo crancks', Does it fit the SJSC 110 PCD Alloy Single/Double Crankset?. Many thanks
Hi,

This bottom bracket will work with non-Campagnolo chainsets, but only if they use the ISO taper. These SJSC cranks will not work though as they use the more common JIS taper.

Thanks.
R.E. 30669W102 / Tifosi Bb Campag Taper
14 Oct 2015
Hello to all at SJSC. Can you tell me what tool i need to fit this to my Bike please ? Many thanks. Neil
Hi,

These bottom brackets use the same splined fitting as Shimano bottom brackets, so any splined square taper bottom bracket tool that is listed as suitable for Shimano will work with this bottom bracket.

Thanks.