First Threadless 68mm Sealed Bearing Bottom Bracket
Size
Manufacturer :
SJS Cycles part number :
Manufacturer part number :
Details
Threadless cartridge BB set
Suitable for both threadless and threaded BB shell
Decrease the noise caused from traditional BB shell eccentric transmission
Quick assembly, fix firmly, more durably and safely
2 cartridge sealed bearings
Alloy sleeve and cups
68mm Shell width.
Weight: 263g
Patent no.: M357419


Requires a Shimano Hollow Tech II bottom bracket removal tool. (Park Tool's is SJSC part #12855)
Related products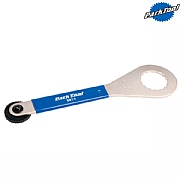 Park Tool BBT-9 Bottom Bracket Tool - Shimano HollowTech II
£34.99 Inc VAT
Quick view
Be the first to write a review
Feel free to leave a review of this product, good or bad it helps other customers with their buying decision.
Will this damage the threads In my vintage steel frame.
11 May 2020
The threads are actually still in excellent condition but there is some slight misalignment when the threads were originally cut which makes fitting a conventional sealed cartridge bracket difficult. There is also a residual stress on the cartridge as a result which is not helpful for a long life. This could be a solution, or reverting to the old cup and cone system?
Hi, this can be fitted to a threaded bottom bracket and it is a great solution for damaged threads. I can not say if it will or will not cause damage to your good threads. Thanks
Compatibility
27 Jul 2018
Will this work in a frame with decent threads?
As per the description; Suitable for both threadless and threaded BB shell

Thanks
This Threadless Bottom Bracket In Loose Thread For Bottom Bracket
By
Martin Riis Sønnichsen
28 Mar 2016
I have an old trek oclv with a loose thread for the bottom bracket. Will this threadless bottom bracket maybe be the solution? And if so: which length/width of axel will I need? I will use a single speed setup. Kind regards Martin Riis Sønnichsen
Hi,

A threadless option should solve your issue. As we don't sell you bike and have never had one here there is no way for us to know what specification of bottom bracket was originally fitted, you will need to see what size your current bottom bracket is and match the dimensions of that to one of the threadless options.

Thanks.
Does This Fot Italian Bottom Bracket Cups?
01 Oct 2015
Hi,

Italian type bottom brackets were produced around a 70mm shell, this is only 68mm so I would recommend sticking to one that is 70mm like SJSC part number 32373.

Thanks.
This Is Jis?
04 Jan 2015
Hi,

Yes this bottom bracket is JIS.

Thanks.