Genetic Karyotype JIS Sealed Bearing Square Taper Bottom Bracket - 68 mm
Size
Manufacturer :
SJS Cycles part number :
Manufacturer part number :
Details
Available in;
- 68 x 103 mm
- 68 x 107 mm
- 68 x 110 mm

- High quality traditional style Cr-Mo JIS square axle BB with precision cartridge bearings lightweight forged alloy cups and carbon fibre spacer
- Supplied with hex cap type bolts
- A great choice for that ultimate lightweight fixie machine
- Weight: 230 g

Requires a Shimano type splined bottom bracket removal tool. (Shimano's own is SJSC part #858)
Related products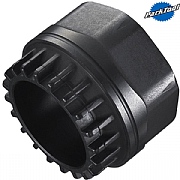 Shimano TL-UN74S Bottom Bracket Removal Tool Modern Splined Type Fitting
£18.99 Inc VAT
Quick view
Product Reviews (4)
Overall Product Rating 4.3 / 5
Excellent bottom bracket
17 Jun 2021
I recommend this product
Excellent well made bb…lightweight and good fit
Very good
23 Apr 2021
I recommend this product
Excellent engineering and light 254g. I managed to fit this into a very rusted frame where I had needed to cut out and remove the old and broken BB. This replacement is so smooth. I can't recommend it highly enough and as usual SJS delivered it easily and quickly.
Good Value
25 Jun 2017
I recommend this product
Pros
Good value for the money
Mounted easily, though some written guidance would have been helpful. Bearings smooth, crankset mounted easily and tightly.
Nice, But Taper Is Quite Rough,
15 May 2013
Firstly, I'm not sure why this BB is described as for "that ultimate fixie machine", I can't see anything about the BB that makes it suited to fixed gear riding (what would that even mean?)

Haven't fitted mine yet. Seems reasonably well made. The machining on the flats of the taper is very rough. I'm not sure if this will cause a problem in practice but I've never seen such rough machining on a BB before. Axle spins smoothly under hand pressure. The design is a fairly standard sort of cartridge BB type design where you can pull off the left side cup to see the sealed bearings. It doesn't look like it would be terribly difficult to replace the bearings.

The axle is hollow which is nice. At first I imagined this would b a rebadged Token BB but holding the two side by side it is clear they are a different design.

I suppose time will tell how this BB holds up.
Can I use this with SJS#31096? thanks
28 May 2021
Thank you for your enquiry, yes will be fine as bot JIS

WD 01/06/21