Shimano UN55 68mm Shell English Thread Sealed Cartridge Taper Bottom Bracket
Size
Manufacturer :
SJS Cycles part number :
Manufacturer part number :
Details
- A good quality bottom bracket for traditional chainsets
- Super-accurate bearings for smooth operation and improved durability
- Durable, hard-wearing sealed cartridge bottom bracket with square tapered spindle fitting
- Lightweight hollow spindle
- Maintenance-free sealed cartridge bearing assembly keeps out dirt, mud and water for long bearing life
- Fast and easy installation without adjustment
- Narrow body allows clearance for cable routing under the bottom bracket

Requires a Shimano type splined bottom bracket removal tool. (Shimano's own is SJSC part #858)
Related products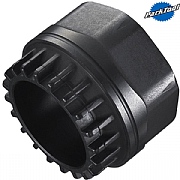 Shimano TL-UN74S Bottom Bracket Removal Tool Modern Splined Type Fitting
£18.99 Inc VAT
Quick view
Product Reviews (10)
Overall Product Rating 4.6 / 5
Snap them up while you can!
04 Apr 2023
I recommend this product
Pros
Quality, non drive side lip.
There are fewer and fewer of these around so I snapped one up. Have the UN55 on one bike and a new UN300 in the other. Will be interesting to see which lasts longer - my money's on the UN55.
A manor quibble
18 Aug 2020
I recommend this product
Needing a triple with granny ring these days I fitted a Sugino Mighty chainset the 115mm b/b I had was too long and I considered a 107mm but decided that could be too short so I went for a 110mm instead. I was rather disappointed when I measured it at 112mm! So some expense and work for a 3mm reduction! To be fair to SJS the box was marked 110mm so not their fault. Good price and prompt delivery.
Good value Shimano Quality
08 Jul 2020
I recommend this product
Cons
None apart from needing the removal tool
Pros
Good quality, good value.
Used this to replace an old UN-52 bottom bracket axle - they are the same just the UN55 is better quality and has alloy rather than plastic LH insert. Fitted a treat - I already had the Shimano removal tool which is essential - so all easy to do.
Very nice, as usual!
14 Jan 2020
I recommend this product
This BB is very sturdy for the old system. A most have to my old machines.
excellent
11 Jan 2020
I recommend this product
Good value, bomb proof. As far as I can see the difference between this and UN52 bb is the non-drive side fitting is alloy, not plastic. Having used the plastic type I would use this every time
usual excellent service
25 Jan 2018
I recommend this product
SJS always carry a comprehensive stock of components that you actually need. other online outlets have a vast range at low prices, but are invariably out of stock ! i have dealt with SJS for years, always well served
Good
27 Oct 2016
I recommend this product
As usual, good choice and quick service!
Really Very Good
15 Jul 2016
I recommend this product
Pros
Easy to fit, works well
Easy to fit and works very smoothly
As Expected From Shimano
15 Aug 2012
I recommend this product
Pros
simple to fit once you have Shimano tool.
Straight forward fit and forget from Shimano.Its what you come to expect really!!
Smooth And Easy
04 Aug 2012
I recommend this product
Cons
Check you order the right axle length
Pros
Easy to fit, smooth running, good price
Easy to fit (even for a mechanical incompetent like me).
Smooth and free running on the bike.
Is this a straight swap for a BB-UN53
15 Jun 2022
Hi
MIs this a straight swap for an equivalent-sized BB-UN53?

If so, what is the difference please, is it just quality and/or alloy cup?

Thanks




It's simply a newer version of that same BB, some same or better quality.

JK 15.06.22
Is it a JiS standard taper
28 May 2022
Yes this is JIS taper,

JK 30.05.22
Bottom Bracket for Thorn Raven Tour - Cobalt blue
12 Oct 2021
68mm un55 is my weapon of choice but can anyone indicate what the length should be?
110mm is often quoted but without removing it from the bike can you help and suggest what the length should be?
Also, can you suggest the torque for the EBB retaining screws they look about 6mm shaft with a 15mm head (custom I guess).
Thanks,
John

For any information or advice on any of Thorns bikes, frames or forks please contact out dedicated Thorn bikes sales team either on 01278 441505 or
[email protected]
and they'll be able to provide you with all of the information you need.
bottom bracket?
25 Sep 2021
The front bottom bracket of my tandem needs to be replaced. Presently it has a Shimano BB-UN55, 68mm/127mm (D-EL). Do you have one of these? If not what would be a suitable replacement?
Thanks.
SJS part 26972S127 would suit- or any JIS taper bottom bracket- English thread 68mm shell and 127mm length would suit as well.

JK 27.09.21
What size would I need to a Surly Disc Trucker?
08 Apr 2021
The Surly Disc Trucker frame spec is listed as "68mm threaded (1.37" x 24TPI)" however that doesn't translate to any of the sizes on offer by SJS
1.37" x 24TPI is English threaded- you will just need to work out the axle length.

Thanks, 08.04.21
Which Install Tool & Which Axle Size?
21 Dec 2020
1. Do I need a special tool to install this BB and if so, which one?

2. I have a Rohloff that requires a 54mm chainline. Which length of axle should I purchase to meet that requirement or are there other elements to consider?
BB tool - SJS Cycles part number : 858
We could not advise without knowing the cranks / specification.

Thanks
can I use this to replace a worn out BB system from a old 80`s Peugeot road bike
02 Aug 2020
I don`t know if it English or French threads. Can you recommend anything else
chance are it's FRENCH which are not available, however we have a variety of THREADLES brackets in the category Square Tapered - Other RT 03/08/2020
Because the BB UN55 122.5mm is not in stock. Thank you
24 Jul 2020
I wonder if you may have an alternative bottom bracket that I can fit because the Shimano BB UN55 122.5mm is not in stock at the present moment?
Yes! You can use; SJS Cycles part number : 53141S122

Thanks - 24/07/20
Can I use a UN55 118mm on a Brompton
04 Jul 2020
Yes, this would be fine unless you are using a chainring over 56t

Thanks - 06/07/20
Shimano 600 ex width spec 116mm
28 Jun 2020
Hello
Fitting a Shimano 600 ex crank to an English threaded 68mm bottom bracket (Japanese frame). Would you advise 115mm or 118 (under or over), aware there minor chain line issues either way.
Thx

We could not advise without a test fitting in person, sorry!

Thanks - 29/06/20
replacement bottom brakes
14 May 2020
I have just removed Tapered bottom bracket from my ridgeback. The bearings are no good. It has the rubber casing but am looking for a sealed unit.On the rubber casing is BC 137 x 24T. Can you recommend.
Have seen the Shimano tampered unit on your site. would this fit.

Cheers

Martyn
BC 137 x 24T is the thread size which 99% of threaded b/b are, you need to order a bb with the SAME length and the same shell width as your frame RT
Using a 68x107 in place of a 68x103?
01 Mar 2020
I have a Whyte Sussex that uses a 68x103 square taper BB. Finding a high quality exact replacement is proving to be problematic.

As I've always previously used UN55's, I was wondering if it would be an issue to go for this 107 in place of my 103?

The current BB is an RPM BB-7420

Many thanks
The chainline will be pushed out and shifting likely affected. Any from this page would work; https://www.sjscycles.co.uk/square-tapered-other/?length=103

Thanks - 03/03/20
BB
09 Dec 2019
I have a Sherpa and looking to get a shimano acera M-361 42/32/22 chainset so would I order the 68-122.5 size thanks
Axle sizes
02 Aug 2019
Hi, can you let me know if the axles are the same length on both sides? If so is there a list of dimensions for all sizes available to help me choose the right one?
Hi,

the axles do differ in length.
Do you have the UN55 73mm version?
01 Aug 2019
My main concern is that I don't know what spindle length that I need. I've got some SuginoRD2 Cranks for a single speed, with a 52mm chain line. I've heard that 113mm is right, but I don't really know. Any ideas?
Yes, it's item # 26973. Sugino say 103mm axle with a 45mm chainline, so 113mm is a pretty good guess for a 52mm chainline. HOWEVER whatever you may read, this is not an exact science, you may just have to suck it and see.
110mm Shimano BB 68mm UN51/52/53 in eccentric hub.
25 Nov 2018
2005 Raven Tour with Rohloff gears has 110mm Shimano BB 68mm UN51/52/53 in eccentric hub. if BB ever needed replacing is this part suitable and should the existing BB be inspected/cleaned or is it truly maintenance free. Thanks.
Yes this is a suitable replacement, these parts are sealed units and require no internal maintenance. It may be good practise to remove completely from the bike and clean with a rag to regrease the threads etc if going through a wet winter. Generally they are fit and forget.

Thanks - 26/11/18
What is the difference in axle length on left side
27 Aug 2018
Looking to space tandem chainset away from frame on left in order to fit extra chainwheel to link kiddy cranks, is there any difference in the left side lengths of bb's between 123 and the 127 axle length
Hi, the 122.5 is 32mm the 127 is 35mm. Thanks
Can i use this in a brompton? i'm fed up of the plastic cups
22 Aug 2018
Hi there,

Unfortunately you cannot fit this in to a brompton im afraid.

Thanks.

Replacement.
27 Jul 2016
I wanted to swap my octalink for a square taper. Would the spindle length be the same.
Regards.
Hi,

As you will be changing your chainset as well there is no guarantee that the new chainset will require the same length of bottom bracket, you will need to check what is the recommended length for your new chainset.

Thanks.
Hi. Does It Come With The Bolts?
09 Sep 2014
Hi,

Normally these bottom brackets do not come with the bolts I'm afraid.

Thanks.
Replacement For Ta Carmina Bottom Bracket
12 May 2014
The TA BB I have is "finished" and TA replacement BBs are hard to find (and expensive!). The axle length is 119, shell width 68. Reviews say the TA is "JIS taper". Will the 118mm version here be a good replacement? Many thanks.
Hi,

As long as you don't mind the axle being 1mm shorter (it will probably not even make a noticeable difference) then yes, this is a good reliable replacement.

Thanks.