Stronglight JP400 Sealed Bearing Square Taper Bottom Bracket
Size
Manufacturer :
SJS Cycles part number :
Manufacturer part number :
Details
New version of the classic JP400 square taper bottom bracket.

- Plastic cups
- Square taper JIS axle
- 68mm shell

Requires a Shimano type splined bottom bracket removal tool. (Shimano's own is SJSC part #858)
Related products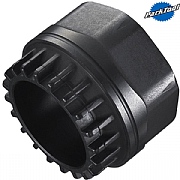 Shimano TL-UN74S Bottom Bracket Removal Tool Modern Splined Type Fitting
£18.99 Inc VAT
Quick view
Product Reviews (2)
Overall Product Rating 4 / 5
fit for purpose
21 May 2022
I recommend this product
easily fitted to a single speed used in all weathers, a nice understated look. Might prove to lack longevity, but replacing plastic fag bracket that lasted years. Feels smooth.
Plastic Cups
17 May 2017
I recommend this product
I needed this size for my old bike and was a bit wary about the cups being plastic. I was concerned that if they jam in it would be easy to rip out the splines. It fits and works fine, I put plenty of anti-seize on the threads. When it comes to removing it I'll put the tool in the bench vice and turn the frame around the tool.
Can I use this with SJS 51948
20 Apr 2020
I want to purchase a 155mm Thorn crank 9 speed. THat specifies a 110mm JIS bracket. But this one is 113mm. Will it fit please. If not do you sell the correct bracket?
Hi
Thank you for your enquiry. If you open this item on the website you will see that there is a drop down menu, from there you will be able to select the 110mm version that is available.
Regards. 20/04/20
what length ?
07 Jun 2019
Can you advise length for use with Specialised Roubaix with Compact Double Cranks, and 10spd cassette please ?
We would not be able to advise, we do not sell Specialized and this would be a trial and error test. Specialized UK may be able to help further.

Thanks - 07/06/19
Can i use this with a Campag Mirage triple chainset please?
06 May 2019
Hi, sorry we don't have a Mirage chainset so can't confirm that it is compatible. Thanks 08/05/2019
Stronglight B/B
28 Oct 2014
Hi i am looking for a strong light b/b JP400 110mm with italian threads.this is to fit my strong light triple chain set.
do you any or a b/b that will fit with italian threads.

thank you
Hi,

I'm afraid the only bottom bracket we have with Italian threads is a Tifosi one, but it is designed for Campagnolo ISO chainsets. The most I can suggest it using a bottom bracket designed for damaged threads as with these it does not matter what the original threading on it was.

Thanks.