Sunlite Threadless 68 mm Sealed Bearing Bottom Bracket for Frames with Damaged Threads
Size
Manufacturer :
SJS Cycles part number :
Manufacturer part number :
Details
- Steel body
- Chromoly spindle
- Sealed bearings
- Repair BB designed to work in frames that have stripped BB threads

Requires a Shimano type splined bottom bracket removal tool. (Shimano's own is SJSC part #858)
Related products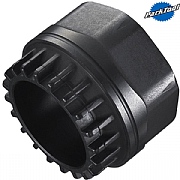 Shimano TL-UN74S Bottom Bracket Removal Tool Modern Splined Type Fitting
£18.99 Inc VAT
Quick view
Product Reviews (4)
Overall Product Rating 4.8 / 5
Great
29 Jul 2020
I recommend this product
Bought this for use on a 1980's Raleigh racer. It fitted well and impressed with the quality. Would not hesitate to buy again.
14 Aug 2017
I recommend this product
Perfect! Even got it mounted using just one BB tool by going from side to side, tightening just a little each time. 2 tool recommended though for easy mounting.
31 Dec 2016
I recommend this product
SJS always provide value for money but this item ticked all the boxes. As previous reviewer says it works perfectly and I dread to think what it would cost to repair the BB threads - if that was indeed possible - had not this piece of kit come to my rescue
Good Quality Bb That Saves A Bike From The Scrapyard!
29 Jun 2016
I recommend this product
Cons
Need two BB tools to get a tight fit.
Pros
Saves an old frame from expensive new bottom bracket retooling, or going to the skip!
This is a great piece of kit, that does what it's supposed to do. I had one of these (but a cheaper model) for 5 years in an old mountain bike, never had a problem with it. Just replaced it, as it was getting some rust and had a small amount of play, with this, more expensive version. Easy to fit - you need two bottom bracket tools, as it screws into itself, so clamping tight into the frame - you need the two tools to get it really tight. Good quality, smooth bearings.
You list this bb at 41.99, and another from YST for 16.99.
07 Oct 2020
You list this bb at 41.99, and another from YST for 16.99. The photo shows them to be exactly the same product. Is this a Sunlite product or a YST product?
Hello, they are both YST products- the difference in price comes from the quality of materials, bearings and tooling used during manufacture.

JK 08.10.20
What are the size of the crank shafts are they square tapered ?
15 Feb 2019
Yes, this is a JIS square taper BB.

Thanks - 15/02/19
Can I use this with a Viscount Aerospace Sport Road Bike BB
15 Feb 2019
Sport

BB width 68mm

Sizes - d=17mm D=35mm B=10mm
If the axle width is suitable for your chainset, yes this should fit.

Thanks - 15/02/19
Will this fit a 36mm shell?
25 Aug 2018
I have an old manxman frame that has a 36mm inner shell BB diameter without threads, will this fit?
Hi there,

The approximate shell size is 34mm, so it would be slightly too small.

Thanks.
what's the difference to YST product ?
19 Nov 2017
You list this bearing at £41.99, and another from YST for £16.99. The photos appear to show the same product.

So, what's different about the Sunlite product over the YST ?


(Experience of a YST is its OK for a year or so, then gets very noisy/draggy, which means chucking away again... )
Hi,

The bearings are different in the Sunlite unit, but otherwise the construction is basically the same. We get these from different suppliers and charge what they set as the RRP for them.

Thanks.
What size do I need for a Apollo disk 26 bike?
17 Aug 2017
Hi I have a Apollo disk 26 but not sure what length I need any help would be appreciated thanks
Hi,

The length would depend on what cranks you have got fitted, the easiest way to check though would be to just remove the cranks and measure the length of the old one.

Thanks.
Spindle Width/Length
18 Jun 2017
Is there a 103mm option my frame is a 2009 specialized Langster chain line is 42mm
Hi,

This bottom bracket is not available in that width but we stock a different threadless one in 68mm and 103mm length. These are SJSC part 35532.

Thanks.
Sizing
21 Jan 2017
I currently have a Shimano UN55 BB, 68mm x 118mm.

My BB frame threads are worn so the BB moves around when pedalling.

Will this 68mm x 119mm be a suitable upgrade ? Does the additional 1mm length have much effect on chain alignment ?
Hi,

This would be a suitable replacement option if you're threads have been stripped. The 1mm difference should not make a noticeable difference to your chainline.

Thanks.
Is It Possible To Add A 2,5 Mm Spacer To Improve The Chain Line?
11 Sep 2016
This 127,5 mm BB has to replace a 136 mm BB. Can I add a 2,5 mm spacer at the drive side to improve the chain line?

Regards


Bart
Hi,

This bottom has an angled edge so it is unlikely to sit well with a spacer, if you can get a spacer to fit well then you should be okay to fit a small spacer up to 2.5mm in size.

Thanks.
Is This Unit Comparable With The Dotek 42T Single?
14 May 2015
Is this unite compatable with the Dotek 42T chainset? If not please could you recommend a suitable pairing? Cheers Patrick
Hi,

Providing you select the 113mm length recommended for the Dotek chainset then yes this will be compatible.

Thanks.