YST Threadless 68 mm Sealed Bearing Bottom Bracket for Frames with Damaged Threads
Size
Manufacturer :
SJS Cycles part number :
Manufacturer part number :
Details
Fits JIS square taper type cranks.

Requires a Shimano type splined bottom bracket removal tool. (Shimano's own is SJSC part #858)
Related products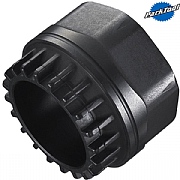 Shimano TL-UN74S Bottom Bracket Removal Tool Modern Splined Type Fitting
£17.99 Inc VAT
Quick view
Product Reviews (6)
Overall Product Rating 3.8 / 5
Weak
16 Dec 2019
After just 1800k I heard a loud snap. The previous ride it had begun squealing so I opened it. Some dirt had gotten in an I cleaned it and put some grease in. At the end of my next ride "pang* That was the drive side ball bearing exploding.
27 Aug 2019
I recommend this product
I installed one of these on my 2000 stump jumper and it keeps coming loose. Is there a sleeve or something that would help?

SJS Customer Service:
Hi, thread lock on the threads and tighten to the recommended torque should do it. There are no additional sleeves or parts. Thanks
Works well,saved my frame.
15 Aug 2019
I recommend this product
Cons
Not really any,just depends on how long it lasts.
Pros
easy to fit with the right tools.
Very good solution,seems good quality as well.
Great Product to get round damaged bottom bracket thread
13 Feb 2019
I recommend this product
Cons
None once I got it fitting more snug
Fitted easily, too easily at first as it undone itself after tightening from non drive side. Took it apart and used some plumbers tape on the thread, and tightened from drive side, also slightly filed down inside drive side of bike casing to give a tighter fit.
1 week and 100 miles and its still tight.
very good unit, great value
02 Nov 2018
I recommend this product
Pros
fits well allowed me to ride my old race bike again.
I am really pleased with this unit. Fits in nicely.
05 Jul 2017
I recommend this product
Pros
easy to fit, fairly cheap, saved my bike
this was easy to fit and works fine
Can you advise how to select the correct measurement option on you web page?
16 Dec 2020
Re the YST Threadless Repair Bottom Bracket - Square Taper. Can you advise how to select the correct measurement option on you web page. The width of my bottom bracket on the frame is 68mm.
You need to measure the end to end of the axle of your existing BB and purchase a new of one the same length. You will also need to measure the diameter of the hub shell and make sure this corresponds with this BB. We would recommend taking your bike to a professional cycle mechanic for further assistance in BB identification.

Thanks, 16.12.20
what is the difference between the Sunlite and the YST threadless bottom brackets
22 May 2020
None apart from where we buy them and the branding, we keep both in case there is a supply issue RT
68 cartridge in a 73mm shell
01 Mar 2020
Hi, is there a reasonable amount of thread on this, enough that I could tighten a decent number of turns with 5mm still to go? It seems impossible to buy repair cartridges with a 73mm body and I'd prefer not to pay to get the frame reduced and faced ...
The axle would be "lost" inside the LH cup, so this would not work. You need a 73mm for 73mm shells.

Thanks - 02/03/20
Use with vintage Raleigh 70-71 mm bracket shell?
02 Dec 2019
This 68mm YTS BB is similar to the 68mm Velo Orange, which is reported to work satisfactorily in a 71mm Raleigh shell. Will the YTS also fit the Raleigh? Any downsides to the YTS? Will filling or chamfering the shell (for a better fit) render the threads unusable in future?
Hi there,

Unfortunately, we can only guarantee that this will work with a 68mm shell I'm afraid. As we have never tried this with your bike we cannot say for certain whether it would work or not I'm afraid.

Thanks.
spindle length
18 Nov 2019
Am currently using a Oxford cycles thread-less bracket which has developed spindle play after less than 2000 miles (bracket still snug). Also I am having a bit of trouble getting my front derailler far enough out (it touches the chain on the two smallest rear cogs. It has a 113mm spindle length. (Shimano FC-m410 crankset) Shimano seems to be recommending a 113mm spindle but would 110mm or less not be better?
Hi,

Shimano do indeed recommend a 113mm spindle, however, in your situation it does sound as though a shorter spindle would be beneficial.

Thanks.
My electric bike shaft is 175 mm long do know how I can use a threadless bb kit
03 Jun 2019
126.5 seems longest? Regards Chris daddow
We could only recommend speaking to the manufacturer / seller of the bike as without seeing it this could be very difficult!

Thanks - 04/06/19
Will this fit a 79 Peugeot with swiss threaded bottom end?
10 Jan 2019
Hi there,

As we do not stock that particular bike we would have no idea whether this would work or not im afraid.

Thanks.
Is this a suitable replacement for a Campagnolo Veloce 111mm bottom bracket ?
26 Dec 2018
To fit a Bianchi M-Pro year 200 model
Hi there,

You should be able to get away with this as there is only 1mm difference, However as we have never tried this we cannot say for certain.

Thanks.
Can I use this in a BB shell with a 38mm diameter?
06 Sep 2018
I am refurbishing a Gazelle Tour de France which has a threadless 38mm diameter shell. Does this BB fit that shell?
Hi there,

Unfortunately the Diameter of the bottom bracket is 34mm so is too small.

Thanks.
I'm looking for a reaplcement for a first components nc99. Will this work in the same way?
08 Jun 2018
Yes this will work in the same way,

Thanks
Will your axles be long enough?
23 Jan 2018
I've damaged bottom bracket threads so looking for a threadless BB. Size is 68mm but axle length is 125mm. Do you have a threadless option that will fit - they all appear shorter.
Hi there,

The only option we have got that is not shorter is - SJS Cycles part number : 32373L1265

Thanks
Will this fit in a damaged 1.37" thread
10 Jan 2018
I have just removed a Shimano BB -UN52 Bottom bracket from my bike unfortunately resulting in damaging the threads in the frame beyond use. I think this will fix my problem, my current bottom bracket is 68mm frame width and 122.5mm length which this matches, Can you please confirm this will fit inside a standard 1.37" threaded frame
Hi there,

Yes this will fit, just select the 122.5mm option on the drop down tab.

Thanks
Frame preparation?
19 Oct 2017
Does this BB require any frame preparation?
Hi,

If your frame has never had the BB shell faced then this may be required to get a tight enough fit but otherwise no additional frame prep should be required.

Thanks.
68mm threadless BB unit
27 Aug 2017
I have a 1977 Carlton Clubman frame with stripped BB threads. The BB axle has threaded ends with nuts that secure the crank arms. Your axle comes with bolts that secure the cranks arms to the axle, will my crank arms fit onto the axle OK. My current axle is JIS with the slightly larger tapered ends.
Hello,

This will work with your current crank arms.

Thanks.
Will This Fit A 122.5Mm Long Frame?
16 Dec 2016
I Can See It Says 113mm Here But I Filtered By 122.5 And This Was Dispayed As A Result.
Hi,

This bottom bracket is available in different lengths, you can select the required 122.5mm length from the drop down menu.

Thanks.
Will This Fit A 35Mm Diameter (68Mm Wide) Bottom Bracket
15 Sep 2014
Hi,

Yes this bottom bracket will fit fine into your frame.

Thanks.