YST Threadless 68 mm Sealed Bearing Bottom Bracket for Frames with Damaged Threads
Size
Manufacturer :
SJS Cycles part number :
Manufacturer part number :
Details
Fits JIS square taper type cranks.

Requires a Shimano type splined bottom bracket removal tool. (Shimano's own is SJSC part #858)
Similar products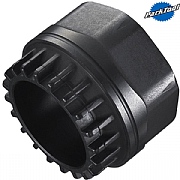 Shimano TL-UN74S Bottom Bracket Removal Tool Modern Splined Type Fitting
£14.99 Inc VAT
Quick view
Product Reviews (1)
Overall Product Rating 5 / 5
05 Jul 2017
YST Threadless 68 mm Sealed Bearing Bottom Bracket for Frames with Damaged Threads
I recommend this product
Pros
easy to fit, fairly cheap, saved my bike
this was easy to fit and works fine
Can I use this in a BB shell with a 38mm diameter?
06 Sep 2018
I am refurbishing a Gazelle Tour de France which has a threadless 38mm diameter shell. Does this BB fit that shell?
Hi there,

Unfortunately the Diameter of the bottom bracket is 34mm so is too small.

Thanks.
I'm looking for a reaplcement for a first components nc99. Will this work in the same way?
08 Jun 2018
Yes this will work in the same way,

Thanks
Will your axles be long enough?
23 Jan 2018
I've damaged bottom bracket threads so looking for a threadless BB. Size is 68mm but axle length is 125mm. Do you have a threadless option that will fit - they all appear shorter.
Hi there,

The only option we have got that is not shorter is - SJS Cycles part number : 32373L1265

Thanks
Will this fit in a damaged 1.37" thread
10 Jan 2018
I have just removed a Shimano BB -UN52 Bottom bracket from my bike unfortunately resulting in damaging the threads in the frame beyond use. I think this will fix my problem, my current bottom bracket is 68mm frame width and 122.5mm length which this matches, Can you please confirm this will fit inside a standard 1.37" threaded frame
Hi there,

Yes this will fit, just select the 122.5mm option on the drop down tab.

Thanks
Frame preparation?
19 Oct 2017
Does this BB require any frame preparation?
Hi,

If your frame has never had the BB shell faced then this may be required to get a tight enough fit but otherwise no additional frame prep should be required.

Thanks.
68mm threadless BB unit
27 Aug 2017
I have a 1977 Carlton Clubman frame with stripped BB threads. The BB axle has threaded ends with nuts that secure the crank arms. Your axle comes with bolts that secure the cranks arms to the axle, will my crank arms fit onto the axle OK. My current axle is JIS with the slightly larger tapered ends.
Hello,

This will work with your current crank arms.

Thanks.
Will This Fit A 122.5Mm Long Frame?
16 Dec 2016
I Can See It Says 113mm Here But I Filtered By 122.5 And This Was Dispayed As A Result.
Hi,

This bottom bracket is available in different lengths, you can select the required 122.5mm length from the drop down menu.

Thanks.
Will This Fit A 35Mm Diameter (68Mm Wide) Bottom Bracket
15 Sep 2014
Hi,

Yes this bottom bracket will fit fine into your frame.

Thanks.