Threadless 68 mm Sealed Bearing Bottom Bracket for Frames with Damaged Threads
Size
Manufacturer :
SJS Cycles part number :
Manufacturer part number :
Details
Fits to frames with damaged threads, the bottom bracket screws together ignoring the threads and clamping the frame. The frame requires no preparation other than the removal of paint on the flat faces of the frame.

You should also regularly check and tighten the cups. The bracket is best fitted with 2 x UN74-S style bottom bracket tools and two people.


Requires a Shimano type splined bottom bracket removal tool. (Shimano's own is SJSC part #858)
Similar products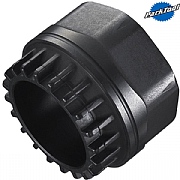 Shimano TL-UN74S Bottom Bracket Removal Tool Modern Splined Type Fitting
£16.99 Inc VAT
Quick view
Be the first to write a review
Feel free to leave a review of this product, good or bad it helps other customers with their buying decision.
Damaged The Threads In My Frame ..
27 Mar 2017
Hi. I have damaged the threads in my frame so the new Shimano UN55 Square Taper Bottom Bracket Silver, 68 x 118mm, English Thread, I have purchased wont fit. This looks like the perfect solution so I do not need to purchase a new frame. Which size do I need to order ?
Hi,

As we don't have an exact 118mm replacement option we would recommend going for the next nearest at 119mm. This should not affect the chainline by a noticeable amount so should not cause any issues.

Thanks.
Will It Work With Spacers If The Bb Shell Is 65Mm
24 Oct 2016
Hi,

Although this isn't something we have ever tried, it should be okay for use with a small amount of spacers.

Thanks.
Hi, Is The Bb Jis Or Iso Standard?
22 Dec 2015
Hi, this bottom bracket is JIS. Regards
Diameter Of Your "Threadless 68 Mm Sealed Bearing Bottom Bracket For Frames With Damaged Threads"
18 Oct 2013
Will this fit a 34mm diameter (68mm wide) bottom bracket? If not do you sell a similar product that does ... or a 35mm x 68mm bottom bracket which would work if I had my frame rethreaded. Many thanks.
Hi,

Yes this bottom bracket will fit fine as it fits your necessary dimensions.

Thanks.