Threadless 68 mm Sealed Bearing Bottom Bracket for Frames with Damaged Threads
Size
Manufacturer :
SJS Cycles part number :
Manufacturer part number :
Details
Fits to frames with damaged threads, the bottom bracket screws together ignoring the threads and clamping the frame. The frame requires no preparation other than the removal of paint on the flat faces of the frame.

You should also regularly check and tighten the cups. The bracket is best fitted with 2 x UN74-S style bottom bracket tools and two people.


Requires a Shimano type splined bottom bracket removal tool. (Shimano's own is SJSC part #858)
Related products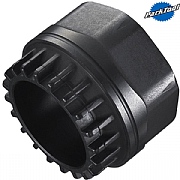 Shimano TL-UN74S Bottom Bracket Removal Tool Modern Splined Type Fitting
£18.99 Inc VAT
Quick view
Product Reviews (1)
Overall Product Rating 5 / 5
Great solution to damaged b b threads
16 Jul 2020
I recommend this product
Cons
Needs two splined tools to install securely
Pros
Permanent work-around for damaged bottom bracket threads
I have been running one of these for years/miles - bought this as a spare/replacement as previous bearings are starting to show their age.
Great product - I took some care in ensuring correct fit in the bottom bracket tube, and once torqued into the frame, has been a solid fit.
Will this work to replace Klein 35mm press fit bearings?
04 Nov 2020
Hello, we cannot say as we have not stocked Klein press-fit bearings to make a comparison.

JK 04.11.20
Is it 73x116 or 68x116?
03 May 2020
I need a 73mm wide bottom bracket (shell). In the title it says 68mm, but I see in the picture of the 116 wide axle, that it says 73x116.
Is the 116 size 73 or 68 wide?
Thank you (=
Hi, they are 68 mm. We will change the picture. Thanks
Torque
17 Sep 2018
How much torque should I dial in to my wrench when fitting these? I couldn't find any guidance in the packaging.
We recommend 35-45Nm.

Thanks
68mm bottom bracket saver
09 Aug 2018
Hi, in your view which is the best version of this product out of this one, yst & acor? will they all work with spacers (27247). Thanks.
The highest quality is the Sunlite, the other options are fairly similar in quality. Yes you can fit a spacer or two, but be aware that you will reduce the internal thread holding the BB together.

Thanks
Bottom Bracket fit/montage
22 Oct 2017
Hi,
first of all on the picture it says 73 mm, in the description it says 68 mm tho, so whats the actual width?
I have a damaged bottom bracket with a diameter of 34 mm and a width of 67 mm, will the listed bracket fit my frame?
and the final question is, if the frame really doesn't require any preparations?
Hi,

We have just used the same image for all 3 sizes so this is definitely the 68mm option and will be a suitable replacement in the frame you have described. Aside from removing the any paint on the external faces of the bottom bracket shell no additional frame prep is required.

Thanks.
My Damaged Bottom Bracket Replacement
06 Jun 2017
My damaged bottom bracket is a Nervex and is 66mm. The YST bottom bracket I bought does not tighten up enough will your one go down this far and/ or do you sell spacers?

Thanks
Hi,

As this bottom bracket is designed around a 68mm shell it is unlikely you'll be able to tighten it up enough for a 66mm shell width. However we do stock some spacers that should help, these are SJSC part number 27247.

Thanks.
Damaged The Threads In My Frame ..
27 Mar 2017
Hi. I have damaged the threads in my frame so the new Shimano UN55 Square Taper Bottom Bracket Silver, 68 x 118mm, English Thread, I have purchased wont fit. This looks like the perfect solution so I do not need to purchase a new frame. Which size do I need to order ?
Hi,

As we don't have an exact 118mm replacement option we would recommend going for the next nearest at 119mm. This should not affect the chainline by a noticeable amount so should not cause any issues.

Thanks.
Will It Work With Spacers If The Bb Shell Is 65Mm
24 Oct 2016
Hi,

Although this isn't something we have ever tried, it should be okay for use with a small amount of spacers.

Thanks.
Hi, Is The Bb Jis Or Iso Standard?
22 Dec 2015
Hi, this bottom bracket is JIS. Regards
Diameter Of Your "Threadless 68 Mm Sealed Bearing Bottom Bracket For Frames With Damaged Threads"
18 Oct 2013
Will this fit a 34mm diameter (68mm wide) bottom bracket? If not do you sell a similar product that does ... or a 35mm x 68mm bottom bracket which would work if I had my frame rethreaded. Many thanks.
Hi,

Yes this bottom bracket will fit fine as it fits your necessary dimensions.

Thanks.