Sunrace BBS15 68 mm Shell English Thread Sealed Cartridge Taper Bottom Bracket
Length
Manufacturer :
SJS Cycles part number :
Manufacturer part number :
Details
- Quality cartridge bottom bracket
- Sealed bearings
- Steel cups
- BC 1.37 x 24T
- JIS taper

Requires a Shimano type splined bottom bracket removal tool. (Shimano's own is SJSC part #858)
Related products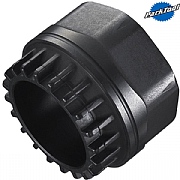 Shimano TL-UN74S Bottom Bracket Removal Tool Modern Splined Type Fitting
£18.99 Inc VAT
Quick view
Product Reviews (2)
Overall Product Rating 5 / 5
Decent quality for the price.
29 Nov 2022
I recommend this product
Smooth bearings and easy to fit. Perfect for the work bike. I can't comment on the longevity of the bearings as I've only done a couple of hundred miles so far.

02 Sep 2020
I recommend this product
Pros
Good value. Well made
It was reasonably straightforward to remove the old bb and the new replacement works smoothly.
Are both cups removable from the cartridge unit?
06 Sep 2023
I have a frame with damaged threads on the drive side and would like to glue in the cup on that side but still be able to replace the cartridge unit.
The drive side cup is fixed, only the non drive side is removable. SK 06/09/23
Sealed cartridge length
04 Oct 2020
I have purchased a double crankset from you that requires a 110 length sqr tapered JIS bolt in 68mm bottom bracket. The nearest length Sunrace BBS15 68 mm Shell English Thread Sealed Cartridge Taper Bottom Bracket is 111mm. Will this be suitable? Thank you
111mm will be fine!

Thanks
can I use this with TA cyclotourist crank arms?
03 Sep 2019
the TA crankset is 1980s era with and the existng BB is open cup and bearing type with square end shaft 13mm square ( approx ), I want to upgrade is this the correct type of sealed BB? or alternatively can you tell me which is the correct one to fit, the shell width is 68mm and english threaded, I'm prepared to pay up to approx £30, hope you can help Thanks.
You require an ISO bb, in sealed and the correct sizes / thread this is going to be a hard task!

We would need to know the axle length but these may be suitable;
SJS Cycles part number : 30669W102
SJS Cycles part number : 44703L102

Thanks - 10/09/19
ISO or JIS?
06 Jun 2019
Hi, ist ist tapered ISO or JIS?