Brompton Bottom Bracket Cartridge JIS - 119mm - QBBCART-119-JIS
Manufacturer :
SJS Cycles part number :
Manufacturer part number :
Details
For bikes 2013 onwards with the spider crankset.

Older, pre-2013 bikes with the fixed chainwheel require an ISO bottom bracket which is no longer available. These will now need to be replaced with a new spider chainset and this new JIS BB

Requires a Shimano type splined bottom bracket removal tool.

Please note Brompton have selling restrictions to some countries who have their own dealers. If you are unsure please contact our sales team.
Related products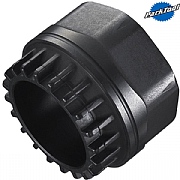 Shimano TL-UN74S Bottom Bracket Removal Tool Modern Splined Type Fitting
£18.99 Inc VAT
Quick view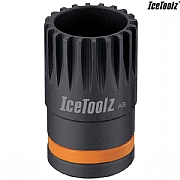 IceToolz ISIS / Shimano Bottom Bracket Tool
£13.99 Inc VAT
Quick view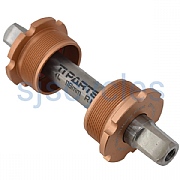 Ti Parts Workshop Sealed Titanium Bottom Bracket w/ Enduro Ceramic Bearings - 118.5 mm - Gold
£179.99 Inc VAT
Quick view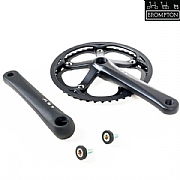 Brompton Spider Crankset - Black - 50T
£90 Inc VAT
Quick view
Product Reviews (5)
Overall Product Rating 4 / 5
Perfect match for the Brompton chainset
29 Nov 2022
I recommend this product
I replaced an old style chainset on a Brompton with the newer style and this matching BB was easy to fit and a perfect match for the new cranks.
Essential for upgrading older Brompton to new cranks.
27 Dec 2018
I recommend this product
Cons
Hard work, requires specialist tools
Pros
Enables newer Brompton cranks
Upgraded an older Brompton to this, which required a good few specialist tools (different tools to remove the old BB than to install the new BB), and a fair bit of effort. However, whilst a shop fitting would have cost the same as the tools, I get to keep the tools and have learned more about the bike, so definitely worth it!
Was surprised the caps are plastic.
12 May 2018
I hope this version lasts longer than the Strong Light one. It only lasted 500 miles. The left hand screw cup(non chain ring side) seemed to be tight to fit the frame. Could not achieve a flush fit. Was the strong light version one of the recent recalls?
Plastic
30 May 2017
Pity that there are plastic screws, I was careful, but it seems not enough because I broke one. So be very careful with them.
Watch Out You'Ll Probably Need A 20-Pin Bb Tool
28 Jun 2016
I recommend this product
Cons
only problem is information on website
Buyers should be aware that the unit shipped is not the one shown on the photo. The photo shows a Bottom Bracket compatible with a 6-notch bottom-bracket tool (e.g. Parktool BBT-4). Instead I was shipped one with a 20-pin arrangement (compatible with e.g. Parktool BB-32): this appears to be Brompton's latest standard unit. You may need two different Bottom Bracket tools to change this part depending on what type you have already. SJS, please update the info here.
SJS Customer Service:
Hi,

Thank you for bringing this to our attention, Brompton had not informed us of the stock change so we were not aware. We have now updated the image and description to match this new design. We apologise for any inconvenience this may have caused.

Best Regards.
Old style
16 Jan 2020
What tool do I need to Remove the old style version of this part ?
Park Tool BBT-4 FAG Bottom Bracket Tool SJS Cycles part number : 839
What is the measurement across the shells. I have a 70mm BB.
14 Jun 2018
These are for 68mm Shells.

Thanks
Can you send Brompton parts, e.g. this bottom bracket, to Germany? Thanks and Regards, Leonard
12 Jul 2017
Hi,

We are fine to send Brompton parts to other countries within Europe.

Thanks.
Enquiry About Brompton Bottom Bracket For Spider Crankset
24 Jan 2017
Hello,

I have a doubt regarding the bottom bracket used with the "new" spider crankset. According to your website, the one to use is your part #31207, which is compatible with a 20-pin-arrangement bottom bracket tool (such as Parktool BB-32). However, I´ve noticed Brompton stock bikes keep coming with a 6-notch-type bottom bracket even though they have the spider crankset. Do you have any idea why or what bottom bracket is that?

Thanks a lot in advance.
Hi,

For the last few years this has been the bottom bracket Brompton has offered as a replacement for the spider type chainsets. They are now swapping back to a 6-notch type but we have still got a number of this splined version in stock. Other than the fitting type the bottom brackets are identical.

Thanks.
Could You Advise Which Bottom Bracket And Tools I Require For An Early 2015 Brompton
10 Jul 2016
bottom bracket and tools required for 2015 Brompton.
Hi,

This bottom bracket is the correct replacement part for your 2015 Brompton, the tool for fitting is the same as a Shimano internal style bottom bracket tool. These are SJSC part number 858.

Thanks.
Upgrading To Spider Crankset
10 Apr 2015
Hi, I have a pre2013 brompton. Can I upgrade with this BB & the spider crankset without problems? (ie, thread on the frame compatible, etc)
Hi,

You shouldn't have any problems upgrading your bike with this bottom bracket and a spider chainset.

Thanks.
Is This Bottom Bracket Suitable For Pre 2013 Bromptons?
17 Feb 2014
Hi,

No, this one is specifically for the spider cranksets, you need the other Brompton bottom bracket SJSC part number: 31610.

Thanks.