Cotter Pin English 9.5mm - Each
Manufacturer :
SJS Cycles part number :
Manufacturer part number :
Details
Many older bicycles use wedge-shaped fasteners called "cotters" to hold the cranks onto the bottom bracket axle.
These cotters have a nut to hold them in place after they have been driven or pressed in.
They can be difficult to remove, especially if they have been in place for a long time
The diameter of the round part of the cotter tends to be standardized according to nationality. Most use 9.5mm, including British, Asian and most German bicycles. French and Italian bicycles used 9mm, or sometimes 8.5mm

Overall Length: 42.5mm
Thread Length: 12.0mm
Shaft Length: 30.5mm
Taper Face: 18.5mm

Face Apperance:

Square end at thread
Related products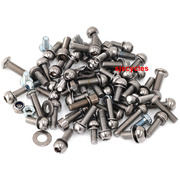 Assorted Frame Stainless Steel Fixings - Approx. 1/2 lbs 250g Bag
£3.99 Inc VAT
Quick view
Product Reviews (9)
Overall Product Rating 4.9 / 5
As spec
13 Jul 2021
I recommend this product
Product as described!!!
Good quality
03 Aug 2020
I recommend this product
It's made from high grade steel , stronger than the 70 year old original . Checked dimensions with a micrometer . it was spot on . I'll let you know in 70 years how well it lasted .
These cotter pins are solid .
30 Jul 2020
I recommend this product
Very good quality , better than original factory fitted cotter pins . Lock nuts are a good touch .
Perfect fit.
28 Aug 2019
I recommend this product
Pros
Easy to install. Well made.
Well made and perfect fit for my old English bicycle. Good to have spares on hand.
04 Oct 2017
I recommend this product
Sorted my problem out that I thought was going to mean the end of my old faithful.
Great Service, Fast Despatch, Correct Part.
20 Jun 2017
I recommend this product
Pros
whole experience was great.
as above
Easy Transaction
01 Aug 2016
I recommend this product
Pros
Great prduct, fast shipping and easy to do business with.
Easy web site to navigate and excellent product.
When I need pins again this is my source.
Cotters
15 Jun 2011
I recommend this product
LBS installed pair for £6. Bang, everything working great again.
9.5 Mm Cotter Pin
05 Apr 2011
I recommend this product
quick, efficient service. Part a good fit saved old bike from the scrapheap!
Hi , Please tell me the overall length of these pins,
25 Jun 2018
I actually need pins which are 44mm X 9.5 mm

Thanks
Jon
These are 9.5mm x 42mm.

Thanks
Correct for Carlton Continental?
27 Oct 2017
Looking for replacement cotter pins for a 1970-ish Carlton Continental.

The existing pins are 42mm overall length, the main cylinder section (minus the convex end) is about 27mm, diameter is 9.5mm and the taper runs almost the full length.

If these aren't the correct ones, do you have a stock item that matches the above please?

Thank you.

Hi,

These cotter pins would be the closest match we have to the dimensions that you require but we have never tried to fit them to a bike the same as yours so we can't say for definite if they will work or not.

Thanks.
Are They 7Mm Thread And Nut
10 May 2017
Hello,

We have measured this product and can say that they are 7mm thread and nut.

Thanks.
Cotter Pins
19 Oct 2015
Hi
Do you supply cotter pins 5/16" Dia Looking for 20 Off
Regards
Hi,

I'm afraid not, we only have them in 9.0mm and 9.5mm sizes.

Thanks.
Material?
12 Dec 2014
Stainless och plated steel?
Hi,

As this is a lower cost item it will most likely be made from lower cost plated steel.

Thanks.
Please Can You Supply 9.5M/M Cotter Pins 2"Long
26 Aug 2014
if so the price to supply 40 off,delivery to Orpington .
Hi,

Unfortunately the only cotter pins we have are not that long.

Thanks.