Thorn Eccentric Bottom Bracket Insert - Fits Nomad/Raven Mk2 Sport Tour etc 73.2mm - Gold
Manufacturer :
SJS Cycles part number :
Manufacturer part number :
Details
Fits the following Thorn bicycles:
- Raven Mk2
- Sport Tour
- Catalyst
- Enduro
- Sterling
- Raven Twin Tandem Mk1 and Mk2
- Nomad Mk1 (S&S)
- Nomad Mk2

Can be used with external or conventional square taper bottom brackets.

51.2mm dia. Slightly wider than the black originals to more easily accommodate new external bottom brackets, this slight extra width means the cups just clear the paint on the outside of the frame.
Related products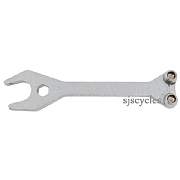 Thorn 3 in 1 Bottom Bracket Eccentric Tool for 73 mm Shell Raven Bikes
£19.99 Inc VAT
Quick view
Product Reviews (1)
Overall Product Rating 5 / 5
17 Dec 2017
I recommend this product
Oredered this for my son and he has let me know that he is very pleased with this product for his cycle.
Spacer requirement...
15 Sep 2018
Does the extra width mean that no spacer is required when I fit a Shimano SM BB51B external bearing bottom bracket on my Sterling (73mm shell)? I think one spacer is required for the black insert?
You need one driveside spacer, but the replacement for a Sterling is - SJS Cycles part number : 9053

Thanks
Exact width of the BB shell needed?
06 Dec 2017
I have a frame with a shell inner diameter of 51,5 mm but the width of the shell is only 66 mm.
Do the 73,3 mm mean that this insert is for a frame with a width of 73mm or is it just the total width of the insert?
would it fit a frame with 66mm width?
Thank you in advance.
Hi,

73.3mm is the width of the EBB, generally for 73mm frames.

We have this - SJS Cycles part number : 11656
That seems to be the closest option to your specs, 51.2 X 68mm.

I cannot guarantee a correct fit without knowing more information - Feel free to call Thorn on 01278441505 to discuss EBBs further.

Thanks
Can I use this with Nomad MK 2
25 Nov 2017
Does this EBB fit the Nomad MK 2? I can't see any in your store that you claim do fit. Do you have any in stock? What is the exact size I need?

Thanks,

Robert
Hi,

Yes this EBB should fit your Nomad MK2.

- 51.2mm diameter, 73mm Width.

Thanks.
Correct for Thorn Sterling?
04 Sep 2017
Any other replacement options?
Hello,

The part you need is sjs part #9053.

Thanks.
Thread Not Engaging
20 Aug 2015
I recently purchased this item from SJS as a spare to take with me on a multiyear trip. Despite persistent but very gentle efforts I can't get the thread of a Shimano BBUN55 Bottom Bracket British to engage. Given the significant cost of this unit and the fact that I'm in Australia I don't want to run the gauntlet and simply order another. I'm absolutely certain that I didn't cross because I'm only using my fingers. Any advice you can offer would be greatly appreciated.

Regards
Hi, take a close look at the threads, you will be able to see if either the Eccentric or bottom bracket threads are damaged. If you think the Eccentric thread is damaged take a photo and email our customer service and they will sort it out. Is it not screwing in on both sides, it would be very unusual to have damaged threads on both sides!