YST Sealed Bottom Bracket 5 Piece Cup Set - Chrome, 6 Notch Lockring
Manufacturer :
SJS Cycles part number :
Manufacturer part number :
Details
Complete bottom bracket set for English threaded 1.37" x 24Tpi bottom bracket.
Set includes: Lockring, left-hand cup, right-hand cup and ball races.
Rubber lip seals help prevent water ingress.

NOTE: Colour may vary
Similar products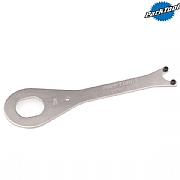 Park Tool HCW-4 36mm Box End Fixed Cup & Bottom Bracket Pin Wrench
£19.99 Inc VAT
Quick view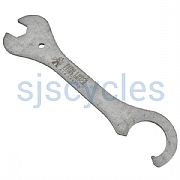 Total Lazer Pro Bottom Bracket Adjustable Cup Lock Ring 24 mm Spanner
£7.99 Inc VAT
Quick view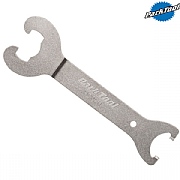 Park Tool HCW-11 Slotted Bottom Bracket Adjusting Cup Wrench - 16mm
Now from

£17.99

Inc VAT
Typical RRP: £19.99
Quick view
Product Reviews (2)
Overall Product Rating 4.5 / 5
Mr.
19 May 2012
YST Sealed Bottom Bracket 5 Piece Cup Set - Chrome, 6 Notch Lockring
I recommend this product
Cons
NO AS EASY TO FIT AS A COMPLETE SEALED UNIT.
Pros
AS FAR AS I KNOW, THIS IS THE ONLY BRACKET LIKE THIS WITH SEALS ON.
I WANTED A SEALED BOTTOM BRACKET UNIT, BUT THE ONLY ONE OF THE CORRECT AXEL SIZE ETC. WAS IN AUSTRALIA. SO TO GET A GOOD SEALED 'BOTTOM' I GAVE THIS A TRY WITH A NEW 124.5 AXEL. IT CURED ALL THE BAD NOISES THAT THE OLD AXEL WAS GIVING.
FITTING IS A DODDLE, BUT AFTER A FEW RIDES IT NEEDED TIGHTENING UP A BIT, THE LOCKING RING SEAMS TO NEED TO VERY TIGHT TO STAY TIGHT. THE SEALS DO LOOK LIKE THEY SEAL AGAINST THE AXEL WELL, SO SHOULD KEEP OUT WATER & MUD, WHICH IS WHY I BOUGHT IT IN THE FIRST PLACE.
BUT I WOULD MUCH PREFER A COMPLETE SEAL UNIT.
Bottom Bracket Set
08 Dec 2011
YST Sealed Bottom Bracket 5 Piece Cup Set - Chrome, 6 Notch Lockring
I recommend this product
Thoroughly recommended. I needed this for an eighties road bike I am rebuilding, and the availability of this item and the choice of axles to go with it is very impressive.
Axle Cups
08 Oct 2015
You state they are crome but then you say colour may vary, I do not want black cups, please explain
Hi,

We have had supply issues in the past with these, but all of our current stock is chrome, so if you order one you will definitely receive a chrome set of cups rather than black.

Thanks.
Raleigh Medale About 1980 Approx
28 Apr 2014
I have been asking about the axle A16 and the Right and left hand shells. The Axle seems to be ok according to the measurements. The shells you say are 1.37" Dia which seems ok but the thread you say is 24tpi I think mine are coming out at 26tpi but haven't got the thread gauges and only taking measurements. My question is did Raleigh make any shells at 26tpi or are my measurements awry?
Regards
Neil
Hi,

Your measuring is correct, Raleigh did make a number of bikes that used a 26tpi thread. Unfortunately there is nothing left on the market available in these sizes. The only option we can suggest is switching you cranks to square taper ones and running a thread less squares taper bottom bracket that was originally designed for frames with damaged threads.

Thanks.