Jtek AeroBrake Shimano Bar End Brake Lever - Left Hand
Manufacturer :
SJS Cycles part number :
Manufacturer part number :
Details
The AeroBrake system is a brand new concept for bicycle brake control. Finally there's a great solution for braking control while in your aerobar's. Not only will riders benefit from the added safety aspect of always having brakes at your fingertips, you will also gain speed through smarter brake control and modulation. Now you can enter corners with greater confidence knowing that you can precisely regulate your speed while remaining in your tuck.
Note: This is a second lever to augment your main braking system. You will need a Double Control cable splitter.

- Compatible with Shimano shifters.
- Offers clean cable routing.
- Great for team time trials and holding tight drafting situations.
- Huge benefits for racing technical courses and more efficient corner braking.
- Super lightweight levers are only 29 grams each.
Related products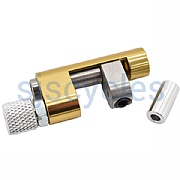 Jtek Double Control Brake Cable Splitter
£39.99 Inc VAT
Quick view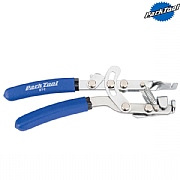 Park Tool BT-2 Fourth Hand Cable Stretcher
£64.99 Inc VAT
Quick view
Product Reviews (1)
Overall Product Rating 5 / 5
Fantastic Product
22 Mar 2017
I recommend this product
Pros
excellent engineered product.
Anyone on a tri bike or bike with bull horns and not using these is just dumb.
Jtek bar end vs clamp on
22 Feb 2020
Is there an advantage or disadvantage between the jtek bar end vs clamp on shiftier? If you could have either, which would you choose and why?
They sit in slightly different places, the clamp on sits behind the shift lever / end of the bar whereas this sits further forward and slightly inbound. Very personal preference.

Thanks - 24/02/20
Use as sole brake lever
22 Feb 2020
Can I use this as my sole brake lever? I want to put this on a bullhorn, no additional bars including aero. So I will not have any other brake levers. Does that work?
Hi, this is not recommended by us. Thanks
are these compatible with SRAM 1150 R2C TT Shifters?
01 Aug 2019
Hi, these are designed to fit Shimano bar end shifters. Unfortunatley we don't have any SRAM 1150 shifters to check, but it is unlikely they will fit. Thanks 01/08/19
Possible to mount this to a Microshift bar end shifters, specifically BS-M11?
16 Apr 2019
Seems like I might avoid a right bodge with this product.
Hi there,

Unfortunately, as we have never tried this we cannot say for certain whether or not this would fit I'm afraid.

Thanks.
Can I use this with the Diacompe friction shifters
17 Jul 2017
Hi I am looking to change the drop bars on my commuting bike to Bull horn bars. I currently use the Diacompe bar end friction shifters. Are these Jtek levers compatible with those shifters or is it just Shimano shifters. Thanks
Hi,

The Dia-Compe levers use the same style of fitting as the Shimano levers so should be fine for use with these Jtek Aero Brake levers.

Thanks.
Is It The Shifter And The Brake Part Or Just The Brake?
10 May 2017
Hi, I just bought an aero bike handlebar with triathlon bar and I'm trying to find a solution to have the brakes and shifters together on the handle bar and not on the "triathlon" one.
I saw your product but I cannot find the price or figure out a way to by some online. Could you please help me? Thanks.
Hi,

This is just the brake lever, it can then be bolted to the side of a Shimano bar end lever.

Thanks.
Shifter Compatibility
12 Aug 2014
Can you confirm whether this is compatible with the shimano dura ace 7900 bar end shifters please.
Hi, yes these are compatible with Shimano Dura-Ace 7900 bar end shifters. Regards, Jamie
Which Sided Lever Do I Need?
12 Aug 2014
Sorry for be really thick about this but I just want to be absolutely sure of this before I go ahead. I intend to use this brake lever with my right hand can you confirm which lever I would need to order please
Hi, no problem if you wish to use this with your right hand then you will need to select "Right" on the drop down menu, our Part Code will then change to 19042R. Regards, Jamie